This Professional BMX'er Jumped Out Of A Plane Over Dubai And The Video Is Insane
There are extreme sports, and then there are insane sports. This BMX rider's latest stunt would fall into the latter category.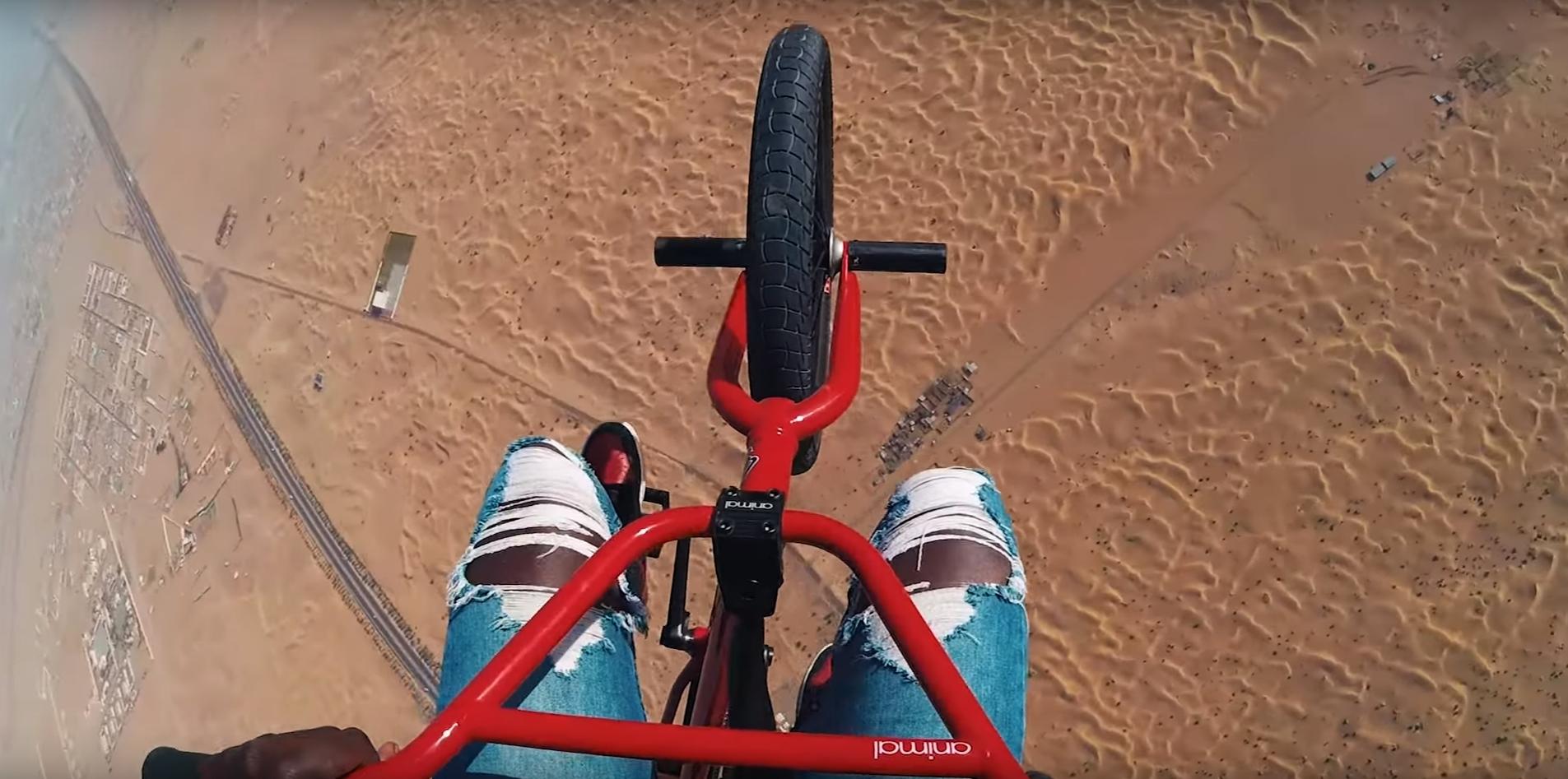 Nigel Sylvester is a professional BMX'er who travels the world as part of his Go! series and brings us along on his journeys. He's been to Tokyo, Los Angeles, and New York City, offering viewers a unique perspective and incredible cinematography from the back of his bike. Just taking a glimpse of this guy's videos, when he's on the ground and riding like the wind, is breath-taking in of itself. The speed that he hits, and the jumps and twists and turns that he takes at that speed is enough to get you sick or weak in the knees.
Now if you thought that sounds bad, then I've got some bad news for you, this latest stunt is even worse.
Recently, he jumped out of the back of a plane (with his bike) and met Salt Bae on a trip to the breathtaking deserts of Dubai in the United Arab Emirates.
Article continues below advertisement
How many cameos did you spot? Because there's a lot. Obviously there's Salt Bae and Tinie Tempah, but you might have missed the likes of Morgan Carlson, Lawrence Jokun-Fearon, Karim, Karen Menghani, and Ola Selsjord. I know that's a lot of words that you probably can't pronounce, but it doesn't matter, because I'd be too busy screaming my head off if I was hurdling down towards the earth on a BMX bike.
And if that wasn't enough, you can watch Sylvester's previous trip to Tokyo here. While in Japan, Sylvester recreated Mario Kart, took on a professional Sumo Wrestler, and explored the city at night, which looked absolutely insane. After seeing all of this, I just have to say:
I don't get adrenaline junkies. I don't know why you need to put your life in danger or what you're trying to avoid doing in your daily life that forces you to seek thrills that could result in you having to be peeled off the pavement. Yes, it's awesome that you're doing it, but, I'm just concerned for you is all.