Every year, the ZSL London Zoo has to weigh and measure 20,166 animals, from giant gorilla to tiny tree frog. The BBC reports that ZSL's zoological manager Mark Habben said it's an important way to keep track of an animal's general health.
It's difficult to imagine that weighing all of these animals is an easy task, imagine a Gorilla complying with your every request? It's difficult enough to get a toddler to take medicine, let alone getting a gigantic ape to hold still while standing on an enormous scale.
And even though it's probably a tedious task at certain points for the many staff members who have to put every bat on a scale, but for us it's just freaking adorable:
Here's the extended cut from the zoo's Facebook page, which is full of unbridled adorableness that is just too cute for words. They're weighing baby penguins, squirrel monkeys, gorillas, and all other sorts of cuddly critters:
As the videos show, the hardest part of the entire weighing process is getting the fantastic beasts to cooperate. They engage some of them with toys to get them to stand up next to a measuring stick, while penguins are lured onto a scale with fish, squirrel monkeys try to grab a blue ball on a stick, and the bigs guys are guided onto scales disguised as patches of grass: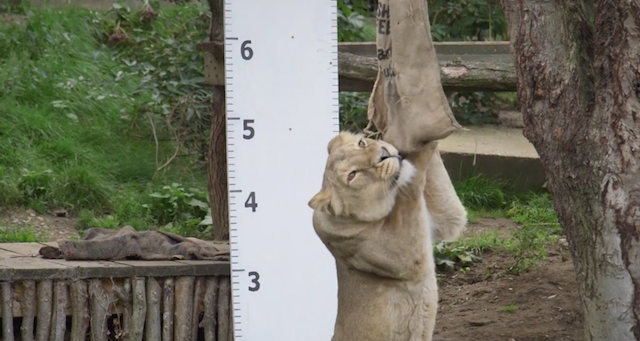 Though some of these cuties will stand on their own. Just check out this gorilla posing. And why is it licking its finger? Did it find some honey? Please tell me it found some honey and is licking its fingers like pooh bear, only it's not a bear but just an adorable baby gorilla.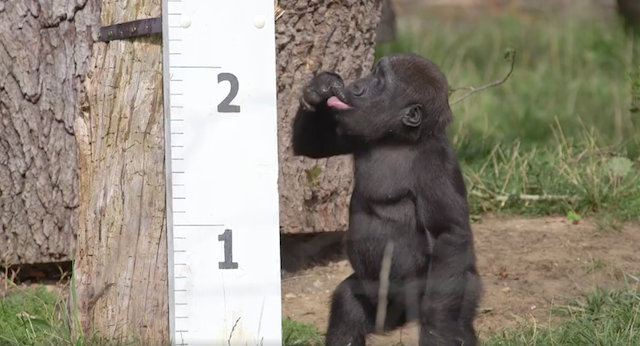 Ugh, they all look like the perfect size for hugging and squeezing to me.