Many a stand-up comic's routine has involved the Department of Motor Vehicles and their perceived incompetence.
And although in my home state of New Jersey, certain DMVs have gotten much, much better at streamlining the administration of their bureaucratic process of arbitrary motoring rules, I can still appreciate on a personal level the dread people face when they know they need to visit a DMV.
But going there is a necessary part of life if you own a car or need a driver's license and, in some states, just need a state issued ID. So instead of complaining about something in a depressing way that you have to do anyway, why not have fun with it? So when I go to the DMV, I buy donuts for the people working there.
I have to say though, I love Twitter user @JonoZalay's method of having fun with the reviled DMV; he has a longstanding history of messing with them.
By taking some incredible license photos.
Zalay's father apparently began the tradition decades ago, by snapping photos of himself as a weird character. Something him and his brother are bearing the torch for.
Zalay shared some of his bizarre and amazing license photos. Taking full advantage of that sweet head of hair, and the ability to grow thick bears, he went all in, creating different personas for each picture.
He documented his latest driver's license update photograph by hitting up a salon and getting completely punked out.
His transformation was incredible.
First, there was look, which he aptly named.
Each and every one of his updates were hilarious.
I mean, the guy also made a Point Break reference, so I don't even need to see how the rest of this haircut comes out: I'm in.
OK, this dude is actually hilarious.
You can really see how it's coming together now and the insane look he's going for.
Until we were blessed with this final picture of absolute punk perfection.
I mean, just behold the glory, what a worthy addition to his already impressive collection of characters.
The DMV, noting his appearance, insisted he take a new photograph. They fell right into his trap.
He wasn't allowed to do the whole thing, however. Lip snarls weren't allowed.
Then, a slight obstacle came his way.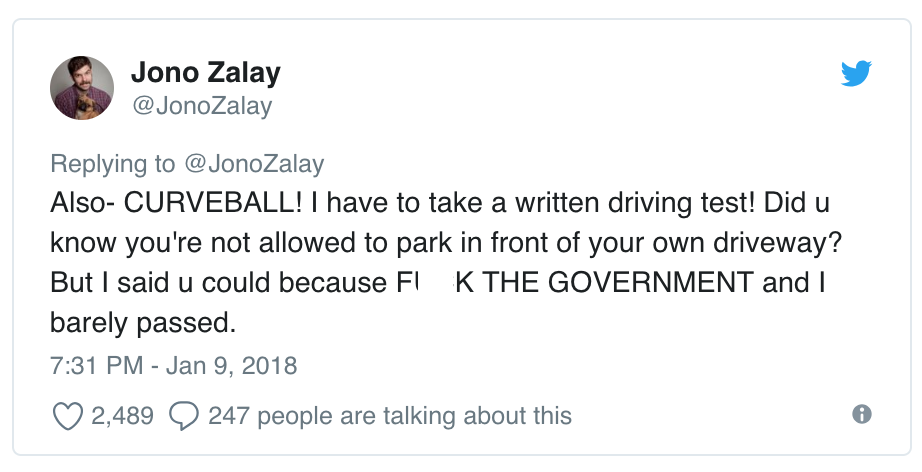 This is a man who suffered for his art.
He did point out that his funny business is sadly, not the most inclusive.
And since posting it, he's decided to finally get started on his comedy career.
People loved his thread and started sharing awkward license photos of their own.
It's definitely one way to make trips to the DMV more fun, right?