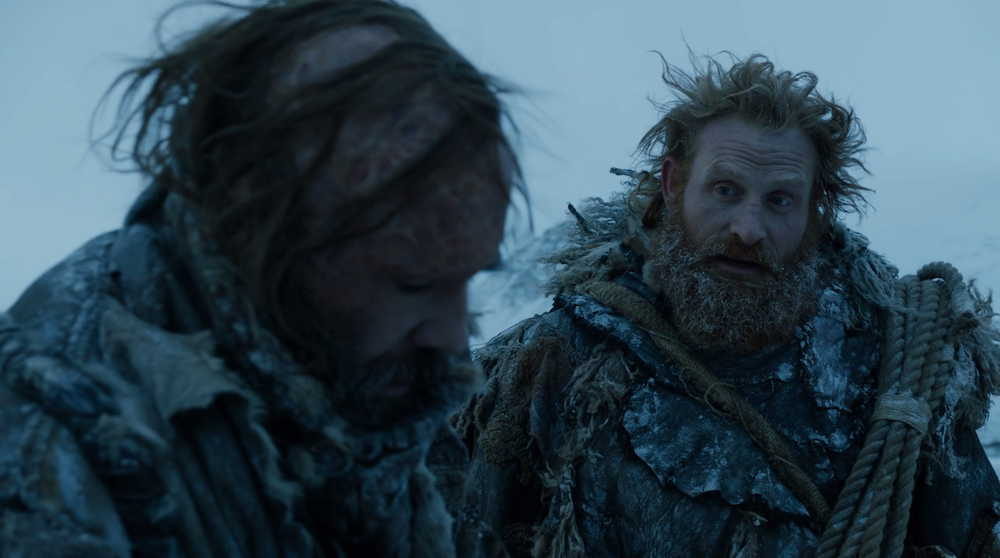 Bless This Behind-The-Scenes Video Of Tormund And The Hound Singing Together
By Jaime Lutz

Updated
OK, so you're an obsessive Game of Thrones fan. You've browsed Etsy for related, fan-made merchandise. You've watched the seasons multiple times. You have a vested interest in the side characters' personal lives both on and off-camera and anything and everything that's related to the show brings a smile to your face. You try and hide your obsession but you're doing a piss-poor job of it.
So you're going to want to know if two lovable, in their own very different ways, characters from the show were to sit down together for an impromptu karaoke session. "Well it depends on the characters" you say. All right, well how about these two folks:
The actors behind Tormund Giantsbane (Kristofer Hivju) and The Hound (Rory McCann) had so much fun (or were so bored) during filming for the latest season of Game of Thrones that they sang a jaunty duet together—thankfully captured in its full beauty on Hivju's Instagram page.
This video really took me on a journey of Kristofer Hivju's Instagram page, and honestly I have an entirely new Internet boyfriend. 
Or even just look at him sharing, like, crafts that he likes.
Bad news, though—he's married. And apparently his wife is also kissed by fire. 
I'll just have to live vicariously through Brienne.
Bromances are great, whether it's on-screen or off. What other duets from the cast do you want to see? I think a Tyrion and Jaime one would be pretty dope. Or we could see a Cersei and Jon Snow duet for one of the most confusing on-screen chemistries known to mankind. Daenerys and Khal Drogo is a natural choice, but harmonizing would be difficult considering the different octaves of their voices and all.
This is a lot to think about.