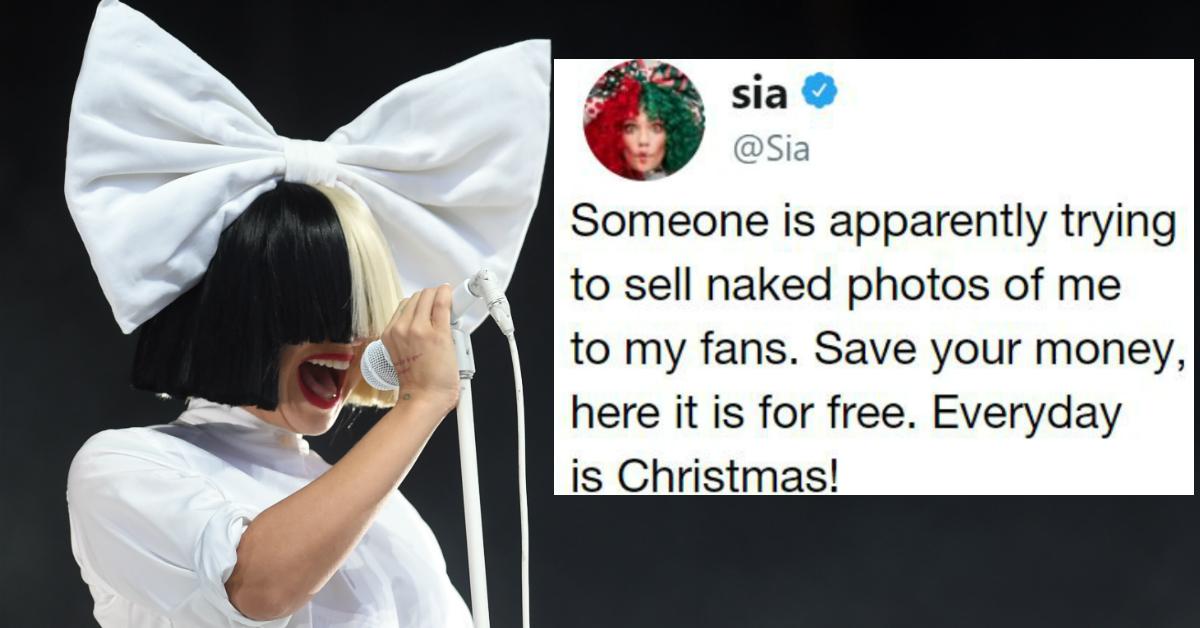 Sia Releases Nudes Of Herself To Shut Down Someone Who Was Trying To Sell Them
By Mustafa Gatollari
Celeb nude photo leaks are an unfortunate casualty of our entertainer-worship. There's a huge market for these candid, private photos of actors, actresses, musicians, and public figures, like "The Fappening" back in 2014, when a huge hack resulted in tons of celebrities having naked pictures of themselves leaked online.
The "skin trade" of entertainers probably won't be curbed any time soon, but there are some people battling against it. Some are attempting to classify stolen nude photos as a sex crime, while others are using a different kind of approach.
Like Sia, who, when she discovered that someone was attempting to sell nude photos of herself to her fans, decided to tweet the picture instead.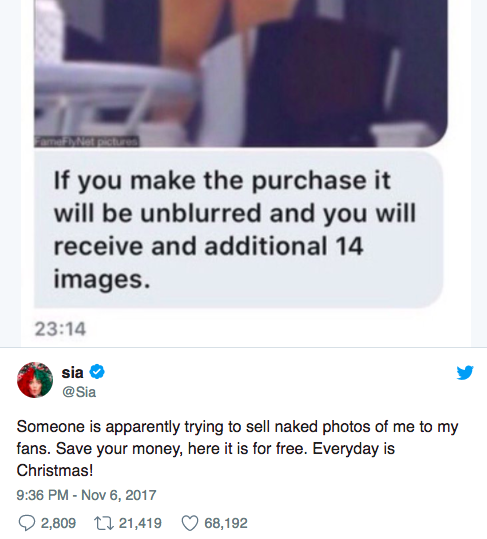 The pop star mega-genius who writes for the likes of, well, pretty much everyone, posted a watermarked image of her naked bottom on her Twitter account with the following message:
Someone is apparently trying to sell naked photos of me to my fans. Save your money, here it is for free. Everyday is Christmas!
Obviously, everyone on Twitter was a fan of the tactic for multiple reasons. The first, being Sia's sheer audacity and ability to remove any power that the blackmailer had.
For others, it was because they were digging that Sia was clearly digging her own body.
For others, Sia's move was the ultimate power play.
By demonetizing this creep's way of making money, they'll possibly have to hijack another celeb's photos to steal. But just imagine: If the human body becomes desexualized and people start realizing that having meaningful relationships is where the real action is at, will pervs like this have a leg to stand on in the future? Sounds like Sia gets it.