Get the Behind-the-Seams Stories of Pop Music's Most Iconic Garments
From Lady Gaga's meat dress to Britney Spears' red catsuit, we unzip the stories behind several iconic outfits in pop music history.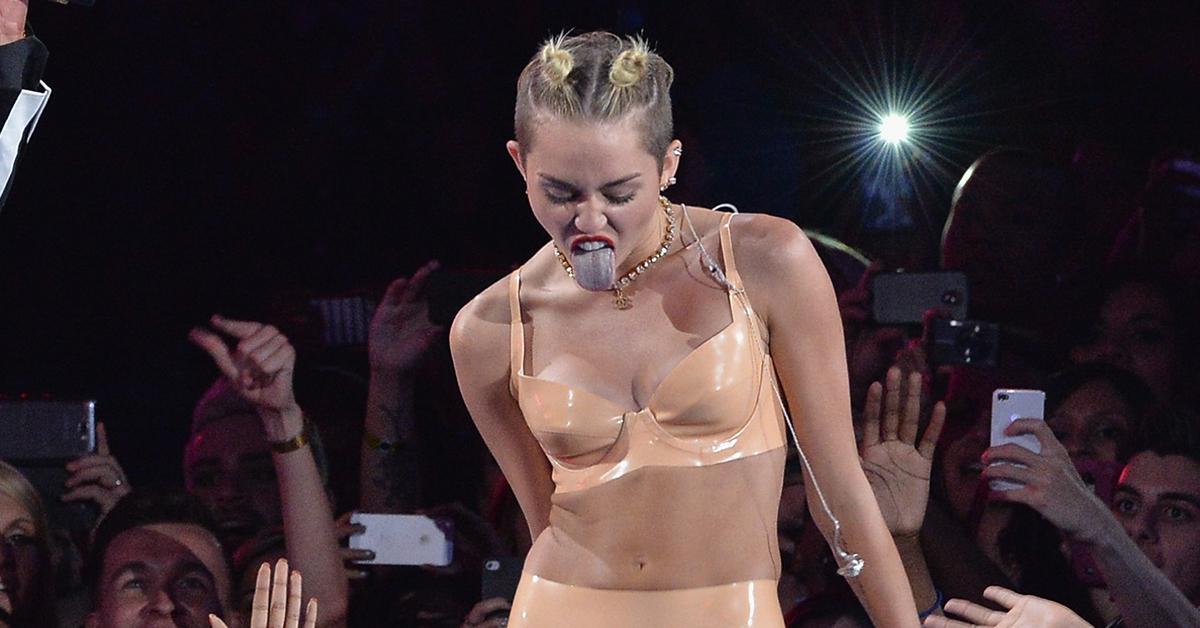 If you're expected to make a splash in music world, it helps to bring some eccentric visuals. The right outfit, in fact, can be what takes a simple pop star from "one album wonder" to "absolutely iconic." And whether that garment is a red vinyl catsuit à la Britney Spears, a nude latex two piece ala Bangerz era Miley Cyrus, or anything Cher has every worn ever, we're extra intrigued to hear the mythology behind each look. How did it end up in the music video? Why was it selected for this televised performance? And did that meat dress spoil? Today, we're unpacking some of those grand mysteries.
Below, iconic pop star outfits, unzipped and explained.
Article continues below advertisement
1. Lady Gaga - Meat Dress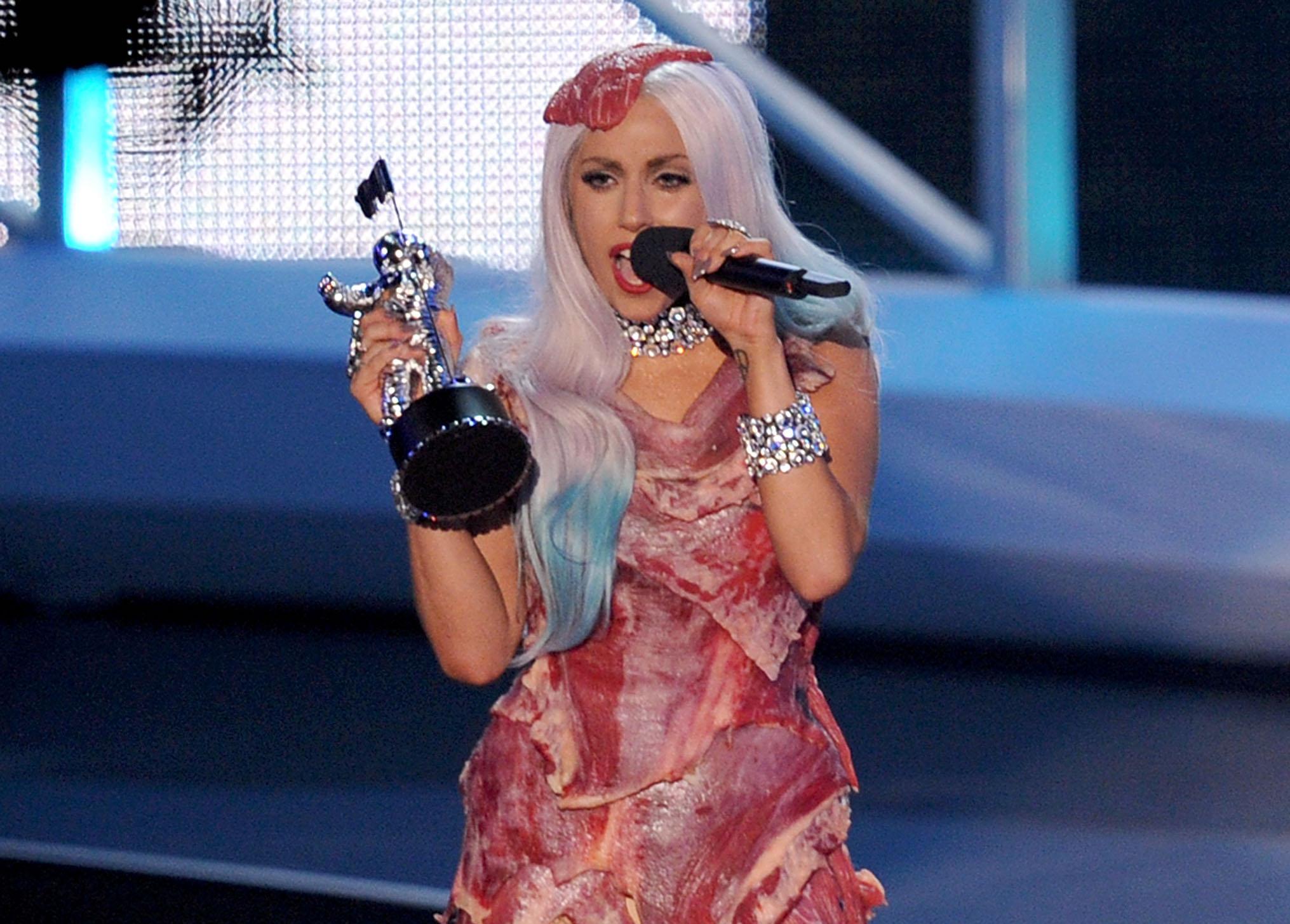 Franc Fernandez designed Lady Gaga's savory meat dress back in 2010. "I was approached by [fellow fashion stylist] Nicola Formichetti to create the look. It was planned over a week period," Fernandez said. "It's always a pleasure working with Nicola and Gaga, the times I have. The process is very easy and quick. Apparently you just hit up the butcher and start sewing. Delicious! The dress has since been pseudo-preserved in jerky form for the Rock N Roll Hall of Fame...with mixed success.
As to the big WHY of why this happened? Gaga said the dress has many interpretations (including a political protest against Don't Ask, Don't Tell)."For me this evening, if we don't stand up for what we believe in and if we don't fight for our rights pretty soon, we're going to have as much rights as the meat on own bones,"she said. "And, I am not a piece of meat."
2. Missy Elliot - Supa Dupa Fly Jumpsuit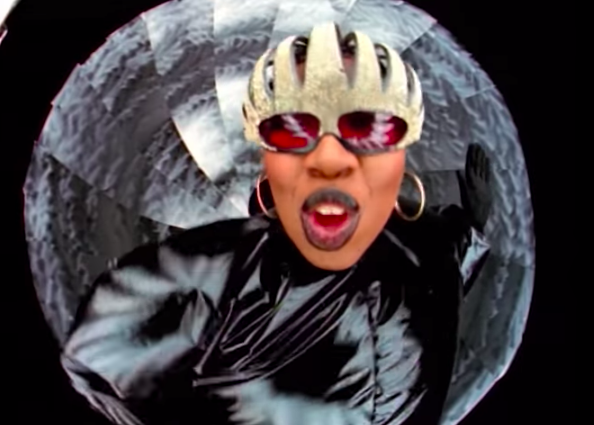 Stylist June Ambrose was tasked with creating Missy Elliot's inflatable ensemble in "The Rain (Supa Dupa Fly)" vid, wanting something to challenge the default "sexy" look for women in hip-hop. "For me it was about wanting to create this dichotomy between what females in hip-hop looked like," Ambrose told Elle Magazine in 2017. "We could've played Missy as a curvy, full-figured, sexy hip-hop female rapper. But we didn't need permission to adjust how we saw women in hip-hop at the time."
Ultimately, Ambrose took Missy's look in a marshmallow-y direction, using a bicycle pump for full effect. "The written treatment came from Hype [Williams]. During that time, we were very in sync and he gave me such creative license," Ambrose said. "When I first heard the treatment, and I said, 'Michelin Man? That's like a white marshmallow. Like some tire man? And I was like, there's no way I'm going to make her into a white marshmallow.' So this was my version of a black Michelin Man. I knew that I wanted it to feel kind of blob-ish."
Article continues below advertisement
3. Madonna - VMAs Wedding Dress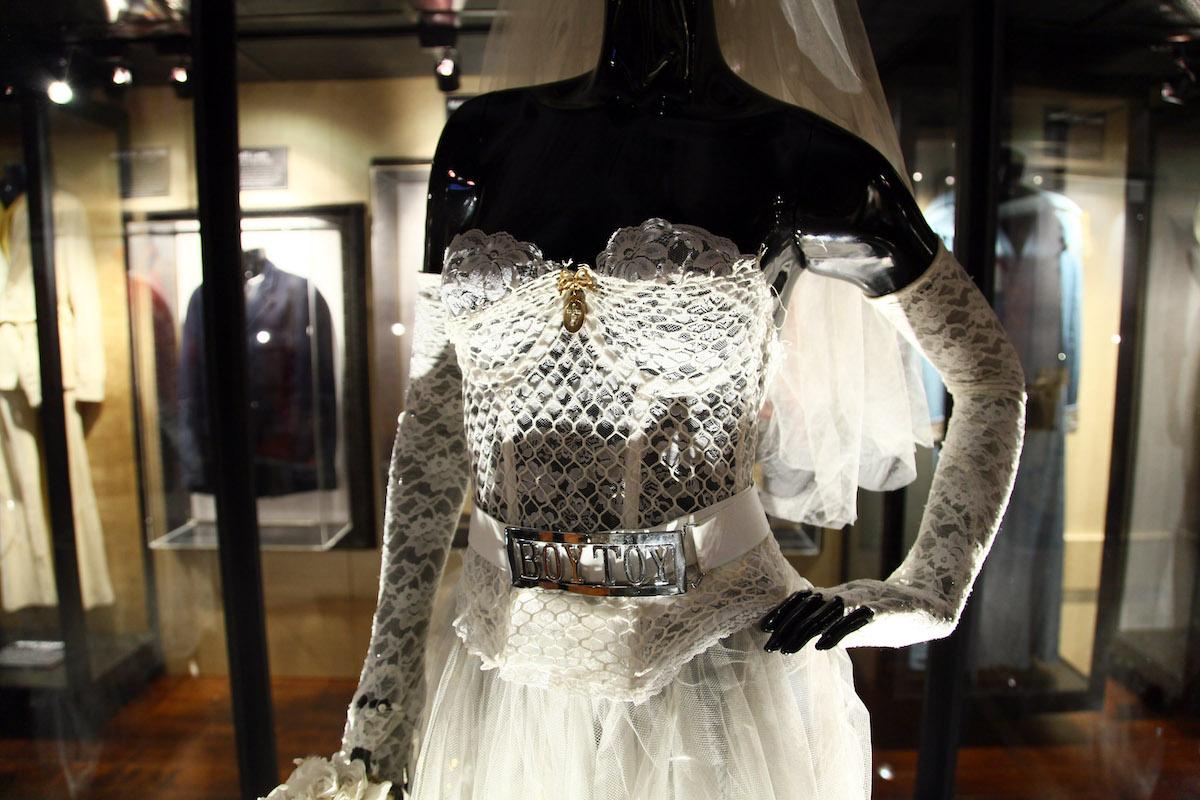 Madonna's original concept for her "Like a Virgin" VMAs performance involved, believe it or not, singing to a White Bengal tiger. I'm not sure if that's incredibly cool or incredibly dumb, but she nonetheless won pop culture forever when she stepped out in this "BoyToy"-belted wedding dress.
As for all that writhing? It was allegedly due to a wardrobe malfunction; as she descended the staircase, one of her slippers fell off. "So I thought, 'Well, I'll just pretend I meant to do this,' and I dove on the floor and I rolled around,". "And, as I reached for the shoe, the dress went up. And the underpants were showing." Whoops! Stumbled and fell into superstardom.
Article continues below advertisement
4. Katy Perry - Whipped Cream Bra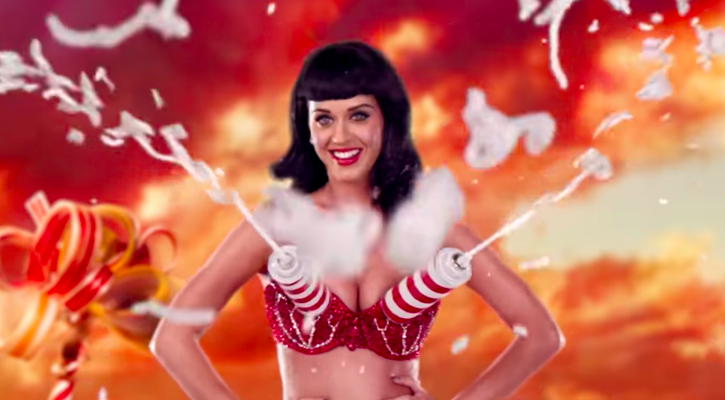 I feel incredibly uncomfortable just rewatching this scene in "California Gurls," but still wanted to know how they came into existence. "I needed some type of weapon so I thought I'd use my best assets," Perry explained in an on-set video. Fair enough.
Interestingly enough, though, that isn't whipped cream in those cans (I'm so upset that I just wrote that). "We made this wonderful whip cream rig," visual effects artist Kevin Berve explains in the same video. "We're actually using snow foam, which is used for dressing snow sets, out of these whipped cream canisters that are attached to her chest."
Article continues below advertisement
5. Michael Jackson - 'Thriller' Red Jacket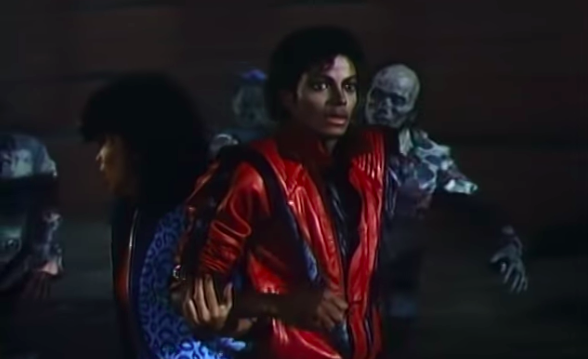 Deborah Nadoolman Landis designed Michael Jackson's red-washed outfit, but she had the challenge of making the King of Pop look, well, fearsome. Back then, Jackson weighed 99 pounds and had a 26 inch waist (OMFG). So note how the red jacket's "V" shape gives him broader shoulder — Landis specifically tailored the jacket to make Jackson look "virile," in spite of his small frame.
Article continues below advertisement
6. Britney Spears - 'Oops I Did It Again' Red Catsuit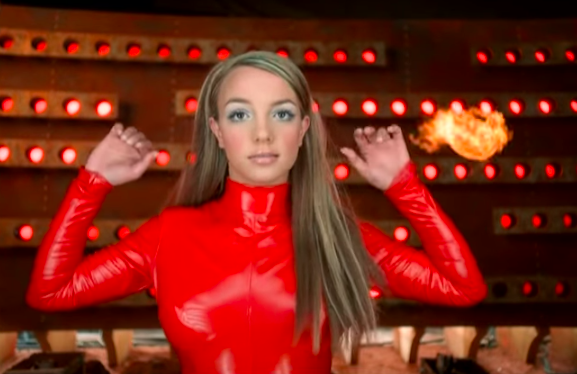 Let's stay along the same fabric line, shall we? In "Making of the Video" of the "Oops...I Did It Again," we witness Britney Spears request the famous red catsuit...13 hours before it's needed. "You know the first Austin Powers how Elizabeth Hurley, her hair was really big and the long extensions," Spears mimes to costume designer Michael Bush. "Sexy. But not too over-the-top because the choreography's really hard and the song in itself is already sexy." Britney's guidelines meant a slight delay in the catsuit's arrival (they had to switch the shooting schedule), but you know it all turned out ok in the end.
Article continues below advertisement
7. Lil Kim - Purple Bodysuit and Pasty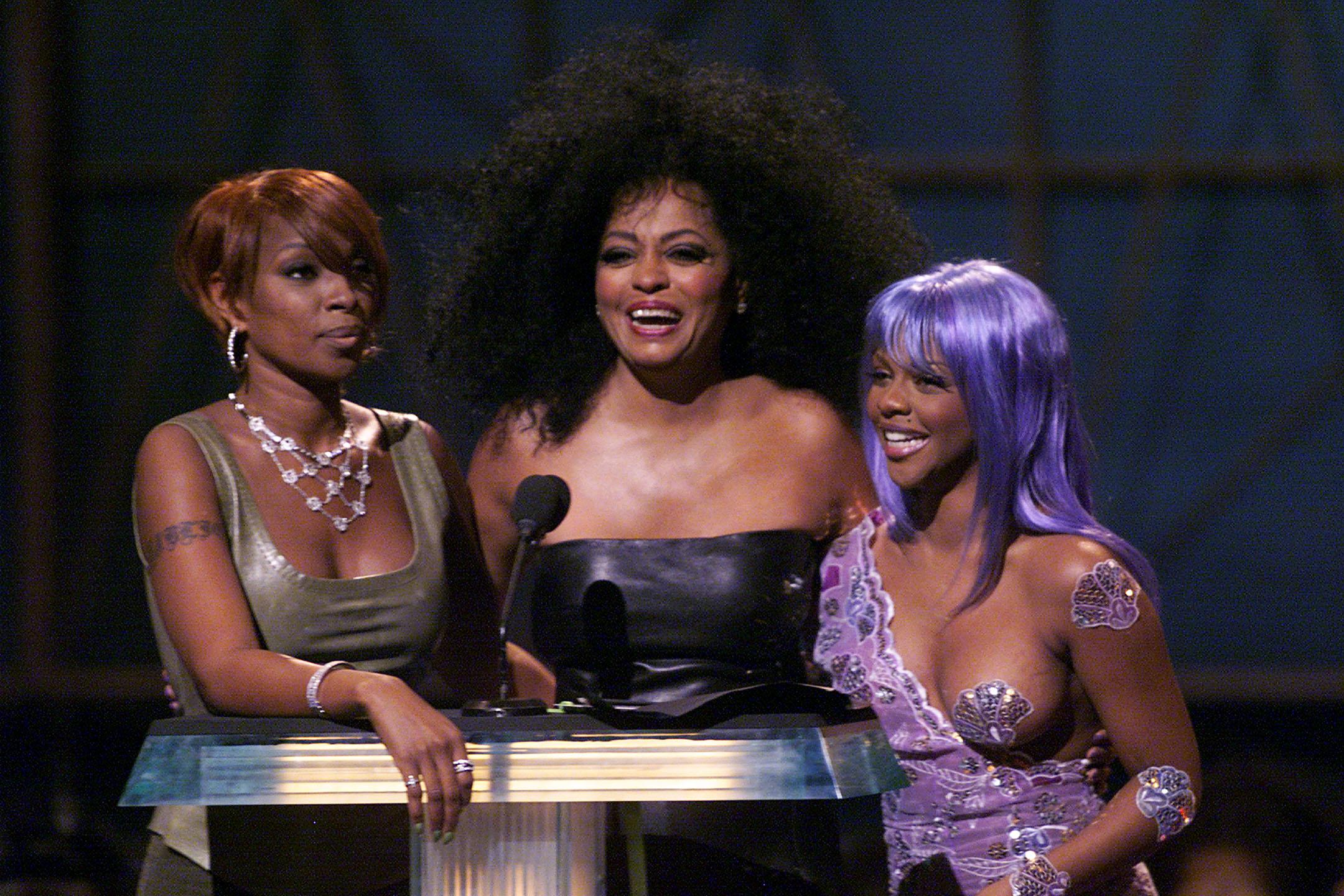 TBH the pasty is the true star of the show (shell of the show?) here, yet all of this look is intense, especially for 1999. The glittering lavender piece was apparently constructed from fabric typically made for Saris. "Our process had always been a natural flow of creativity and ideas," said designer Misa Hylton. "From the start, I really got into Kim and who she is, I got into her music. I created a visual story, something out of the ordinary and unique to anything experienced thus far. Those are the magical moments that make a lasting impression."
And the impression did last, eventually becoming the 2013 Halloween costume for one Miley Cyrus.
Article continues below advertisement
8. Miley Cyrus - 2013 VMAs outfit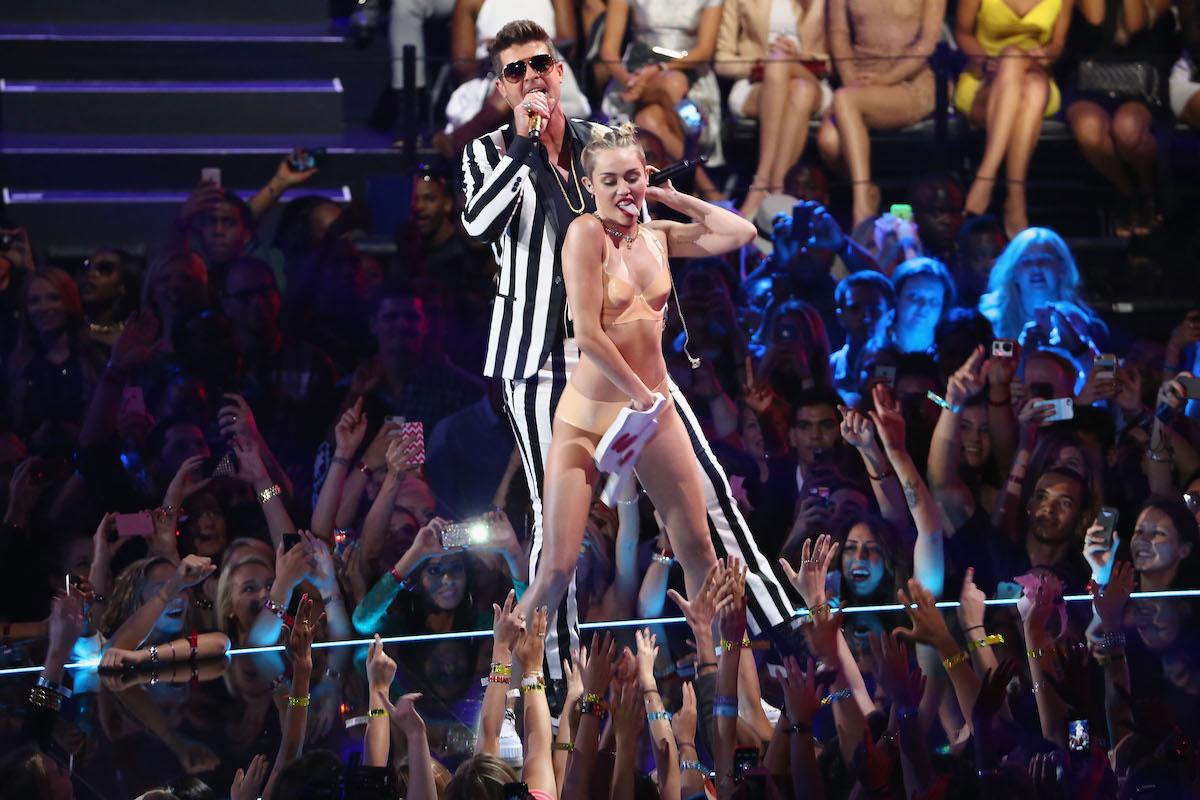 Speaking of which, can we just talk about how Miley Cyrus' disaster party VMA performance with Robin Thicke was the top Halloween costume of 2013? Ugh, never forget the parade of girls in Mouse leotards and foam fingers.
As for the nude, latex two piece, Thicke knew about it beforehand and, in a revelation not shocking to anyone, was the one to approve of Miley's outfit. "He wanted me as naked as possible, because that's how his video was," she said in 2013. "It was very much a collaboration. My part — 'We Can't Stop' — was all me. But when it went into 'Blurred Lines,' that was his performance."
No word on why Thicke leaned towards his "Horny Beetlejuice" aesthetic.
Article continues below advertisement
9. Beyonce - Yellow 'Hold Up' Dress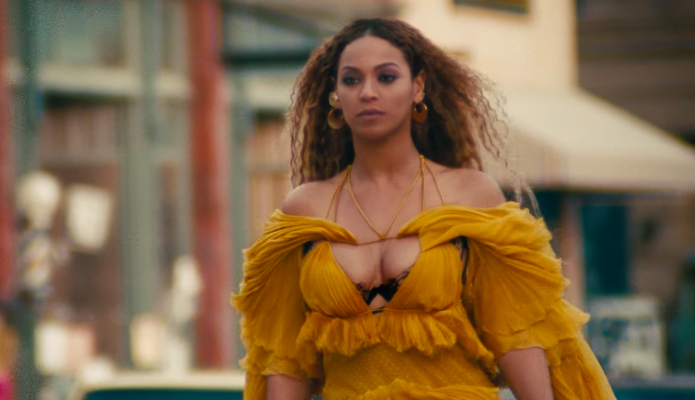 B. Akerlund can be credited for many of Beyoncé's best outfits, including sweet and sour yellow look from Lemonade. "We had another outfit already chosen [to wear], and then that yellow Roberto Cavalli dress showed up a day late because it was right off the runway [from fall 2016 collection]," Akerlund told Hollywood Reporter. "We weren't feeling the other dress and we put on the Cavalli and in that moment knew it was the ultimate vision of what that video needed to be."
Of course, there was more than one hiccup, as Akerlund had called in just about every yellow dress possible to find the perfect one. "We tried different shades, but yellow can be very wrong when you go more lemon-y," she said. "I knew that mustard yellow was the perfect shade for Beyonce — it just enhances her skin color and it's vibrant, but you still feel fashion and it doesn't become goofy."
Article continues below advertisement
10. David Bowie - 'Life on Mars' Ice-Blue Suit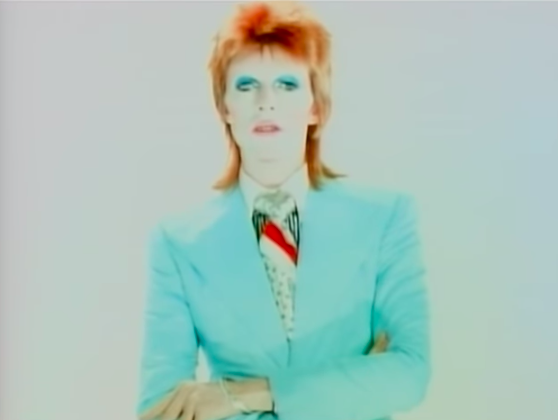 This could've easily be a "Best David Bowie Outfits" listicle but ah, who has the time? Let's take a moment, however, to appreciate his ice-blue "Life on Mars?" suit. The custom creation by friend Freddie Burretti created a look that so firmly pushed Bowie into superstardom...and was never to be recreated. Well, at least by David Bowie.
"David never looked like this at any other time," Mick Rock, the video's director revealed in 2016. "He never wore that suit again, never had that makeup on again. He never looked more amazing — like a space doll." Agreed.
Article continues below advertisement
11. Prince - Sheer Ass-Friendly Suit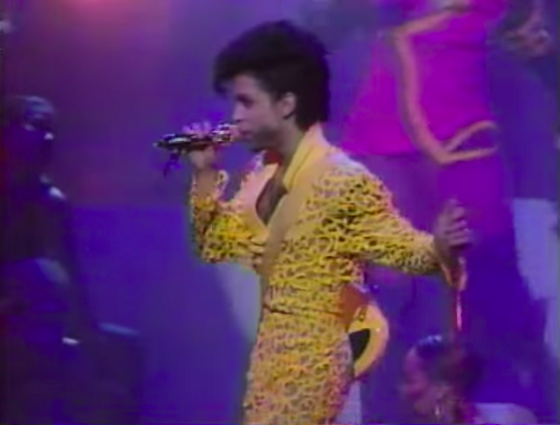 Likewise, it's just imperative that I fit in at least one Prince outfit before we wrap up. And though that includes a wardrobe of artful purple suits, I'm going to point to the sheer, cropped suit with the a-- cut out. Designer Stacia Lang shared all the details on her Facebook."Prince's secretary came to me shortly before the MTV Music Awards and said something to the effect of, 'You're not going to believe this.... You'd better sit down,'" Lang shared. "And she proceeded to tell me that Prince wanted a costume with the BUTT OUT." She then goes on to say she gave Prince two designs, one with more exposure and one with less exposure. "The surreality of that moment cannot be over-stated here" Lang wrote. "Without a word, he took a pencil and put an X thru the version with 'more exposure.'"
In conclusion, I miss Prince more and more every day.
Article continues below advertisement
12. Cher - 'If I Could Turn Back Time' Ensemble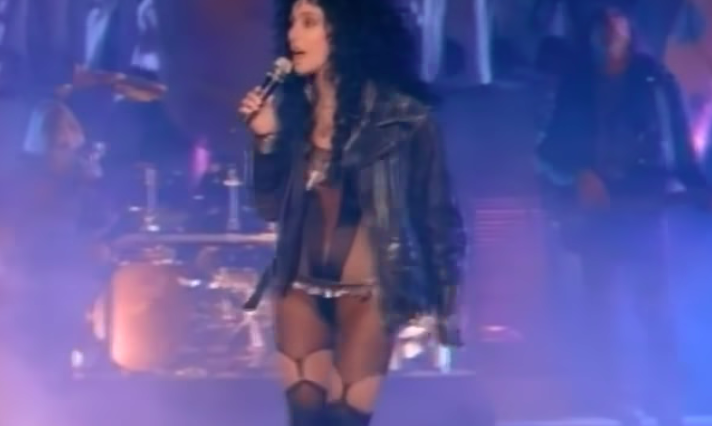 Leave it to Cher to create a controversy. The outfit first made its debut in the "If I Could Turn Back Time" music video , which was filmed on a Navy ship, surrounded by those who serve. Thing is, the owner of the ship was none to pleased about her skimpy ensemble, but when the ship's entertainment liaison asked the director to have her change, it was flatly refused. As a result, musicians are no longer allowed to film on Navy ships following the release of this video.
However, identical versions of this look have seen a more welcome reception on various tours, and several VMAs...including when she awarded the meat-clad Lady Gaga a Moonman for "Bad Romance." One sartorial risk-taker passing the torch to the next!