Meet Nico Tortorella, Host of MTV's 'How Far Is Tattoo Far?'
Here's everything you need to know about Nico Tortorella from MTV's 'How Far Is Tattoo Far?' — from coming out as genderfluid to their marriage with a lesbian icon.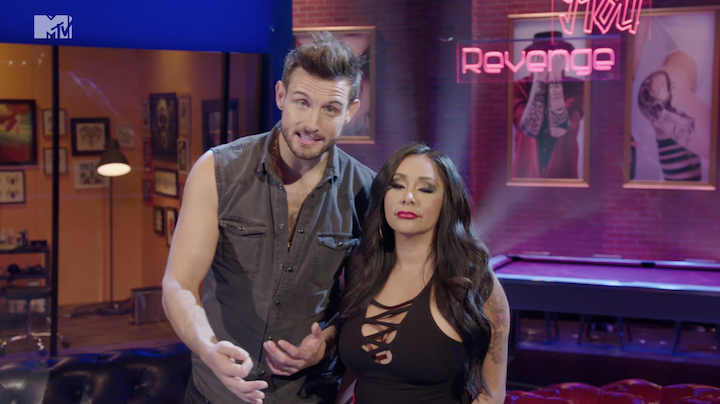 You don't need much background information to jump in and binge MTV's How Far Is Tattoo Far? Based on the British MTV's Just Tattoo of Us, the show picks friends, family members, and couples who design tattoos for each other. Except, the person can't see the tattoo they've had chosen for them until it's already on their body forever.
Article continues below advertisement
And if the hosts of How Far Is Tattoo Far? seem oddly familiar, it might be that you recognize reality TV princess Snooki from her tenure on Jersey Shore. But Nicolo "Nico" Tortorella is no stranger to the camera, either.
So, who is Nico from How Far Is Tattoo Far?
The 30-year-old genderfluid Illinois native got their start in theater and in 2009, was cast in the CW's The Beautiful Life: TBL, which followed a group of 11 models living together in NYC and lasted one season. Between their first show in 2009 and the moment they were cast as Josh in Darren Star's series Younger, the role they're most often remembered for, Nico also appeared in ABC's Make It or Break It and FOX's The Following.
They've also made some appearances on the big screen in films such as Twelve, Scream 4 and have even starred in a 2015 independent film, Hunter&Game.
Article continues below advertisement
Does Nico have any tattoos?
On Younger, Nico played a Brooklyn tattoo artist and now they host a reality show all about them, so it begs the question: Does Nico have any tattoos? The answer is yes, many.
In an interview with TODAY, they opened up about their love for body ink. "I have a bunch of tattoos, too many to count. If I wasn't a full-time actor, I think I would be fully covered. I get tattoos all the time," they said. "My agents want to die. They gave up hassling me a long time ago. The art of tattoos, historically, is one of the most sacred practices. I'm really strongly connected to the ancient practices of tattoo work — not just, 'Oh, it's cool to get tattoos now.'"
Article continues below advertisement
For Nico, tattoos are definitely not just a trend. They got their first at 15. "My mom took me to get Chinese letters on my back because it was the early 2000s," Nico explains to Snooki in a behind-the-scenes clip.
Article continues below advertisement
And their latest ink was done by How Far Is Tattoo Far? artist Kevin himself. "It means the supreme reality — God is one, God is everything, but it's also a 3 and a 9 backwards, and the day that I got married is 3-9-9, so we added another nine," Nico says of their new wrist piece.
Married?! Who is Nico's wife?
Nico has been with fitness instructor and lifestyle coach Bethany Meyers for 13 years, and the two tied the knot earlier this year, in March. Although Bethany Meyers identifies as a lesbian, the couple have a happy and open polyamorous relationship.
Article continues below advertisement
"If you had to label it, Nico and I are in a queer polyamorous relationship," Bethany said in an interview with them. "Labels that help people understand, but not labels that define us. Most think we planned this and one day decided we would be multiple-love kind of people. We didn't. It's just the way our relationship developed over 12 years."
When asked about her sexuality, she continued: "I started dating women around six years ago. I started exploring nine years ago. I started crushing 12 years ago. I'm sure it all would have started earlier had I known it was an option."
Article continues below advertisement
Her ability to explore her sexuality just made her more sure she wanted to be with Nico in the long run — and she was even the one to propose. She told them, "Now that I was looking at marriage from the lens of two women ... the idea of marriage started to shift ... It no longer felt patriarchal, it felt equal. And I finally began to view it for what marriage was at its deepest core. The union between two people who love each other, who wanted to build their foundation of future generations together ... No matter what, I realized, if I was ever to marry, the person to fill that role was Nico."
What's Nico's sexuality?
Article continues below advertisement
As for Nico's sexuality, the genderfluid star identifies as pansexual — meaning their attraction is not limited to any biological sex, gender or gender identity. They've often served "gender f*#&" looks on the red carpet and have even had sparkly makeovers by drag star Trinity.
Nico also opened up to them about their views on marriage. "In hindsight, I wish we would have asked ... to use nonspecific gender titles, but so be it. This husband now had a wife, and this wife now had a husband. A bride becomes a wife and a groom becomes a husband, but what does partner become? I choose to believe ... two husbands and two wives [were produced] from Bethany and I."
Are Nico and Snooki friends?
They are now! Before the show, the two didn't really know each other. Nico was asked to pick a female cohost and when Snooki's name came up, "it was a no-brainer for me," Nico told Vulture. A longtime Jersey Shore fan, they said, "I feel like she has been part of my family for the past ten years."
While Snooki wasn't too familiar with Nico's series Younger, she did know them for their LGBTQ activism and poetry. "I love [them]," she told Vulture. By their second time meeting, "we were friends already," she added.
But would Nico let Snooki design a How Far Is Tattoo Far? piece? "I wouldn't let you pick a tattoo for me. Not yet," they tell her.
Don't miss How Far Is Tattoo Far? on MTV at 9PM on Thursdays.