'Extreme Love's Pregnant Man and Partner Welcomed a Baby Boy Into Their Lives
This 'Extreme Love' couple — with a pregnant man — from Texas defied all odds to start their family.
Each week, WE's Extreme Love looks at unconventional couples — from real-life vampires to sister wives — and tells the story of their unusual and unexpected relationships. Tonight's episode will center in part on the story of Wyley Simpson, 28, and Stephan Gaeth, 27, a gay male couple who became naturally pregnant with their biological child.
Article continues below advertisement
"I am a man and I am actually pregnant," says Wyley in a teaser for Friday's show. The couple, who met on Grindr, fell in love at first sight. In the video, Stephan gushes about how Wyley's bio said "country boy, loves animals, vegan," and Wyley, in turn, reveals what made him fall in love with Stephan on their first date: "I loved how he dressed, I loved how he acted, I loved his demeanor, his personality."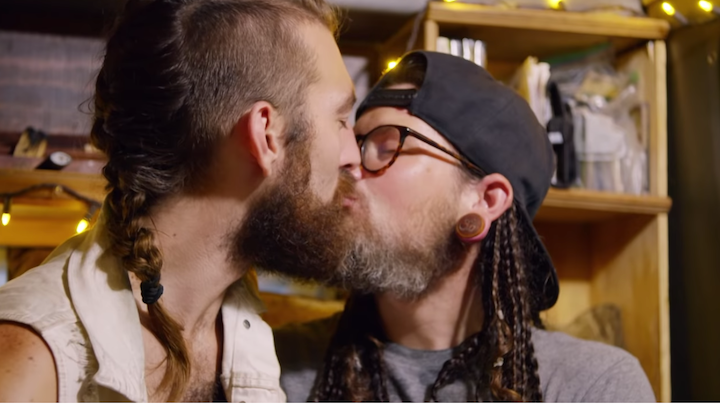 Article continues below advertisement
So, how did Wyley get pregnant?
"This pregnancy was definitely not planned, absolutely not," says Wyley in Extreme Love's trailer. After many years of feeling "uncomfortable" in his "female-born body," Wyley began his transition in 2012. "I identify as a transgender male," he tells the camera. "I could finally be my true self of who I wanted to be and who I wanted to become as a man."
"Everybody that I've dated in the past, they haven't accepted me for who I was," Wyley reveals. But with Stephan, things were different from the get-go: "Stephan knew right off the bat that I was a transgender male."
And it was during his transition that Wyley became pregnant. Although he had top surgery in 2013, he hasn't yet gotten operated down there. "It was a question," Stephan opens up. "Can you get pregnant?"
But the couple discussed Wyley's hormonal treatment and went over what he had been told by his doctors — essentially, that he couldn't get pregnant on testosterone. That's what the couple "believed to be truth," Stephan shares.
Article continues below advertisement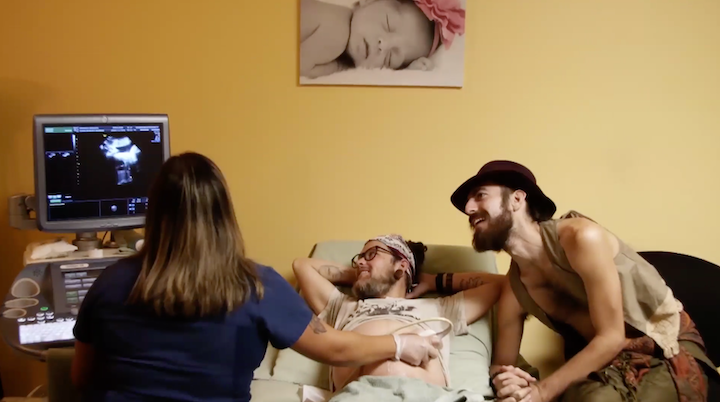 One day, however, Wyley woke up nauseous and realized something was off with his body. "I started having morning sickness and found out I was pregnant at 11 weeks," he says. "After I saw that it popped positive, I was nervous, I was very emotional. I started crying, I didn't know what to do, I didn't know what to think, I didn't know what to say."
And although the couple briefly debated giving the child up for adoption because Wyley didn't know "what to do," they've managed to start a lovely and loving queer family with Rowan, their newest addition.
Article continues below advertisement
But, there were some complications.
As WE teases in their description of tonight's episode, "an expectant parent is rushed to the hospital when complications arise." From the looks of the Stephan's social media, Wyley had to give birth via C-section.
"So... pushing didn't go as planned," writes Stephan in the caption of a video that shows Wyley on a gurney in the hospital, being wheeled away. "Almost 3 full days of labour and now we are just getting this baby out! I love my man so much. Never met a stronger human."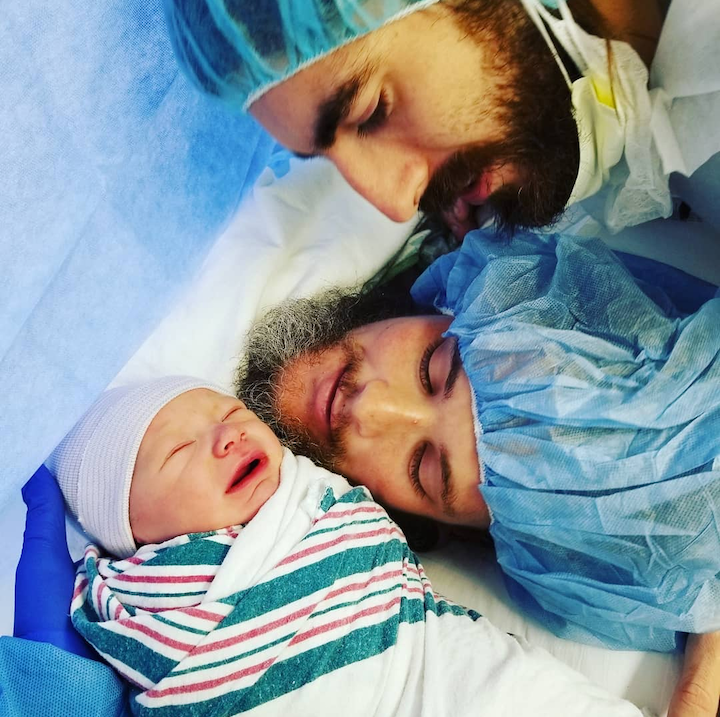 Article continues below advertisement
Wyley then suffered something many go through but don't talk about: post-partum depression. In a post on social media, he revealed that he endured a "long mental battle with post-partum depression," adding that "most people don't glorify the hard parts of pregnancy."
Although he says the past few months have been "rough," he assures his followers he's on the upswing. "I am doing better, but still have 'those' days ... for now I am all smiles and things shall get better," he shared.
Today, Baby Rowan is the center of Wyley and Stephan's lives.
Born just a few months ago on September 5th, Rowan is the newest addition to Stephan and Wyley's now-official family. And the three of them look happier than ever. Between adventuring and brunching together, baby boy Rowan appears to be getting a ton of love from his "Daddy and Papa." How absolutely adorable. You can follow their journey as new parents on Instagram — Wyley's is here and Stephan's is here.
And don't miss their story tonight on WE. New episodes air every Friday at 10 p.m.