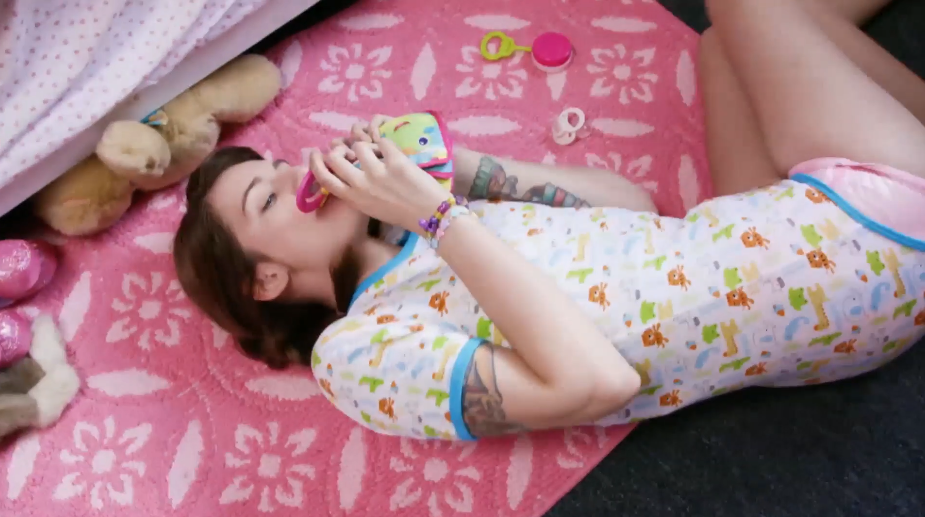 'Extreme Love's Adult Baby Jess Has Found a New Daddy
Each week, WE's Extreme Love takes us into the lives of couples who lead unconventional relationships — to put it lightly. From pregnant males to feeder couples, the show, which originally got its start as a Barcroft web series, profiles "shocking and outrageous" love stories "with a twist" to drive home the point that "there's someone for everyone."
Article continues below advertisement
Tonight's episode will focus in part on adult baby, Jess, who together with her boyfriend and "daddy," David, plays out her Adult Baby/Diaper Love (ABDL) fantasy. You know, in a totally normal, non-sexual way.
"For me, there's nothing sexual about my age play, or anything like that," she explains in a teaser clip. And as for the 205,000 subscribers to her YouTube account, Jess chalks it up to "all kinds of people" tuning in "for different intentions or purposes."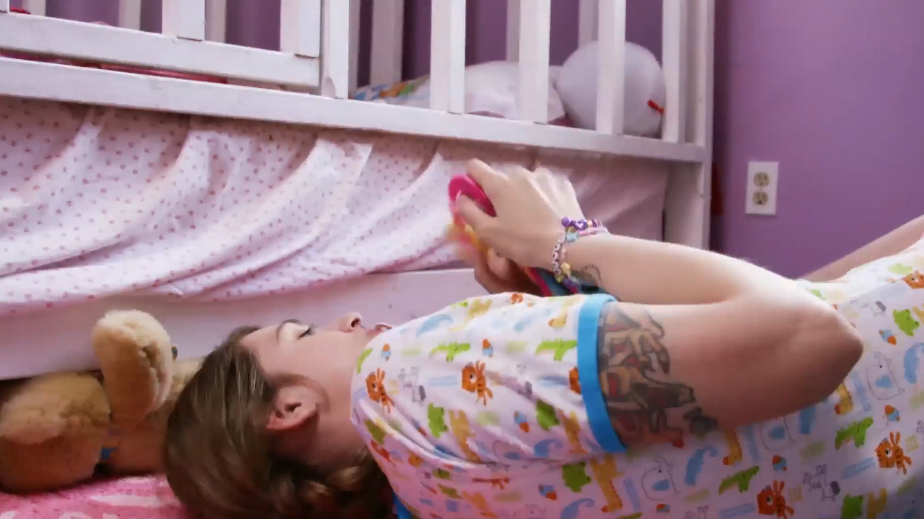 Article continues below advertisement
For Jess, whose videos comprise several series including the impressively punny "Regress with Jess," the clips have given her something of an outlet to find her "inner confidence." "I'm trying to reach the spectrum here, make it more normalized and make people less judgmental," she says to the camera.
Why does Jess live her life as an adult baby?
To be fair, the famous YouTuber is "me — normal, adult me" by day, as she revealed last year to LADBible. "I work full time, I do my YouTube channel, streaming and other stuff like that. I have my own website, and then I also have other hobbies. I like to do art, I like to sing — just normal things."
Article continues below advertisement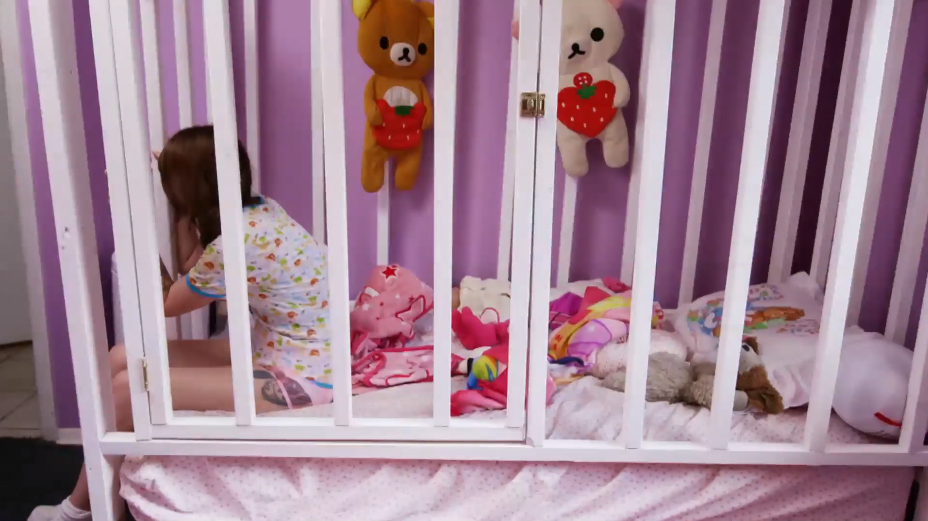 But by night, she regresses to infancy — be it as a non-verbal baby or mid-tantrum toddler — a state of mind Jess calls her "little space."
"What I like about being in 'little space'," she said in a trailer ahead of tonight's episode, "is that I can kind of forget all of the adult stresses of the day and just unwind and clear my mind. It kind of brings an innocent feel into my life."
Article continues below advertisement
The innocence bit is key.
Florida native Jess' real-life childhood was troubled. Abused as a toddler, Jess began using age play to reclaim her early childhood years and "get that innocence back that I didn't have, to relive it the way that I wanted to, in a more innocent and pure way."
But although she admits her interest in age play probably stemmed from her traumas, she believes she'd still be into regressing to infancy "even if I wasn't abused."
In her conversation with LADBible, Jess opened up about her past: "Yes I do have that kind of past trauma, but at the same time I feel like even if that didn't happen I would still be doing this. I don't feel like I'm doing this to cope. I never really think about it. It's not this healing thing because this is just what I do with my life."
Article continues below advertisement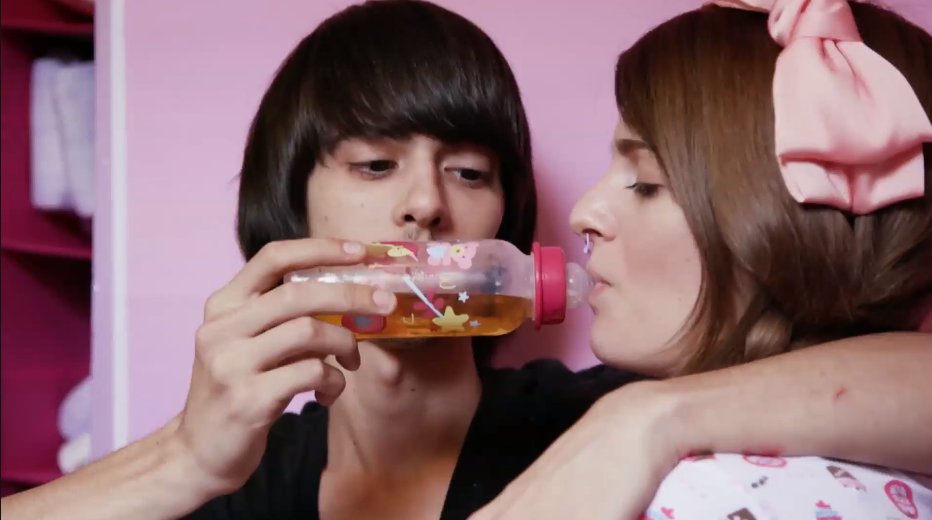 These days, Jess is regressing with a new daddy.
Fans who've caught up with Jess since she became an internet sensation a few years ago already know that she broke up with David, who will still appear as her boyfriend in tonight's WE episode. Back in 2017 when they split, Jess announced that she'd gotten together with Steve-o and broken up with David in the same YouTube clip.
Article continues below advertisement
"Yeah, me and David broke up," she says to the camera with Steve-o by her side. "I broke up with him, it felt like a long time coming, I guess, s--t happens, people fall apart." Then, Jess addresses her new beau: "Why did you move on so f--king quickly? Well, because s--t happens and feelings and stuff, well, human nature."
Article continues below advertisement
Here's how to follow the age play couple on Instagram.
If you've seen the trailer for tonight's episode, you'll notice that David is less than thrilled to be playing daddy for Jess. Diapers "aren't really his thing," the age play doesn't stimulate him sexually, and mainly he just appears all-around uncomfortable with all of the role-play, saying that he pretty much only plays along because it makes Jess happy.
But her new boo Steve-o is totally here for the baby-daddy stuff. "It's definitely a lot different to my previous relationship because I have a boyfriend now who actually cares about it like I do. It is a daily thing," Jess told LADBible. "He likes the trust that I put into him, he likes being able to care for me, he likes the vulnerability that I'm willing to give him. It makes him feel needed and special."
"It's perfect in a way," she concludes, "because what he wants to give me I want to take from him, and vice versa." The two are even engaged to be married! If you want to follow the couple on Instagram ahead of their impending nuptials or scroll through Jess' feed before her episode airs, follow the adult baby here. "Daddy fiancé" Steve-o's page is here.
Don't miss Extreme Love tonight and every Friday at 10PM on WE.