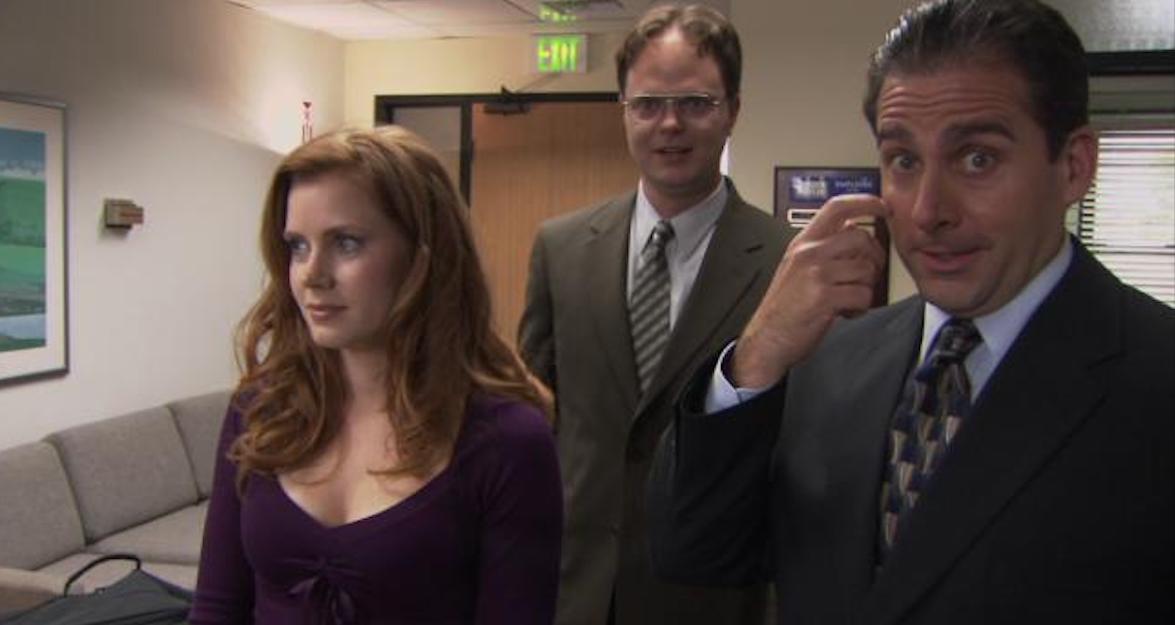 A 'The Office' Documentary Confirmed Ahead of the Show's 15th Anniversary
The Dunder Mifflin gang is reuniting for a documentary about their hit TV show, The Office.
Article continues below advertisement
Robert Shafer, better known as Bob Vance on the NBC comedy, confirmed the exciting news on Facebook.
"We are producing a documentary on The Office entitled That's What She Said (And They Said Too!)," read an email the actor received. "We will be delving into the history of the highest streamed show currently on Netflix, with anecdotes from cast, crew, creators, fandom culture, and how the show successfully addressed the larger social issue of the times."
While it is unclear if main cast members like Steve Carell (Michael Scott), John Krasinski (Jim), Jenna Fischer (Pam) or Rainn Wilson (Dwight) will be featured in the documentary, Robert did reveal that filming will start in April and will be released on the 15th anniversary of the series, which takes place in March 2020.
Article continues below advertisement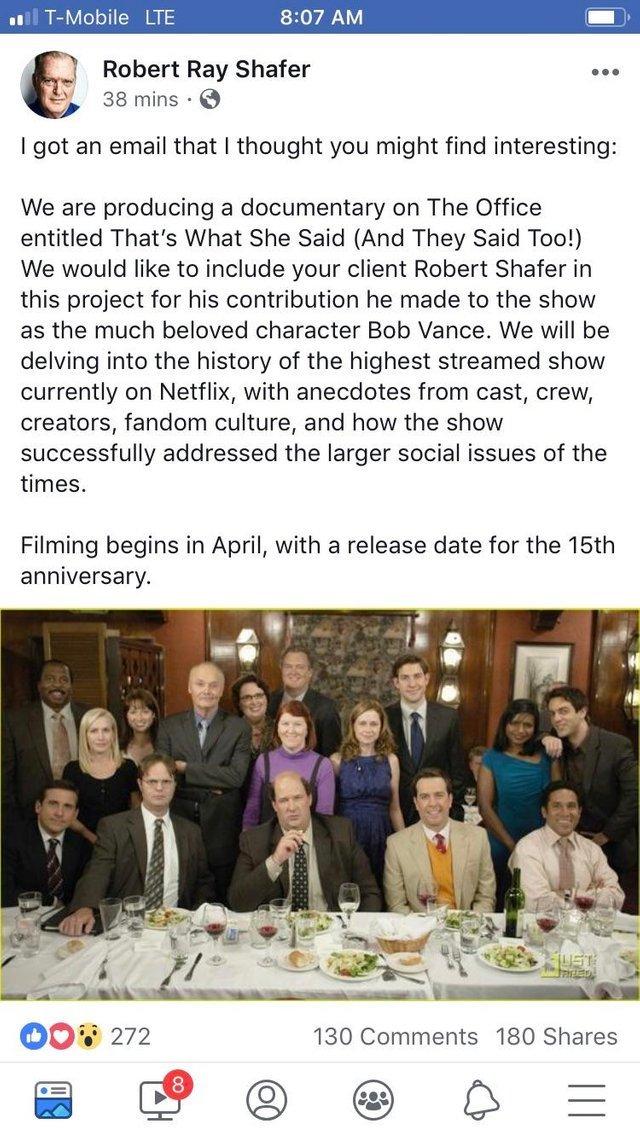 As expected, die-hard fans can not wait to see the project. "We go from a show about filming a documentary to a documentary about filming a show," one fan hilariously pointed out on reddit while another simply added, "OMG YAS more Office content plz." A third chimed in, "A documentary about a documentary...is this Inception?"
Article continues below advertisement
While we will have to wait another year to see The Office cast all together again, the gang recently reunited for the holidays — sans Michael Scott — and shared some photos from the brunch on social media. Creed, Toby, Kevin, Stanley, Phyllis, Oscar, Dwight, Angela, Pam, and Andy got together and recreated the show's iconic cast photo along with creator Greg Daniels.
Article continues below advertisement
"I had brunch with these oddballs today. Love you," Jenna tweeted alongside the photo. Angela Kinsey (Angela) also shared the image, writing, "Some of the old gang got together today... it was so great to see everyone! I turned to Ed and said, 'I feel like we are at a family reunion.' He smiled and said, 'We are.' Thanks Greg for hosting! For those who couldn't make it... you were missed!"
As expected, Steve Carell experienced some FOMO (didn't we all?), and responded, "Miss you guys." Also missing were John Krasinski, Mindy Kaling (Kelly), Ellie Kemper (Erin), and BJ Novak (Ryan), so at least he wasn't alone. This also didn't stop fans from asking for a reboot ASAP.
Article continues below advertisement
"The Office stans will still be begging for a reboot with Michael Scott. Never been more sure of anything in my life," one follower wrote. Another agreed, even adding a pitch for an episode, "The Office reboot should include an episode about Michael doing his birth chart and forcing everyone into astrology. Angela thinks it's Devil worship. Pam and Jim find out they're incompatible signs. Andy sings 'Age of Aquarius.' Dwight is a Virgo. *looks at camera*."
Now, we have a The Office documentary to look forward to.
In the meantime, you can pass the time by streaming The Office on Netflix.