Mom's Heartbreaking Facebook Post Shows The Dangers Of Infants Sleeping In Adult Beds
Woman warns other mothers not to let their children sleep on adult beds, after what happened to her son.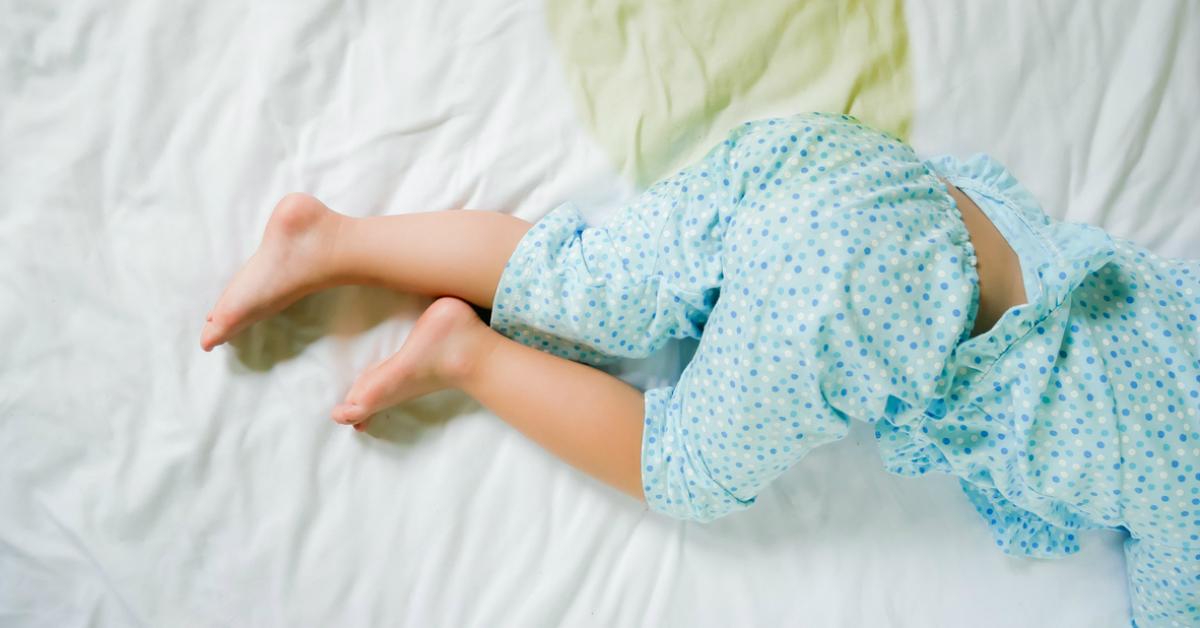 As any parent will tell you, especially a first-time one, it's very easy to become overbearing and overly worried about an infant's health in their first few months on this planet. My son's a toddler and I still find myself constantly checking his vital signs to make sure that they're normal.
Article continues below advertisement
But those first couple of weeks, you're a madman Googling any and every type of illness that could befall your child. I preemptively knew how to spot an infant's flu or whether they showed signs of RSV. My wife and I would wake up in the middle of the night to check his breathing, because of the SIDS horror stories we'd heard.
Article continues below advertisement
Each stage of a child's life means that they're past certain dangers, like SIDS, or running into table corners and bumping their heads, but that also means they're open to new dangers, too.
Article continues below advertisement
Like when your infant is old enough to keep their head up and is too big/chunky for their baby-rocker or bassinet, it's temping to lay them down in bed with you. Especially if they're asleep and you don't want to disturb them, you figure why not get an hour of adult time or to just go to the bathroom, eat, and have a few quiet moments.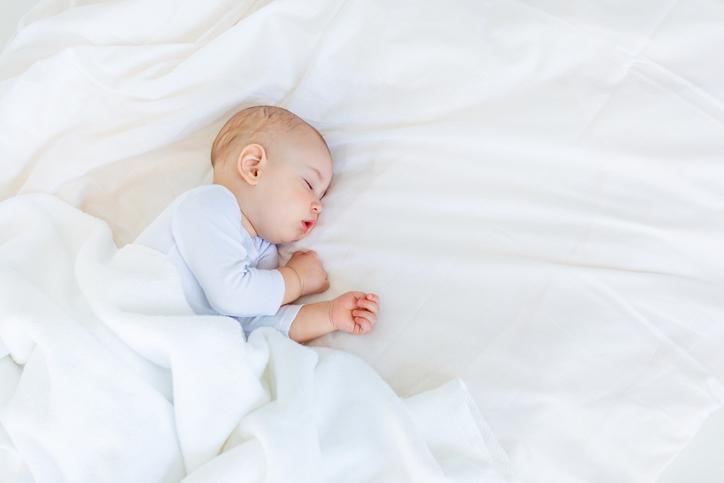 Article continues below advertisement
And although the temptation to snuggle your baby is very, very real, leaving them in your bed can lead to some scary consequences, especially when babies start rolling and flopping all over the place.
Something that the parents of 6-month-old baby Colton discovered had dire consequences after leaving him to sleep on a bed they thought was perfectly secured.
Article continues below advertisement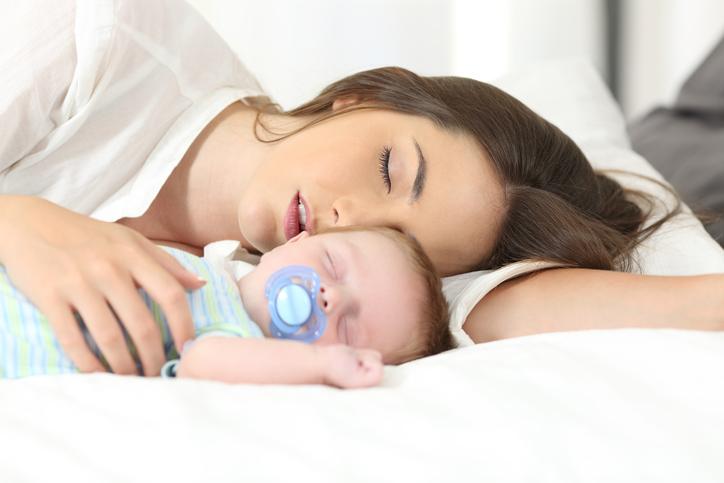 Paige Ferguson and her husband Blake Linton were at a friend's house when Colton fell asleep. They placed him on a bed that was only two feet off the floor. They created a "barrier" of pillows to prevent him from moving/rolling over. After leaving the room for a few minutes they heard a thud and crying, then suddenly rushed to the room to check on their little guy, who was alert, and even smiled a bit.
Article continues below advertisement
But because Ferguson and Linton were (thankfully, in this instance) paranoid parents, they took Colton to the doctor to get the bump on his head checked out. They just wanted their fears allayed and were fully expecting the doctor to tell them that their son was fine and they were just being overly paranoid. Sadly, this wasn't the case.
Article continues below advertisement
The doctors gave Colton's parents the news no mother or father would ever want to hear: that he sustained a head injury that kills most babies.
Colton had fractured his skull, which resulted in him bleeding half of his blood volume into his brain. Despite the large team of some 20 doctors and nurses on the floor caring for Colton, Paige couldn't get a definitive answer as to whether or not her baby would be OK.
Article continues below advertisement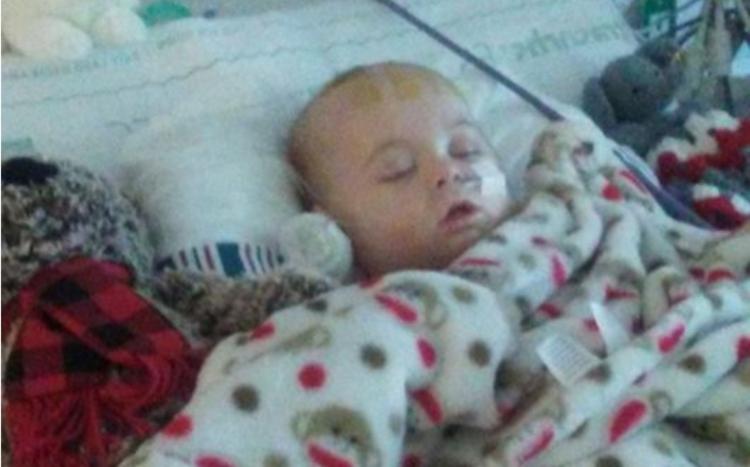 Colton's situation worsened: the infant bled so much that he had had a heart attack and his MRI scan revealed that he had sustained so much damage to his head that his chances of surviving the injury were slim and even if he did, he'd either live in a dormant state or with a severe brain disability.
Article continues below advertisement
Paige was devastated by the news, and shared her story on Facebook to warn other mothers not to do what she did y allowing the baby to sleep on an adult bed.
Article continues below advertisement
She encouraged others to share her post and the following message about Colton's struggle in the hopes that no other family would have to endure what they went through following the little baby's injury:
I have really been contemplating posting this. But, i need Colton to be an advocate. I need people to realize the seriousness of a head injury. This started from him falling from a bed that is only 2ft off the ground. He had a bump on his head. A bump. He was crying, acting alert and at one point even smiled. Because we are paranoid parents, we decided to get him evaluated. We thought for sure they were going to say he hit his head, has a bump, and he will be fine. Not the case...He fractured his skull and bled half of his entire blood volume into his brain. Im going to be blunt here...Colton may not live. Colton may live and never walk or talk, Colton may be fine, Colton may be delayed. Its up in the air right now and he is still fighting for his life because we are not out of the woods. This is a nightmare. I dont want other parents going through this...i dont want any kid to go through this. Please take any hit to the head seriously. I cant say this enough. My heart is broken. Our child is laying in front of us yet we miss him so terribly. I need you to hear me...get your kids checked out! Please. The old tale of "if the bump is outward you're safe." is NOT true.
Please continue to pray for him. I am trying to thank everyone but, because there are so many of you amazing people, its hard. I love and appreciate all of you. Thank you from the bottom of my heart.
Article continues below advertisement
Colton was admitted into the hospital in March. About a month later, Colton finally opened his eyes but he still wasn't out of danger. He suffered seizures that he had to be medicated for, but he was responding to his mother's and father's voice and was no longer in a vegetative state.
Article continues below advertisement
Colton was eventually able to come home with his family, where he got to play with his older brother, Brennan where the two of them were all smiles as they played.
Article continues below advertisement
Colton's brain is still recovering, and doctors informed Paige that he will more than likely have a "hard life," however, it hasn't stopped Paige from sharing all the happy memories they're making with their baby boy.
Article continues below advertisement
Colton looks like a smiley, bouncing baby boy, soaking the summer up who will hopefully make more and more strides in his recovery as time passes.
Article continues below advertisement