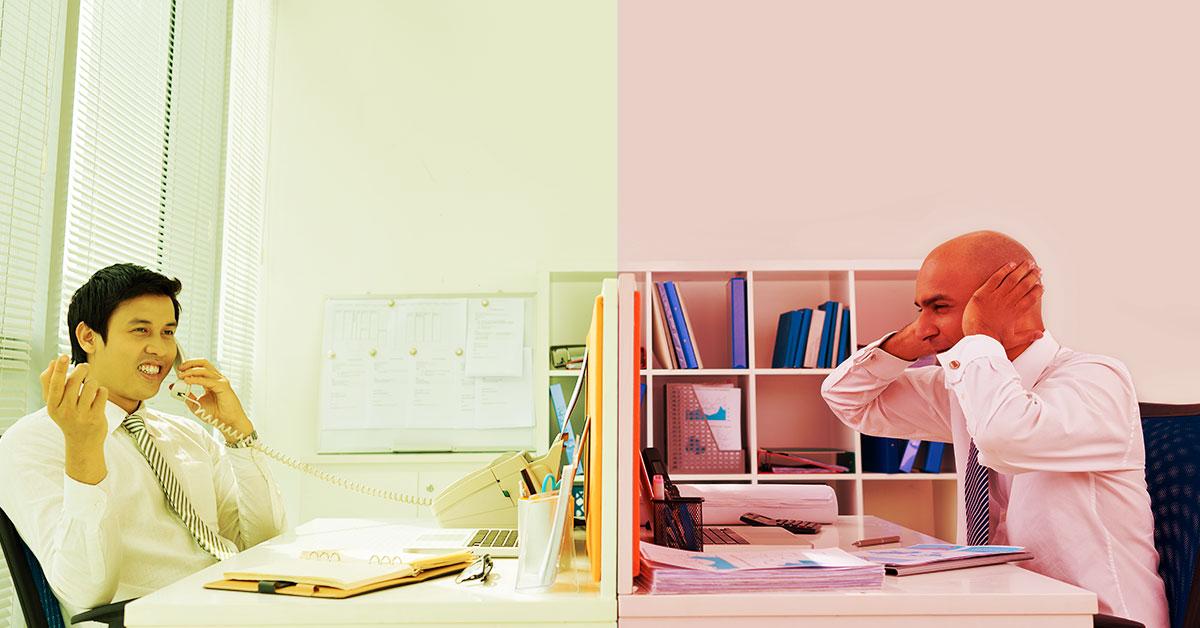 These Horror Stories About Annoying Coworkers Will Make You Grateful For Your Job
By Zachary Brenner

Updated
I don't think I've ever had an annoying coworker. I've had coworkers who I thought were annoying here and there, but it was never their defining characteristic. There is only one conclusion that can be drawn from this: I was the most annoying person in the office.
I should have seen this coming. What with my entire personality and everything that comes with it. I suppose I should apologize for that, but I won't, which is one of the countless reasons I was the most annoying person in the office.
Fortunately, I work at home most days now, so I've got no one to annoy but myself, which I do.
That'll show her... I think.
Hey. Don't knock it 'till you try it.
How did that conversation go?
Sounds like this person needs to find a new career.
How bad does it need to be that a new policy is created?
Is it at least a fancy suit?
At this point, why bother even paying me?
The most powerful man alive.
Why is everyone so mean to me?
Add or subtract 12. This isn't hard!
I'm gonna quit. Just you wait.
A chef at work.
So many things that add up over the day. He enjoys taking his shoes off and walking around in his socks when not engaged with clients. He brings in this ridiculously large sized cooler everyday containing his various fucking snacks and meals. Every morning he has a cold tupperware of oatmeal and meticulously scrapes every single god damn bit of it out.
By mid morning it's potion time, he gets out his laboratory of used Starbucks cups and weeks old plastic spoons. The alchemy begins by carefully putting ice, cold brew coffee, maple syrup and cream together. But there has to be PERFECT FUCKING SYNERGY between these ingredients. Too much ice? Take some out and throw in the trash. Too much cream? Add more coffee and STIR THAT SHIT LIKE YOU ARE TURNING LEAD INTO GOLD for the next 20 minutes and loudly slurrrrrrrrrrrrrrrrrrrrrp on it.
Have a headache? Take a nap at your desk in a shared 'bullpen' style office space and give the stink eye and loudly sigh if someone dares to make noise. In fact, sigh loudly at all times, and make sure you replace basic courtesy greetings such as 'good morning' with a loud and long suffering sigh as soon as you walk through the door.
It's now lunch time, which means removing your entire kitchen from your stupid fucking cooler. Want tacos? Okay, lets get out our tortillas, our individual containers of meat, beans, rice, ect. Don't forget to get out your block of cheese and your cheese grater and make a big fucking mess in the break room. Eat it there while finishing off half the office's leftovers, or take it back to your desk and finish lunch. Oh, I'm sorry, did I imply he eats at his own desk? No he chooses someone else's empty desk, and eats there because his is such a shitstorm of un-filed papers, reports, and empty boxes stuffed with random shit that he has no room to eat at his own, and lovingly leaves his paw prints on the lucky winners desk, mouse, monitor, and keyboard.
Finally, make absolutely sure you act like doing actual work ought to be noticed and praised upon. Yep, that moment once or twice a day when he ratchets himself up out of his stupor of youtube cooking videos and wrestling podcasts and actually contributes to the fucking team. But make sure you lean on everyone else to take care of the small details that you dislike doing. Because everyone else's time is not as valuable as yours and you have important amounts of sitting around and not doing anything to get back to.
Google is always your friend.
Well, it's been real but it's time to go.
The math does not check out.
I work for a solid 15 minutes a day.
This guy did nothing wrong, but I get why you hate him.
Wow. He must be pretty cool.