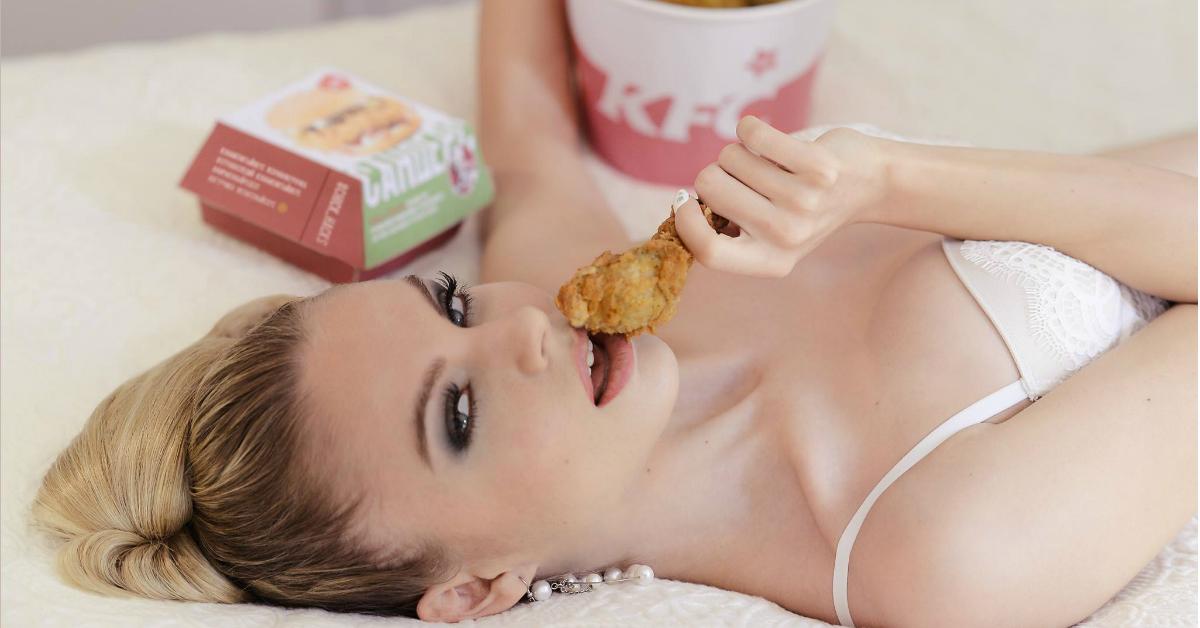 Russians Are Obsessed With Models Eating KFC On Social Media
There are some weird food trends that seem to just be tailor made for Instagram, like pimple-popping cakes. Now that kind of thinking, as gross as it may be, is a bit out of the box, so you have to admire that kind of ingenuity. When it comes to marketing and capturing people's attention, there are few things that sell more than sex - as tired as that may be.
Article continues below advertisement
It's why shirtless, ripped dudes dripping with sweat will hold a tub of protein powder while showing off their abs. Or women trying to sell yoga pants will hold a stretch in perfect poses that highlight just how much work they put into their bodies.
Now for fitness products that makes sense: they're selling aesthetics. But what about throwing breasts into Instagram posts about fried chicken? Where's the logic in that?
Article continues below advertisement
For some reason, there's a KFC modeling trend in Russia that has beautiful young women posing for selfies and sexy lingerie photo shoots alongside the Colonel's famous chicken. I spoke with Siberian model Donna Trumplova (definitely not her real name, based on this) over email to find out how this even became a thing in the first place.
She calls herself one of the leading KFC models on Instagram, which, I guess is a very prestigious distinction these days?
Article continues below advertisement
DT: First you having to understand KFC is completely new for Russians. The first KFC opening in Krasnoyarsk where I am from only two years ago and young people becoming very very excited.
Article continues below advertisement
It doesn't seem like Trumplova's exaggerating, either. The #KFCRussia hashtag on Instagram is full of interesting finds, like this couple who engorged themselves on a fast food feast the day of their wedding.
Article continues below advertisement
Article continues below advertisement
Has it become a sort of status symbol?
DT: I guess you can say going to KFC to hang became the 'hipster' thing to do in Siberia. All the coolest girls and guys going there on dates. And many of the girls beginning to make photos of the food to show off their hauls.
Article continues below advertisement
What about McDonald's and other fast food joints?
DT: Only the gopnik and boring old people staying at McDonalds and so KFC brand becoming the status symbol like D&G, Versace, or Playboy. The way to separate yourself and living in the world of high fashion.
Article continues below advertisement
Some of these photos look like they're taken with professional models, though.
DT: At first all the photos were simple selfies but then girls getting competitive and some famous Instagram models starting to participate in trend. So now there appearing lingerie and glamour shoots all with KFC chicken. This is how #KFCModelling began.
Article continues below advertisement
Are you shocked to see what KFCs are like in America?
DT: When I first coming to USA from Russia this year I was surprised to see KFC treated as something just everyday and normal here. So I deciding to bring the Siberian trend to America and become first famous KFC model here.
Article continues below advertisement
How do you propose to do that?
DT: KFC in the romantic lingerie, KFC in bikinis in the Ferrari, KFC majestic outdoor yoga, and KFC tantric massage... I have many creative ideas for how this trend can grow and becoming much better.
Article continues below advertisement
DT: In America where all celebrities endorsing some brand of watch or shoe or perfume I thinking - why not also the original recipe or extra crispy?
Article continues below advertisement
Fried chicken is great. Beautiful people are great too. I just don't know if greasy fast food on naked bodies is something that's appetizing unless one's horribly inebriated.
Article continues below advertisement
Then again, there are tons of pictures that are suggesting otherwise, so maybe Donna's onto something?