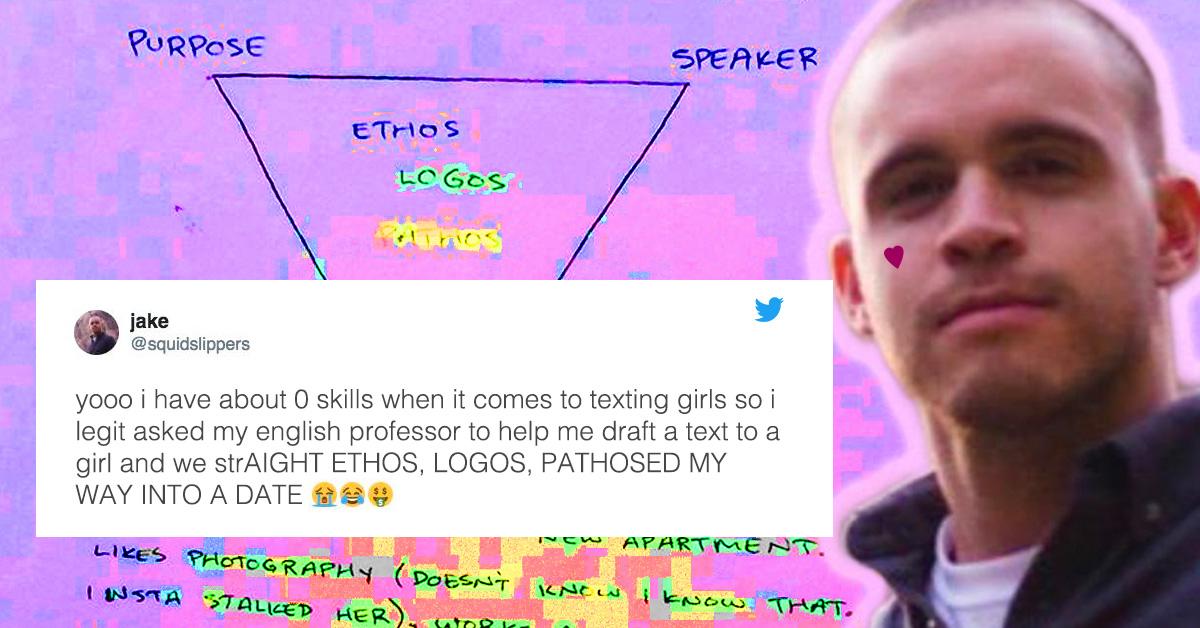 Professor Helps His Student Land a Date in the Most Teacher Way Possible
Dating is hard. So, it's no surprise that one student turned to his teacher for some help in the area.
Article continues below advertisement
Twitter user Jake aka @squidslippers — honestly, what girl wouldn't want to date a guy with that handle? — shared the ultimate story on how his professor helped him land a date using the very skills he learned in the classroom.
More specifically, Aristotle's "modes for persuasion" known as ethos, pathos, and logos. "Yooo I have about 0 skills when it comes to texting girls so I legit asked my English professor to help me draft a text to a girl and we STRAIGHT ETHOS, LOGOS, PATHOSED MY WAY INTO A DATE," he tweeted before showing off the evidence.
Article continues below advertisement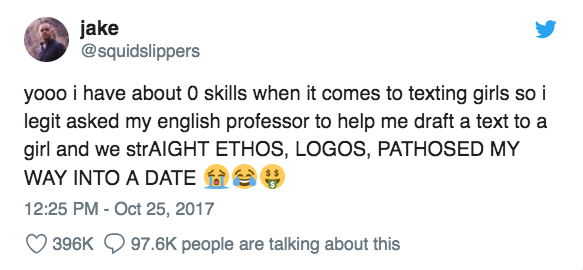 The student-teacher duo broke down how he should ask out his classmate Hannah using the rhetorical appeals process. Using a triangle, he listed his purpose ("persuade her to let me take her on a date"), the speaker (Jake, obviously), and details about Hannah he could use to sway her opinion.
Article continues below advertisement
According to Jake, Hannah had just moved into a new apartment, likes photography — Jake make sure to note that this is something he discovered thanks to his Insta-stalking skills — works a lot, likes Chinese food, and owns a dog.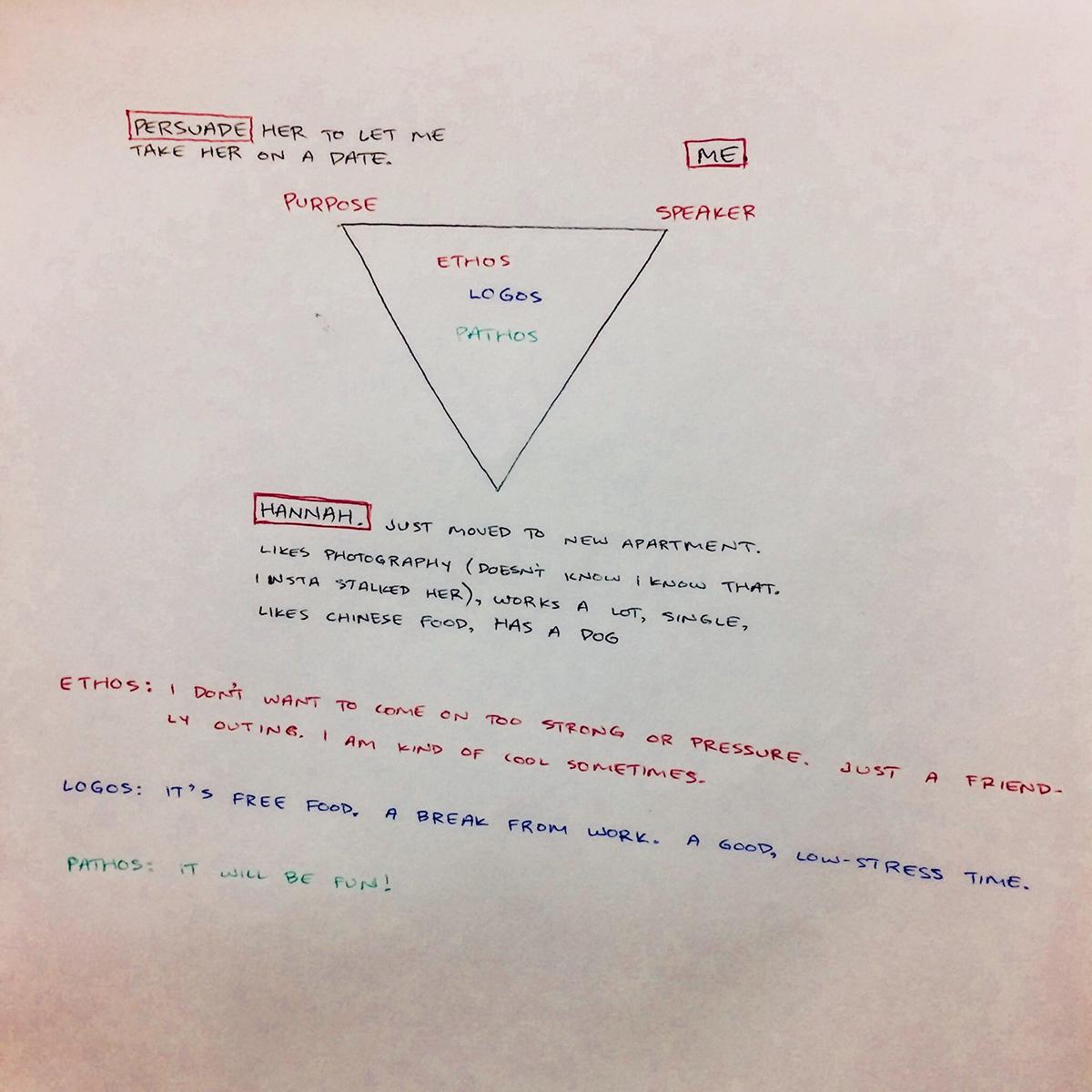 Article continues below advertisement
Next, the unnamed professor had him list how he would convince Hannah to go out with him using ethos (your credibility), pathos (emotion), and logos (logic). "I don't want to come off too strong or pressure," Jake wrote under ethos. "Just a friendly outing. I am kind of cool sometimes."
For logos, he thought, "It's free food, a break from work, and a good, low-stress time. And lastly, for pathos, he simply wrote, "It will be fun!" Now, it was time to put the plan in action.
Article continues below advertisement
Jake texted Hannah using his ethos, logos, pathos, 1-2-3, punch. "Well hey, I hate to come off too strong here but if you could ever use a stress-free night after work or need some food to keep you alive while you're moving into your new apartment, I would love to take you to dinner," he texted. "It would be fun and a great way for me to see your dog, which is low-key why I'm doing this."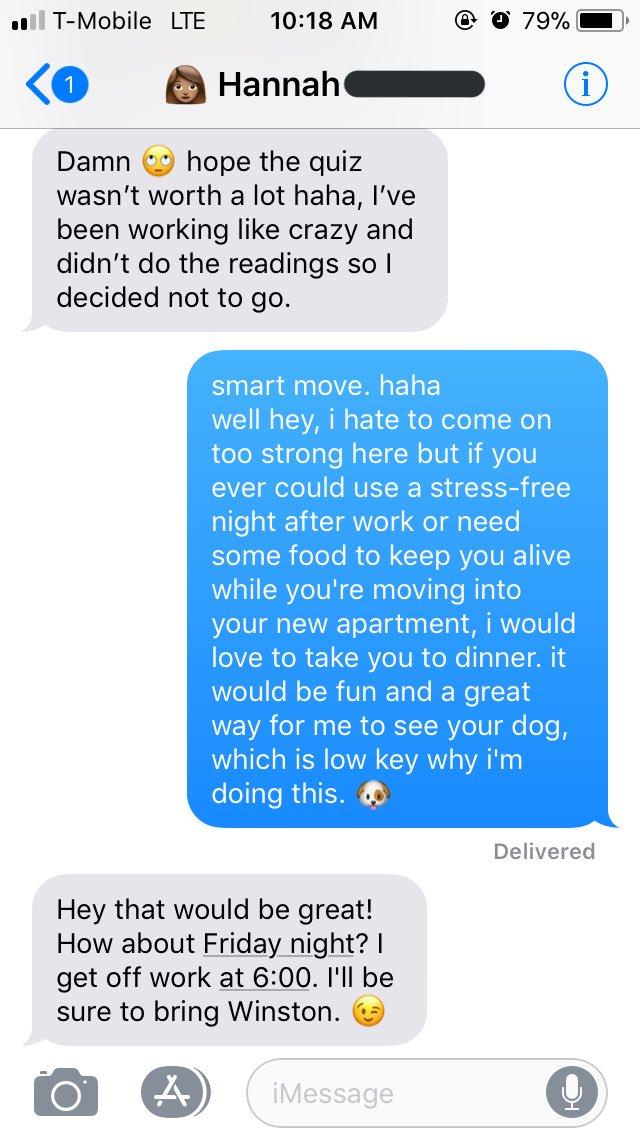 Article continues below advertisement
And ladies and gentlemen, it worked! Hannah accepted the invitation and even responded with a winking face emoji.
As expected, after sharing his professor's matchmaking skills on Twitter, the post went viral — with many asking who was this mystical professor. "My English professor hasn't even graded the paper we turned in a month ago," one user hilariously wrote before another added, "Asking the English prof for help shows this guy has skills many lack: self-assessment and selection of appropriate advisors."
Article continues below advertisement
Unfortunately, it seems Jake and Hannah are no longer together, and he is still dealing with rejection. He recently shared a thread of the funniest ways girls have told him no without actually saying the word.
"I was literally on the phone with her in the process of asking her out and she said, 'hey I'm so sorry, my mom is calling. Can I put you on hold for like two seconds?' She kept me ON HOLD for 45 MINUTES til I hung up and texted her and asked her to call me when she could. She never did."
Article continues below advertisement
Another one: "I called her on a Monday to set up a date for that Friday. She said yes! Fast forward to Thursday night at approximately 11:20 p.m. She calls me and says, 'Listen... my boyfriend and I broke up on Monday before you called so I said yes but we just got back together so I can't go."
Article continues below advertisement
As for his professor, he's not the only educator working part-time as cupid for his students. In 2006, a Brooklyn middle school teacher admitted to arranging a meeting between two students so they could kiss. However, the story takes a dramatic turn a few years later when the teacher once again attempts to play matchmaker — not knowing that the boy actually shot the girl's brother. #Fail.
Clearly, the lack of ethos, pathos, and logos was to blame.