A Colonic Clinic Responds to a Woman's 1-Star Review After Clogging Their Machine
Imagine the horror of going in for a colonoscopy, only to discover that whatever was inside her clogged the machine.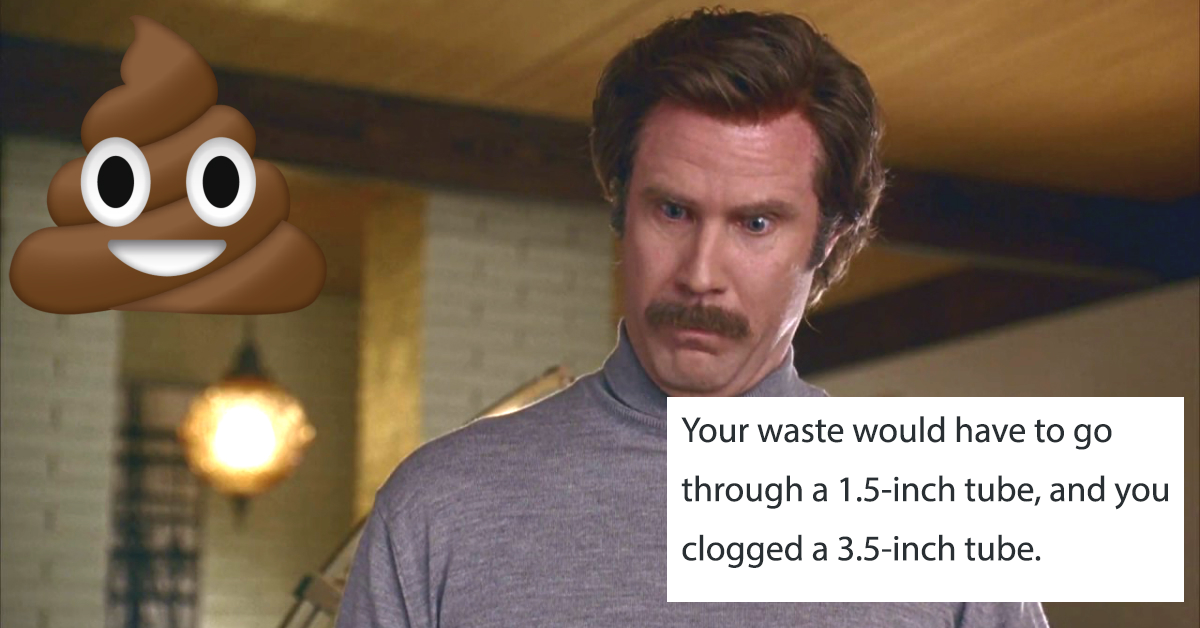 The beginning of this story sounds like the punchline of a joke: a woman ends up clogging a colonoscopy machine because of how "backed up" she was. That in itself is cause for laughter. However, her response to clogging the machine is what make the story truly hilarious.
Most people, myself included, would cringe at the idea of being in such an awkward situation.
Article continues below advertisement
As much as we all laugh at dirty humor when we're children (because poop jokes surely are no longer funny once we've reached adulthood, right?), we tend to be very squeamish whenever a poop or bodily fluid incident involves us directly.
So if I, like this woman, managed to clog a colonoscopy machine during a routine cleansing session, I'd probably just hang my head in shame and never return there again. Maybe even change my identity.
I probably wouldn't leave a negative Yelp review of my experience, which is linked to my public profile online. Heck, I probably wouldn't even leave a positive review because I don't want people knowing I'm getting that procedure done in the first place!
But this woman, so dissatisfied that her session was "cut short" due to the fact that she clogged it, elected to voice her displeasure online.
Article continues below advertisement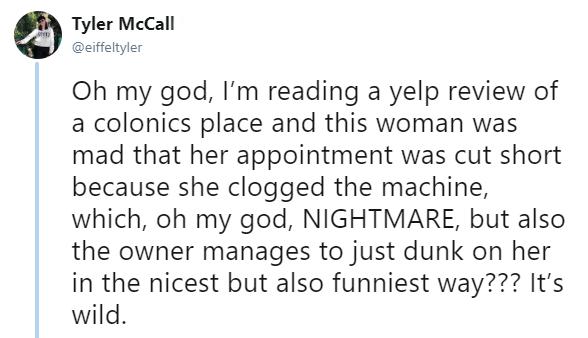 Article continues below advertisement
Tyler McCall found the glorious review which they found extra-hilarious "because the person knew they blocked the machine and attempted to reason why" with the whole fiber line. Talk about shamelessly standing up for your mistakes and doubling down on the disrespect.
Unfortunately for the colonoscopy clogger, the owner of the establishment responded, and didn't pull any punches. Magically, however, they still managed to be respectful.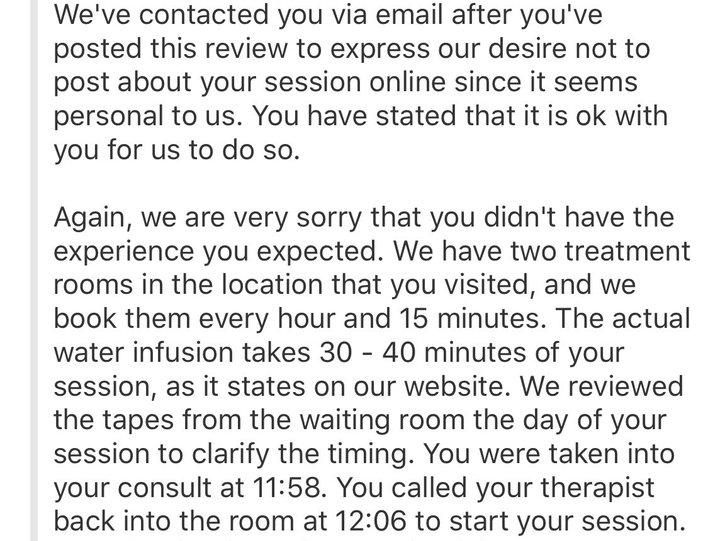 Article continues below advertisement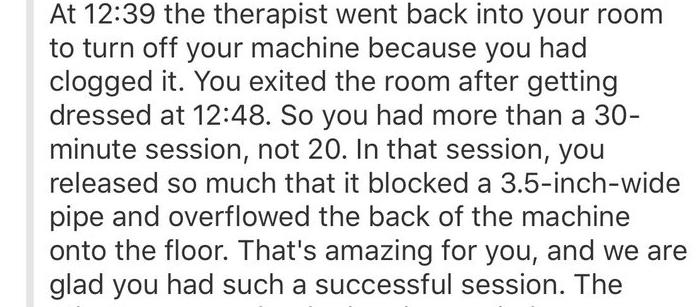 If you ever wanted to take a master class in responding to negative feedback in a way that blends sarcasm and politeness, while simultaneously providing a sufficient defense of your business, then look no further.
The owner first disputes the customer's claim that their 20-minute session was cut short. Then they get granular with some details: a three-and-a-half-inch pipe was defeated by their overly back-up colon.
Article continues below advertisement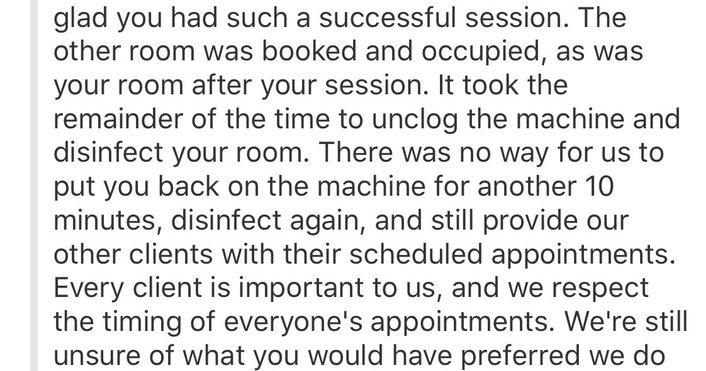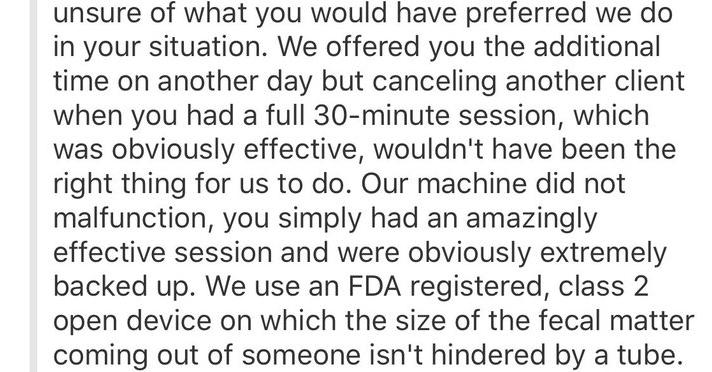 Article continues below advertisement
They then continued to dunk on the patient by stressing just how effective and powerful their machine is, while simultaneously praising how good they are at their job. They're basically telling the customer they should be happy their session was "cut short" by the clog. This colonoscopy center is so dang good at what they do, they're clogging uncloggable machines.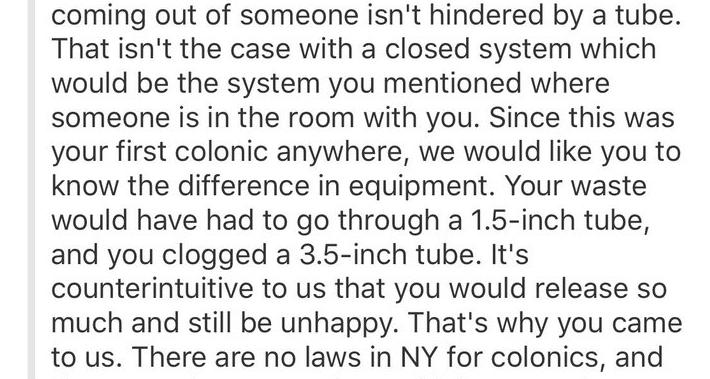 Article continues below advertisement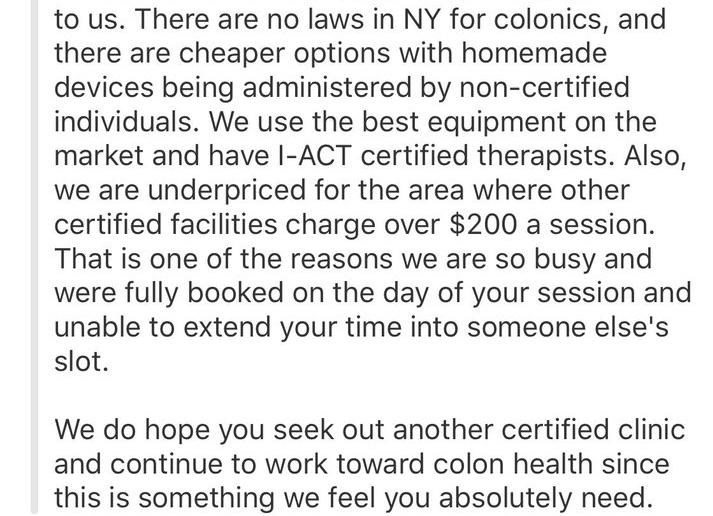 The absolute nail in the coffin is when they start listing their credentials and say that it's "counter intuitive to us that you would release so much and still be unhappy."
If a place that specializes in sucking poop out of bodies is amazed by how much poop got sucked out of your body, you should probably take their advice and continue to get colonoscopy treatments somewhere, if not there. They know what they're talking about.