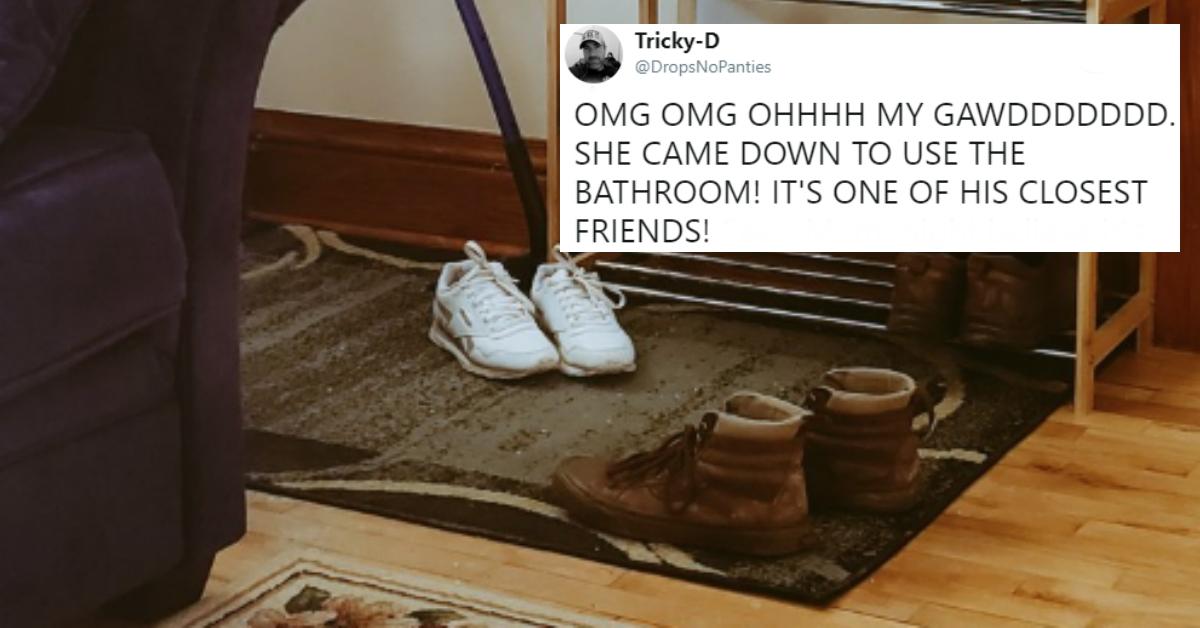 Guy Live-Tweets Stepson's One Night Stand and It's Filled with Suspense
By Mustafa Gatollari

Updated
Navigating the messy world of romance is never easy, but it's especially difficult when you're young and less financially "blessed." Not that being rich makes it easier to fall in love, but it does have its advantages. Like if you can afford a car, then it'll be easier to drive to see the object of your affection or take them on dates.
Or if you can afford a place of your own, it's a heck of a lot easier to invite someone over for some intimacy. Nothing puts a damper on potentially sexy situation faster than uttering the words, "hey, want to come back to my mom's place?"
That is, unless you're a teenager, got mad game, or are Matthew McConaughey from the seminal romantic comedy Failure to Launch.
This guy's stepson was the former, an 18-year-old who wasn't going to let the fact that he lives with his mom stop him from bringing a friend home for some late-night loving. The thing is, when you stay up late, you tend to oversleep. And when you oversleep, you're not left with many options when it comes to sneaking out.
Lucky for him, he lives with a stepdad who isn't going to rat him out — he'll just live-tweet the entire thing.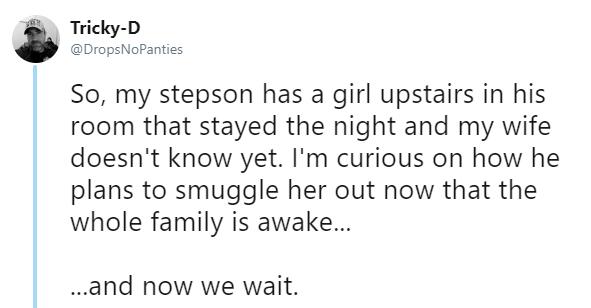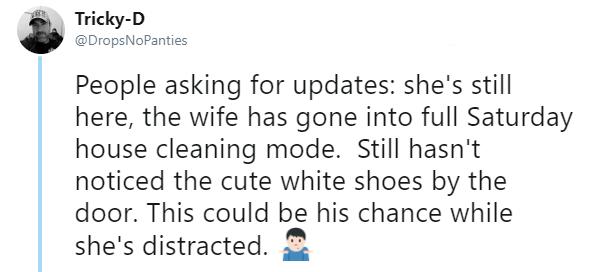 The young man was also fortunate enough to have a mom so wrapped up in her Saturday house-cleaning ritual, she didn't notice a conspicuous piece of evidence from the night before left right by the door: white sneakers that would never be in the house otherwise.
Our man, Tricky-D snapped a photo of the kicks and shared a problem with their location in the house.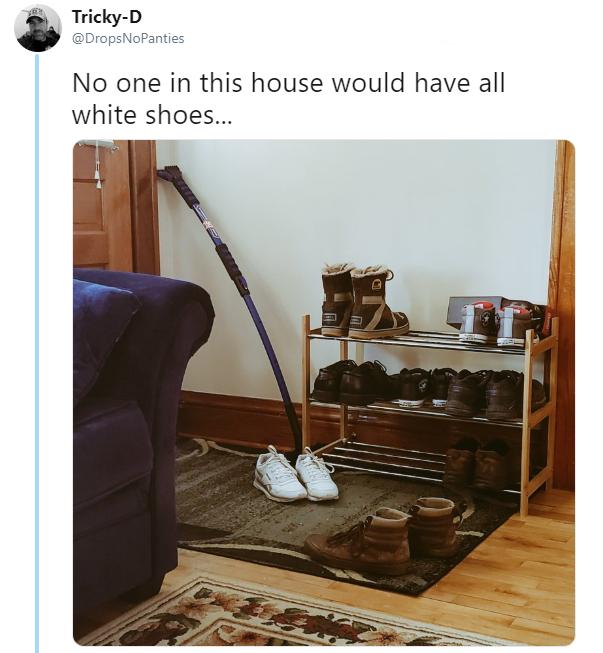 If his stepson was trying to sneak out the side door, the most obvious point of egress for his escape, it would've been much better to leave the shoes down there. But he didn't, and now he has to come up with a way to get the shoes without his mom finding out.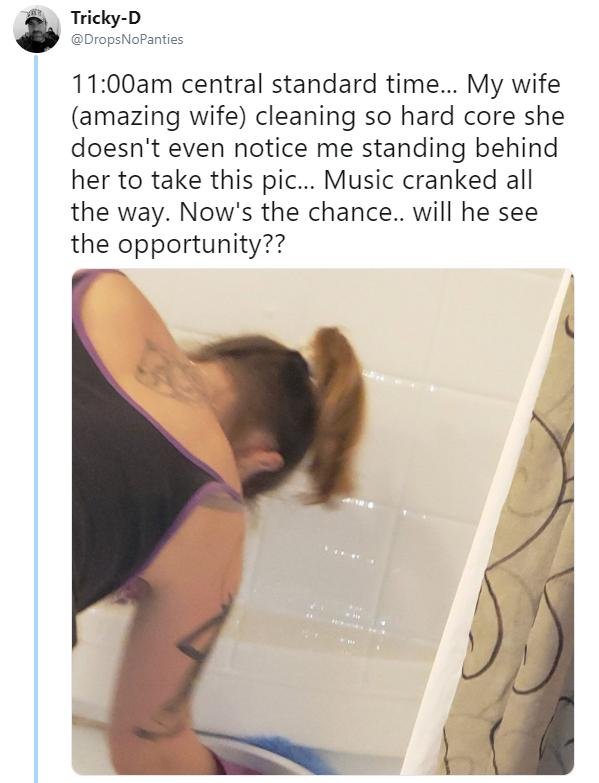 As he live-tweeted the situation, Tricky-D was assailed by some concerned Twitter users who urged him to assist the young man with his escape, but he made his stance clear: his stepson is responsible for his own actions. I imagine the relationship Bruce had with Ra's al Ghul in Batman Begins. He's not going to go out of his way to kill him, but he isn't going to save him either.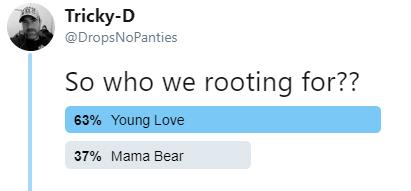 He tracked his wife's movements throughout the thread and even asked people what they wanted to see happen. Unsurprisingly, the majority of people sided with the young man, which makes me happy. At the end of the day, aren't we all just a teenage kid trying to sneak a late-night hook up out of the house without being caught? All right, that's a terrible metaphor but I'm just saying I feel for those two kids.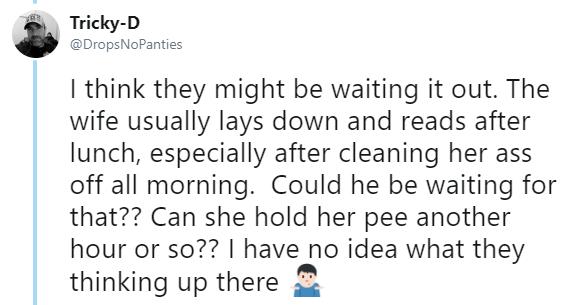 And then, out of nowhere, the boldest of bold strategies: his one-night-stand actually goes downstairs to use the bathroom. As it turns out, he recognized the young girl as one of his stepson's closest friends. But in case you were wondering how Tricky-D knew it wasn't platonic, well, the kids weren't exactly discreet the night before.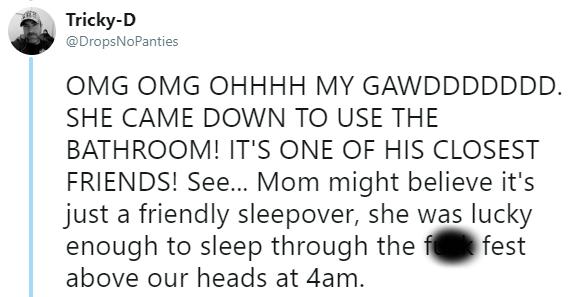 He just keeps getting bolder and bolder: the young man actually strolls downstairs without a word and grabs the sneakers as part of his plan to get his friend out of the house unnoticed. The two didn't speak, but they both knew what was up.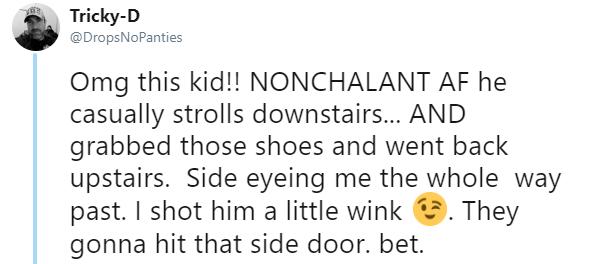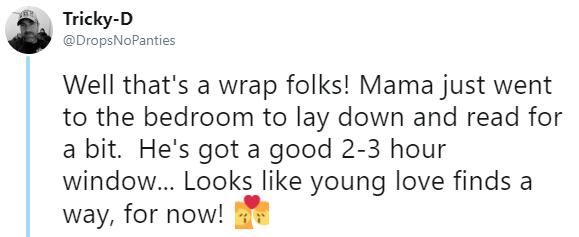 As it turns out, after Mom was done cleaning, she laid down to catch up on some reading and the two young lovers were in the clear. They took advantage of that time and left without mom finding out. Let's just hope she doesn't have a Twitter account.

If you're one of the people who was sitting there, wondering why Tricky-D wasn't helping with the cleaning, he has some choice words for you. And pictures of sandwiches. Delicious-looking sandwiches, I might add.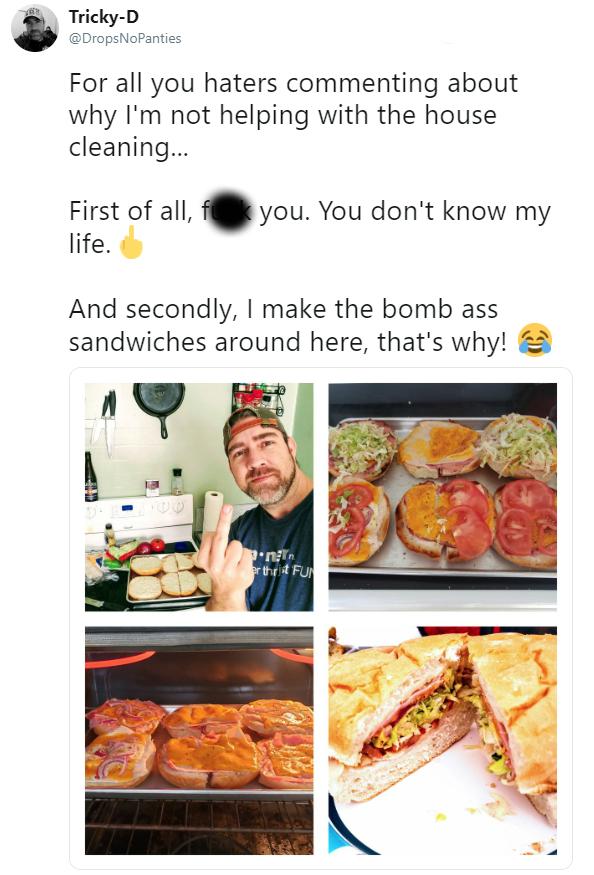 Though the stepson wasn't caught by mom, there were some who thought she knew all along and just chose to ignore it. I honestly think that's the most likely scenario.

Why ruin a perfectly good Saturday?