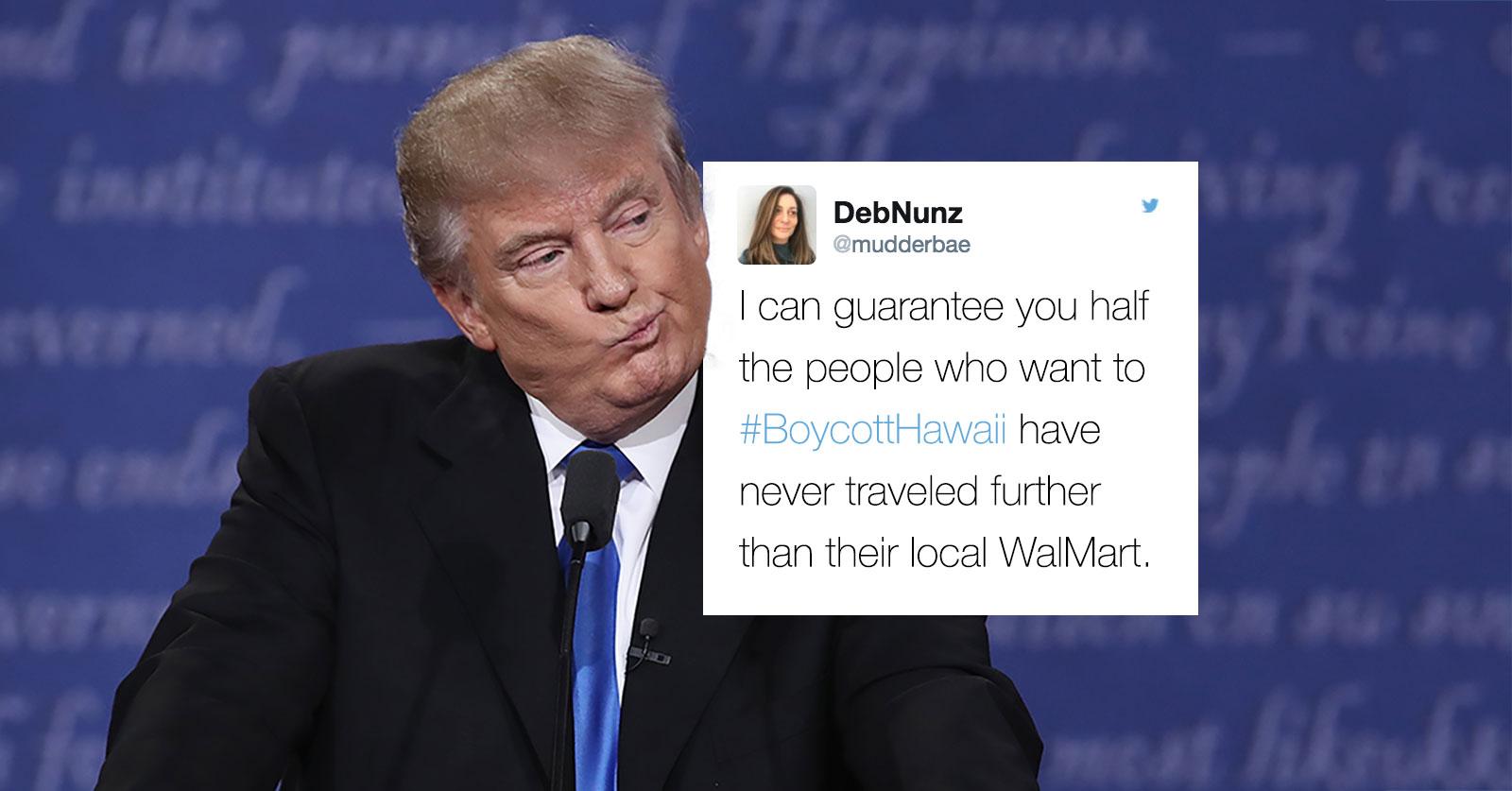 Trump Supporters Boycott Hawaii, But Their Twitter Campaign Already Backfired
By Mark Pygas

Updated
On Wednesday, March 15, Judge Derrick K. Watson, a federal judge in Hawaii, issued a freeze on President Donald Trump's executive order. Judge Watson did this just hours before the executive order would have frozen visa issuance and suspended refugee acceptance from six Muslim-majority countries. The order would've been Donald Trump's second attempt at a travel ban, after his first was shot down by another judge.
Watson argued that the order discriminated against Muslims and would open the United States to legal action, because it could easily be shown that the directive violated the Constitution. 
Watson declared that "a reasonable, objective observer — enlightened by the specific historical context, contemporaneous public statements, and specific sequence of events leading to its issuance — would conclude that the Executive Order was issued with a purpose to disfavor a particular religion." 
In response to the bill being shot down, Trump supporters are now threatening to boycott the state of Hawaii on Twitter, using the hashtag #BoycottHawaii.
💥It makes you wonder why Obama was in Hawaii only 48 hours prior to the court decision on Trump's Travel ban🤔#BoycottHawaii @POTUS

— Trump 4 America (@america_trump) March 16, 2017
Since Hawaii doesn't think Americans need protection, how about all of the new refugees we receive go straight to Honolulu?#BoycottHawaii

— #ResistTheResistance (@ScottPresler) March 16, 2017
But the hashtag backfired, after it was hijacked by Twitter users pointing out that locals are probably looking forward to the boycott. 
I can guarantee you half the people who want to #BoycottHawaii have never traveled further than their local WalMart.

— DebNunz (@mudderbae) March 16, 2017
Anyone who wants to #BoycottHawaii can slide those plane tickets right over here. Hotel reservations, too.

— P'Challa MacKenzie (@pfunk1130) March 16, 2017
Hawaii just became the luckiest state in the union. I wish Trumpsters would boycott my state too. #BoycottHawaii

— Kaivan Shroff (@KaivanShroff) March 16, 2017
We await Donald Trump's inevitable third attempt at a travel ban. 
Donald John Trump is the 45th and current President of the United States. Before taking office on January 20, 2017, having beat opponent Hillary Clinton in the electoral college but not the popular vote, Trump was a real estate mogul, and a former reality TV star. 
Born in Queens, New York, in 1971 Trump became involved in large, profitable building projects in Manhattan, under the guidance of his father, real estate developer Fred Trump. 
In 1980, Donald Trump opened the Grand Hyatt New York, making him the city's best-known developer. 
In 2004, Trump began starring in The Apprentice, a hit NBC reality series, and later in a spin-off series, The Celebrity Apprentice.  
In 2015, Trump announced his candidacy for president of the United States running as a Republican. Trump win a majority of the primaries and caucuses, becoming the official Republican candidate for president on July 19, 2016. That same November, Trump was elected the 45th President of the United States, after defeating Democratic candidate Hillary Clinton.