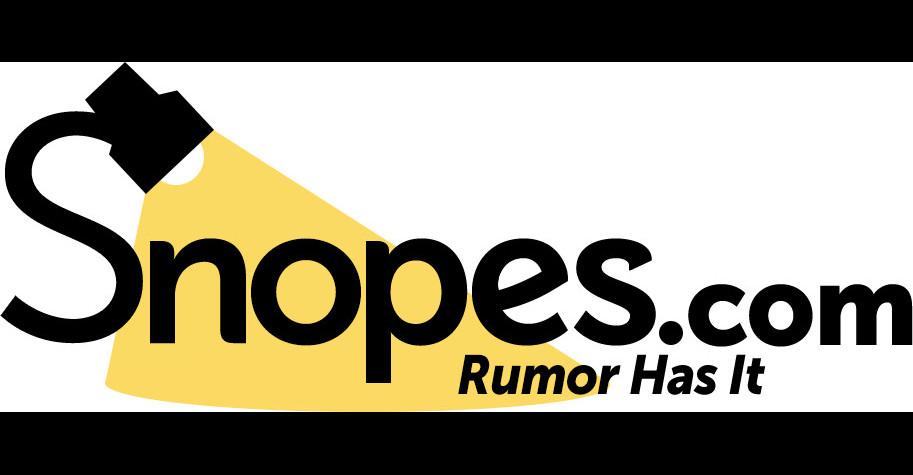 Why The Fact-Checking Website 'Snopes' Is In Danger Of Shutting Down
Snopes.com—the legendary debunking website devoted to taking down fake news, urban legends, and shadowy conspiracy theories—is in danger of shutting down, resorting to using crowdfunding to keep itself going.
Article continues below advertisement
The funding problem, Snopes says, stems from a legal fight with a vendor and co-owner. "[Our] contractual relationship ended earlier this year, but the vendor will not acknowledge the change in contractual status and continues to essentially hold the Snopes.com web site hostage," the website wrote in a letter to its readers. "Although we maintain editorial control (for now), the vendor will not relinquish the site's hosting to our control, so we cannot modify the site, develop it, or — most crucially — place advertising on it. The vendor continues to insert their own ads and has been withholding the advertising revenue from us."
Article continues below advertisement
Snopes and this other party, Proper Media, both filed complaints against each other earlier in July, reported Poynter.
Article continues below advertisement
Now, Snopes is trying to crowdfund $500,000 via GoFundMe in order to continue the operation of its site while this legal battle is ongoing. As of this afternoon, the site has raised more than $80,000 in donations.
These donations are "intended to help us get through the next several months in the hopes that the legal issues will be largely resolved by then," said Snopes founder David Mikkelson to Poynter.
Article continues below advertisement
Proper Media, however, has lambasted Mikkelson's account of the site's legal troubles. "Proper Media suggests that the media conduct its own fact-check of the fundraising plea posted today on Snopes.com," it said in a statement to Poynter. "First, Proper Media is far more than an "outside vendor" to Bardav, Inc., the company that owns Snopes. In fact, it is a 50% co-owner of Bardav."
Proper Media further alleged that Mikkelson has "engaged in gross financial, technical, and corporate mismanagement."
"This case involves unlawful jockeying for ownership and control of the fact-checking website Snopes.com," said the company's complaint against Snopes, according to Vice. "But while Snopes is built entirely around the concepts of transparency and truth, its founder, Defendant David Mikkelson, has engaged in a lengthy scheme of concealment and subterfuge to gain control of the company and to drain its profits."
Article continues below advertisement
Ironically, Snopes itself had been the subject of a conspiracy theory by fringe outlets, which claimed that the website was funded by liberal billionaire George Soros in order to slander conservatives. Needless to say, this isn't true.