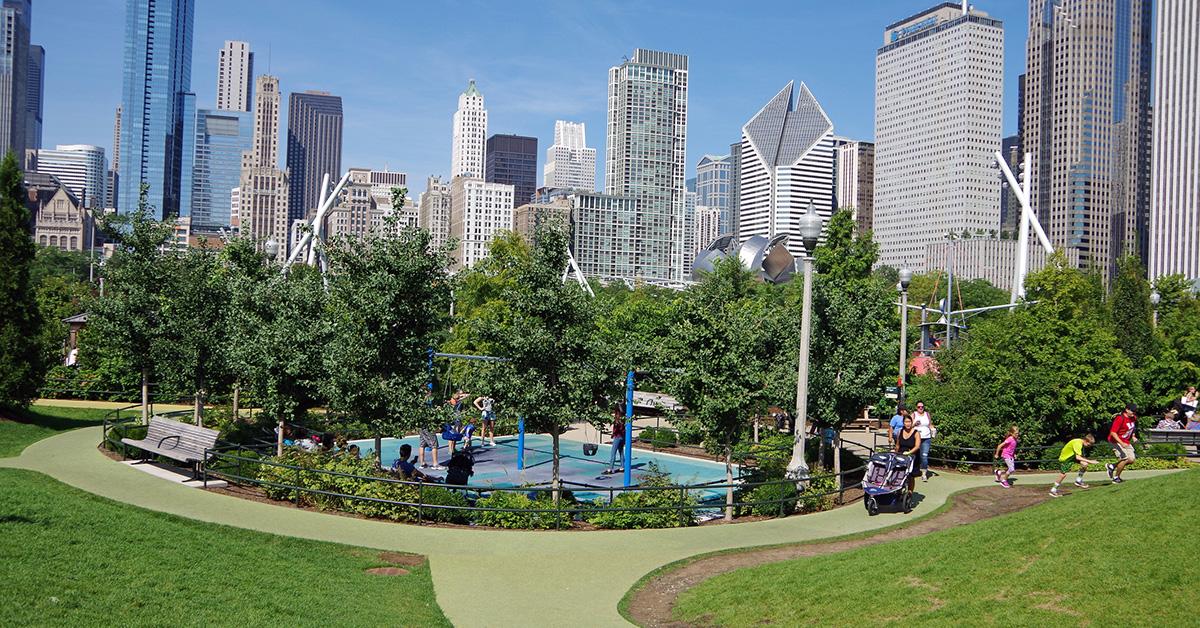 Rival Chicago Gangs Join Forces to Build Neighborhood Playground
Gangs in Chicago usually make headlines for all the wrong reason. The city recorded over 600 homicides and over 2,000 shootings last year alone — which is more than New York City and Los Angeles combined. However, two gangs in the Windy City are in the news for putting down their guns and coming together for a good cause.
Article continues below advertisement
The rival gangs in the the North Pullman neighborhood, who fought for years over two blocks of territory, recently agreed to a cease-fire and put an end to the senseless fighting.
To celebrate eight months of no violence, the gangs were rewarded with a playground for the kids in the neighborhood and the former enemies teamed up with volunteers to make it happen.
Article continues below advertisement
"It's peace going on now," gang member Sherman Scullarck told CBS Chicago. "They really could play — they don't need to worry about anything."
Article continues below advertisement
To make the cease-fire a reality, Sherman teamed up with police detective Vivian Williams to broker a deal. "Several young men have been shot, some killed, over a gang war that none of them even knew what they were fighting about," Det. Williams explained.
She also got the Sherman in touch with Chicago CRED, an organization dedicated to reducing violence in the city.
"We're working directly with the young men on the south and west sides most likely to shoot and be shot," Arne Duncan of Chicago CRED said.
Article continues below advertisement
"They didn't ask for anything for themselves. They said, 'Our kids have no place to play. Can you help us build a playground?'"
Now, the neighborhood has a brand new playground — and the kids can play safely outside without any worries. "You get to hang out, sit on the porch and not have to feel somebody's jumping out of the car and start shooting," Sherman added. "The kids can have somewhere to play peacefully and both sides can come and enjoyed themselves."
Article continues below advertisement
Locals were also loving the new outside area and are optimistic more gangs will learn from this example. "I grew up in the North Pullman area around the corner from the new park site... my mom still lives there," one resident tweeted.
Article continues below advertisement
"The park will brighten up the neighborhood for the children!" Another added, "Need a lot more of this and less bullets."
This wouldn't be the first time a "gang" proved to be more than just violent criminals. In 2011, following a devastating earthquake in Japan, the Yakuza gang was one of the first responders, providing trucks filled food, water, and blankets and donating over $500,000 to survivors in the affected areas.
Article continues below advertisement
There is also a motorcycle club known as Bikers Against Child Abuse, which is dedicated to protecting victims of child abuse, by working with local law enforcement.
And don't forget this amazing women's motorbike gang who helps deliver breastmilk to premature babies across NYC. #TheMoreYouKnow.