"She Is Working You" — Mom Thinks Marketplace Buyer Tried to Use Divorce to Get $10 Toy Free
A mom expressed how conflicted she was over the sale of a $10 baby toy, speculating as to whether or not a Grandma is lying about her divorce.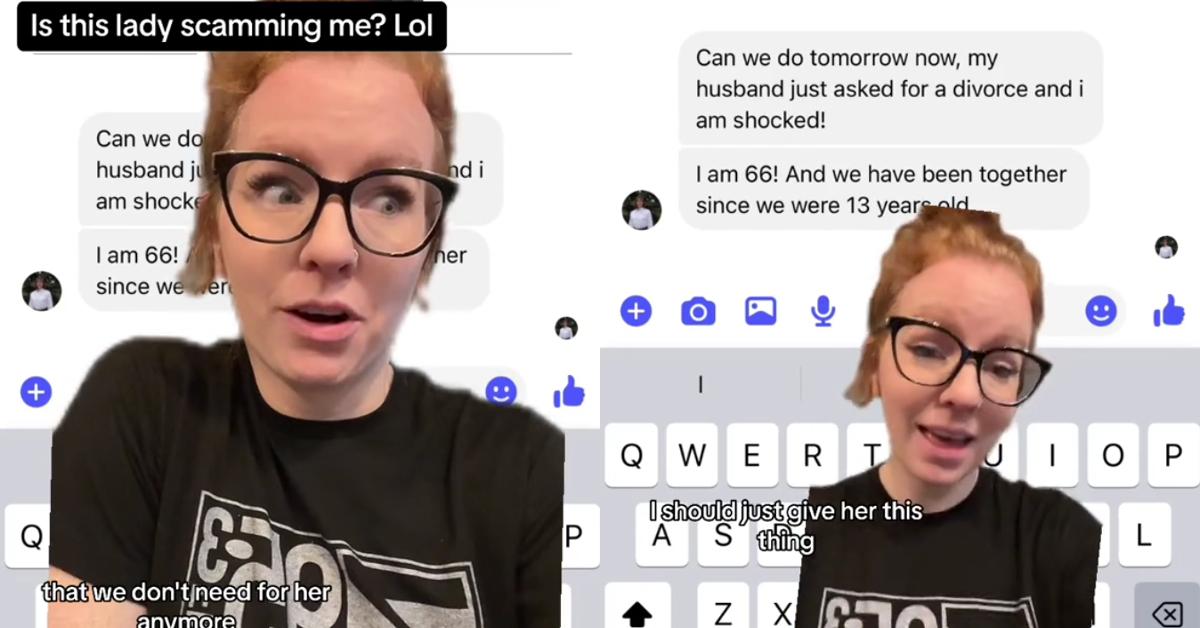 A mom selling a used baby toy shared how she became party to a bizarre encounter with a buyer who asked to reschedule her meeting to pick up the item in question after receiving some bombshell news right around the time the sale was agreed upon.
Article continues below advertisement
TikToker Katie Summers (@katiessummerss) doesn't know if she should believe her "cynical" husband, who thinks that the buyer is masquerading as a Grandma lying about their impending divorce just to get out of paying $10 for a baby toy that costs significantly more brand news.
Katie posted about her quandary in a viral TikTok that's garnered over 48,000 views on the popular social media platform, and folks in the comments section seemed just about as conflicted as she was over the entire thing.
Article continues below advertisement
Katie says in the video over a green screen of her conversation with the Facebook marketplace buyer: "My husband thinks I'm being scammed on Facebook marketplace. So my daughter just turned one and we have a bunch of stuff obviously that we don't need for her anymore."
Article continues below advertisement
Like most folks who have a surplus of products that they probably no longer need, Katie thought it would be a good idea to try and sell them to see if there was anyone on the internet who would be willing to buy it for a steep discount instead of purchasing the same goods brand new at a much higher price point.
Given the nature of how baby toys are used for such relatively short durations of time as children soon outgrow the toys they are given, Katie thought they would be a good candidate for interested folks to purchase via Facebook's online marketplace.
Article continues below advertisement

"So we have like this activity center thing wanted to get rid of it so I listed it on Facebook Marketplace for $10. And I'm like pretty sure these things retail for like hundreds of dollars brand new so I thought it was a steal."
Article continues below advertisement
It didn't take long for her to receive a message from someone, which she discusses in her video: "This very lovely woman messages me and she's like I'm a grandma and I would love to buy this for my brand new grandbaby. So I'm like oh my God that's, of course, that's so nice. Can you come at this time tomorrow?" Katie asked the woman.
"She was like yeah no worries. Then this morning I realized oh no she's gonna come right when my baby's napping and that is the one hour a day that I get to myself. So I'm not risking waking the baby up. So I wrote to her and I was like hey look is it cool if we just do a contactless exchange I will put the thing on the step and you can just leave the money."
Article continues below advertisement

Katie was being very trustful of the woman at this point, but that wasn't all, "I also told her hey like if you don't see this message before then I'll put a note on it just so you know what's going on. So I had a shower I got out of the show and realized she had written me back and this is what she wrote."
Article continues below advertisement
The woman then goes on to ask Katie if it's okay if they delay their meet-up to the following day as her husband just asked for a divorce, which "shocked" the baby toy purchaser as she was 66 years old and they had been together for so long.
"Obviously it's not funny if it's true and my first thought was oh my God this is so sad I should just give her this thing."
However, Katie's husband told her that he didn't necessarily believe the Grandma's sob story and thought she was going out of her way to try and make Katie feel bad in the hopes she'd just fork over the item.
Article continues below advertisement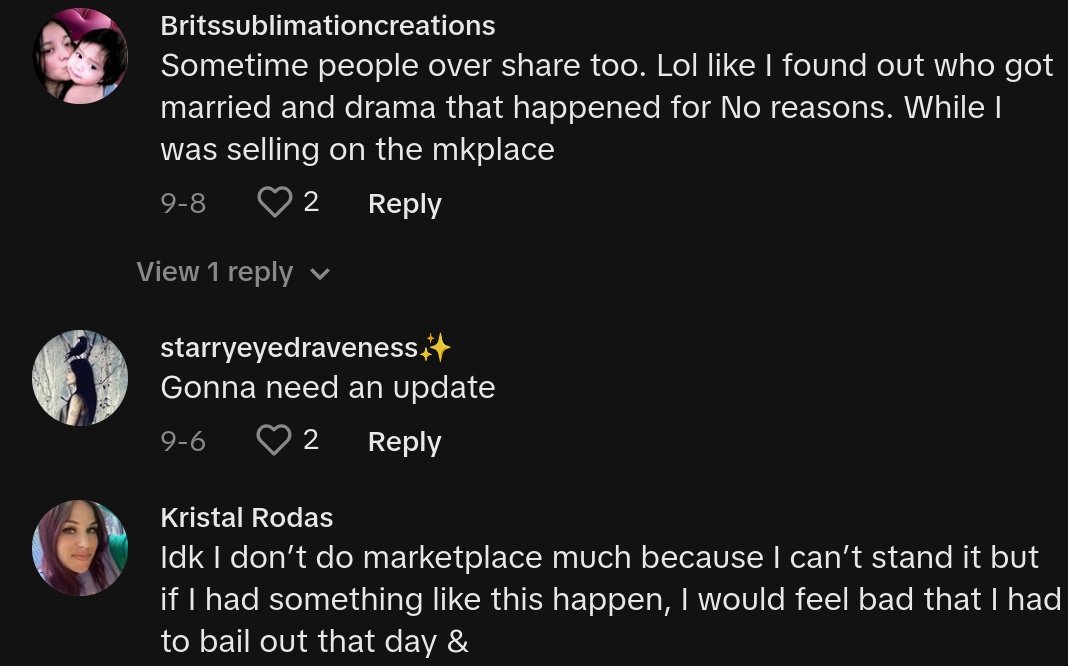 Which is pretty grimy to think of, since the toy was worth much more than the $10 that Katie was asking for. No one could be that cheap and gross, right? "My husband is like no, she is totally scamming you she is trying to get this thing for free and she is working you."
Article continues below advertisement
Katie said she was conflicted about this assertion from her significant other: "And so like the rational person in me who is forever an optimist I'm like, 10, she's really trying to pull me for $10? No way and my husband is convinced because he's very cynical but he is convinced that this is her plan and that there is no divorce he's like she's probably not even a grandma."
At the end of the video she posed a question to her followers: "So like is he right? Am I being scammed? Am I falling for it?"
There are a number of Facebook Marketplace scams that folks are warned about online. A common one is being paid for an item via PayPal, sometimes an amount that is oftentimes a bit greater than the figure the individual in question is asking for.
Article continues below advertisement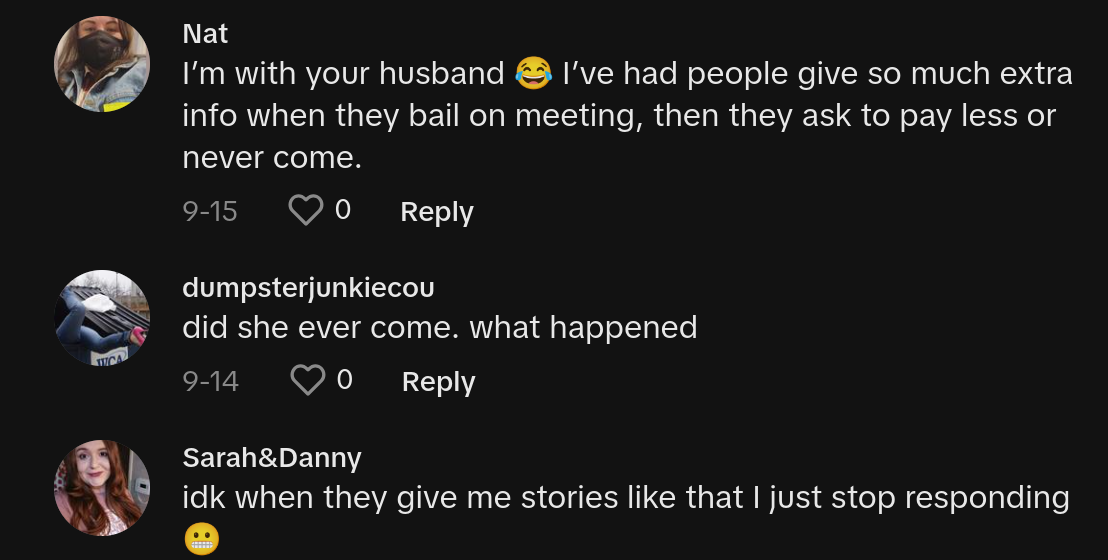 What the "buyer" aka, a con artist in question will then do is rescind their payment or dispute upon receiving the item, or send you a falsification of said scam afterward, indicating that they indeed sent you the money, or overpay you and ask you to refund the difference back, where they get your items and some of your money too.
Article continues below advertisement
There are other ploys folks implement too: just always make sure that the person you're buying from is a legitimate person, which you can usually ascertain by taking a gander at their profile and checking their friends list and by pulling a reverse Google image search on some of their photos to make sure they're not just pulling a bunch of stock images.
If the Grandma in question is indeed a ne'er do well, what could they gain from getting a free baby toy? They could honestly just be attempting to grab the item and reselling it online for as much money as they could get out of it.
However, if that was the case, then why wouldn't they just tell Katie, "sure, leave it outside," and then take the item without leaving the $10 behind.
Article continues below advertisement
What do you think? Do you agree with Katie's initial assessment of the situation? Or do you think that her husband was on to something? Is grandma even really a grandma? Or just a reseller who is hell bent on maximizing their profits at all costs?