Woman Asked to Direct Traffic With Stick to Protect AAA Employee Changing Her Tire
A woman who had a AAA driver change her spare tire had to direct traffic using a stick, which she was recorded doing in a viral TikTok.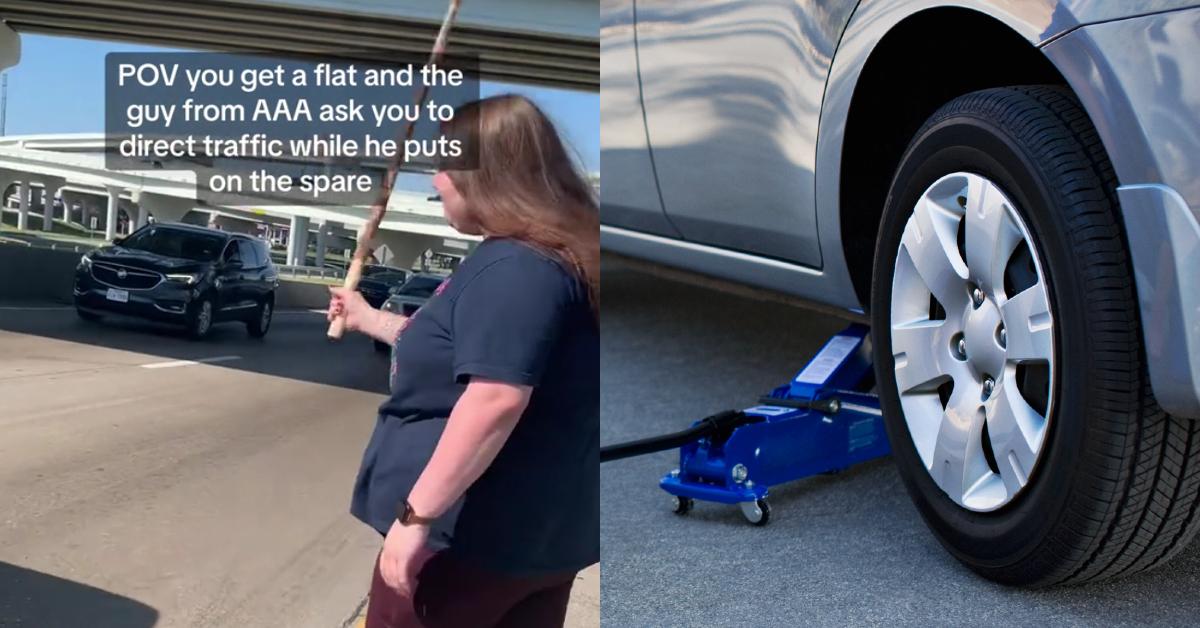 Getting stranded on the side of the road to change a spare tire is always a bummer, especially if you cannot change the spare yourself.
This happened to a woman featured in a viral TikTok posted by a user named Margo (@summargo) on the platform.
Article continues below advertisement
Not only did this commuter need assistance putting a spare on her vehicle, but the AAA employee who came to her aid requested that she put in some hours directing traffic.
She did, with the help of a handy-dandy stick and many circular motions to direct cars in the right direction, away from her parked car.
"POV you get a flat and the guy from AAA ask you to direct traffic while he puts on the spare," Margo writes in a text overlay of the video that shows a woman standing outside, directing cars past her vehicle while the AAA employee works on her vehicle.
Article continues below advertisement
She waves a giant stick at the cars in order to indicate that her vehicle is on the side of the road and to keep the flow of traffic moving, all to the tune of the Foo Fighters' "My Hero."
Article continues below advertisement
There were some commenters who thought that it was hilarious how the woman in the video "punished" one car by smacking the stick on the ground as if to indicate she was upset with them for not preemptively merging into the next lane before getting too close to her vehicle.
"Hahahahaha her smacking it on the floor," one said, while another penned, "The way you punished the first car"
But there were some who were wondering what the function of the stick was, and where it even came from.
Article continues below advertisement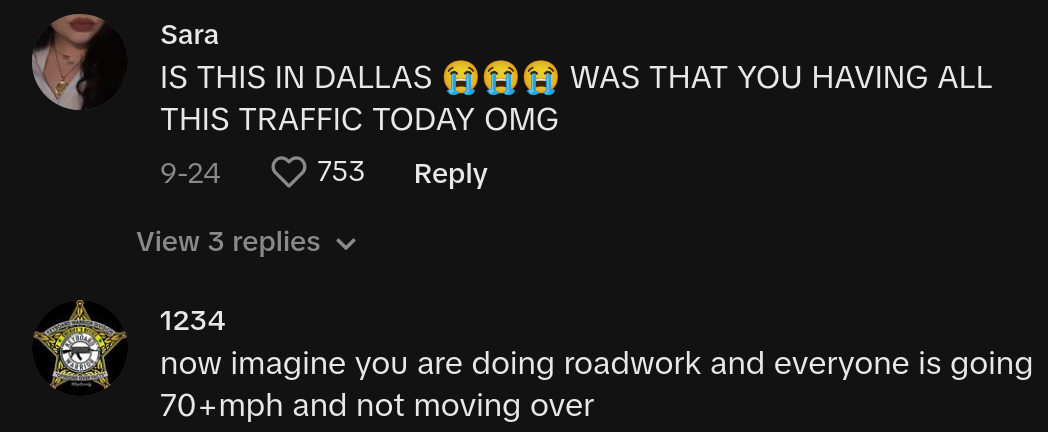 "i love it but i would just wonder why you're waving a stick at me and not know what to do"
"Please did he bring the stick or did you source it"
Another commenter wrote that they would be anxious taking on this kind of responsibility: "HELP I WOULD BE SO NERVOUS"
Article continues below advertisement
According to AAA's Central Pennsylvania website, while the automotive plan, which ranges from $64.99-$124.99 per year, does include sending service folks out to your vehicle to affix a spare tire to the car, doesn't include actual spares to be affixed to your vehicle.
Article continues below advertisement

Depending on the damage done to your tire, AAA might be able to employ a fix-a-flat solution, which often includes locating the area of the puncture and seeing if there is a foreign object that pierced your tire's rubber. If the object is in there, then the AAA employee will extricate that object.
Article continues below advertisement
Upon removal of the puncture apparatus, the employee will often then grab a bit of the "patch" material, cut off the piece, and then "drill" it in to the tire by hand. After that, they'll set the tire's air pressure, which can be found on the inside of the driver's door jamb, using a portable compressor to do so.
Of course, there are sprays/compounds one can put inside of their tires straight through the air stem nozzle of one's tire. These aerosol cans must be used in a 6 o'clock position, so make sure your nozzle is situated on the bottom of the tire before attempting to dump it into your vehicle's wheel.
Article continues below advertisement

Article continues below advertisement
There are some folks who believe that tires filled with Fix-a-Flat and similar foam solutions cannot be plugged down the line if they are punctured, which is something unlucky folks who have tires with a decent amount of tread on them may need to do if they're constantly driving on roads that aren't properly maintained by their local districts.
Again, the company says that this is untrue, so if you're looking for a possible quick, effective solution to getting back on the road, it might be handy to keep a canister of flat tire fixing foam, along with an affordable air compressor in your vehicle, if you're not keen on slapping a donut on your whip, or if you car doesn't have one.
Article continues below advertisement