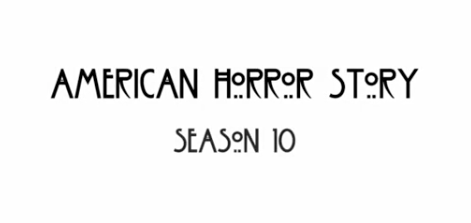 'American Horror Story' Fans Have A LOT of Theories About Season 10
Even though American Horror Story Season 9 only ended a few months ago, back in Nov. 2019, there is definitely no denying that horror fans worldwide are anticipating its comeback. And with the Season 10 cast reveal on Wednesday, Feb. 26, the anticipation is quite literally driving fans up a wall.
Article continues below advertisement
With all the buzz surrounding the next iteration of the popular FX series, fans are coming out with the wildest theories, regarding American Horror Story Season 10. Here's what people are expecting for the theme and plot lines.
Article continues below advertisement
Theory #1: 'AHS' Season 10 is all about urban legends.
The American Horror Story Season 10 opening theme is cryptic AF and doesn't imply the season's overall theme, in the slightest. The show's creator, Ryan Murphy posted a video that shows cast members' names displayed over footage of a spooky, cloudy beach, giving absolutely nothing away about the plot.
Many, however, have come to believe that Season 10 will be all about urban legends, including aliens and other mythological creatures, according to a theory from ScreenRant. While Asylum briefly and haphazardly brought aliens into the mix, a wider range of mythical creatures could end up appearing in the latest season.
Article continues below advertisement
Theory #2: 'AHS' Season 10 will involve a "deadly road trip."
In 1984, Stacey (Stefanie Black), the nosey journalist, interviews Donna (Angelica Ross) and Brooke (Emma Roberts), and she mentions Jim Morrison's grave in Paris, France. According to TV Guide, this could imply that Season 10 is inspired by the 1984 road movie, Paris, Texas, in which a man takes a road trip with his son across the South West, to find his missing wife.
Article continues below advertisement
Ryan Murphy's Season 10 Instagram announcement also included "Dead of Night" by Orville Peck, which is a song about two swindlers trekking through the desert in Nevada. It's all about a romance that ends disastrously. Needless to say, it totally paves the way for a quintessential AHS plot line.
Article continues below advertisement
Theory #3: Zombies
OK this isn't a full-blown theory, per se, but Twitter user @Shesacharmerx25 took to the social media site to express her desire for a zombie-themed season, and honestly, we are totally down for that. Although Walking Dead was entirely about the living dead, we have total faith that AHS could nail a season about zombies.
It's a pretty quintessential horror topic and it's actually a little surprising that we've dealt with ghosts, witches (multiple times), and serial killers, but no zombies. Well, unless you count poor Kyle Spencer (Evan Peters) from Season 3.
Maybe it could take some inspo from Season 1's Murder House, or it could be something entirely different. Either way, a zombie thriller is always a good idea.
Article continues below advertisement
The 'AHS' Season 10 cast includes your fave (former) child star.
Brace yourselves, because the Season 10 cast is looking pretty legit. According to EW, Ryan Murphy is bringing former child actor Macaulay Culkin on board. Yes, you heard that correctly. And since we've seen Macaulay deal with some pretty rowdy characters, from home invaders to Donald Trump, we have total faith in his acting #Skillz.
Article continues below advertisement
It was also revealed that Sarah Paulson will be returning as a main character, along with household names like Kathy Bates, Leslie Grossman, Billie Lourd, Evan Peters, Adina Porter, Lily Rabe, Angelica Ross, and Finn Wittrock. Sadly, Emma Roberts won't be returning, and we have to wonder: is it because ex-fiancé Evan is coming back? We may never know.
Get excited for Season 10! Although there's no set premiere date as of right now, I'm already shivering in anticipation.