"Found Your Cameras Probably" — Airbnb Host Says Guest Plugged Sinks to Flood Apartment
An Airbnb host said that a guest intentionally plugged their sinks and turned the water faucets on to flood their unit.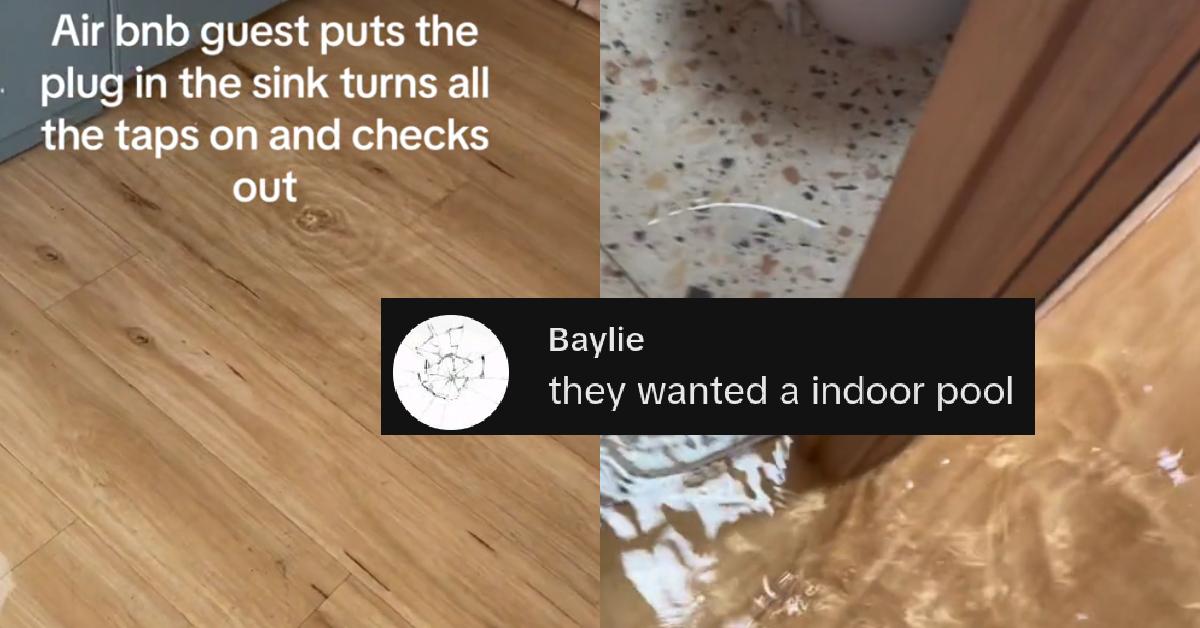 Airbnb hosts rarely get any sympathy online whenever they post about the gnarly ways in which their guests/tenants treat their properties. Maybe it has to do with the numerous, bizarre rules some hosts post throughout their units.
Article continues below advertisement
Whatever the reason for this ire geared towards Airbnb hosts, it still hasn't stopped them from uploading examples of the misfortunes they've experienced at the hands of careless guests.
Article continues below advertisement
Like this TikTok that's been uploaded by user @adzo365 who posted a viral clip that's accrued over 881,000 views on the popular social media platform.
Article continues below advertisement
In it, they show off the damage left by a guest who, the Airbnb host says, seems to have intentionally flooded their place as they were checking out.
@adzo365 writes in a text overlay of their video: "Airbnb guest puts the plug in the sink turns all the taps on and checks out"
They add in a caption for the video: "Hosting has its ups and downs and disasters"
Article continues below advertisement
Commenters didn't seem too concerned with the damage that was done to the TikToker's home. One person quipped that the guest more than likely decided to flood their place because they found hidden cameras in the unit: "they must've found the hidden cameras…"

Article continues below advertisement
Another wrote that they too, thought there may've been something going on that inspired the guest to wreck the propery: "PROMISE YOU….there is more to this than meets the eye! I'd like to see how many people respond to me that they agree"
Someone else penned: "They probably wanted their money's worth for that $600 cleaning fee"
"Tenants don't just do this kind of stuff for no reason," another remarked.
One TikToker bluntly wrote: "What did the air bib owner do to have them do this," while another speculated, "or the homeowner did it trying to blame guests"
Article continues below advertisement
One person urged the TikToker to stop renting their Airbnb as a temporary, short-stay housing solution and to instead offer it as a long-term rental: "Convert to long-term rental or sell to a family that needs housing.

Article continues below advertisement
One Redditor, @thorlek, delineated the extent of the damage caused to their rental in a viral post uploaded to the site's r/airbnb sub where they asked for recommendations from other users as to the best way to handle the situation moving forward.
Article continues below advertisement
According to OP's post, there were "holes in the doors and walls" along with trash littered everywhere, with blood and alcohol staining the floors.

Article continues below advertisement
Apparently, an ambulance was called too over the weekend and folks who booked the place had partied for two days straight, according to the property owner's neighbors.
Commenters offered up a litany of helpful suggestions, along with recommendations as to the best ways to ensure that they can get a heads up on any rambunctious bookings that may happen in the future.
Have you ever went buck nasty while at an Airbnb? Do you sympathize with the aforementioned hosts who have had their spots trashed?