"The Host Opened My Private Door": Woman Says Airbnb Host Makes Her Keep Door and Window Open
Nightmare Airbnb stories are nothing new. But what if your host has rules that seem to violate your privacy? Here's one woman's wild Airbnb story...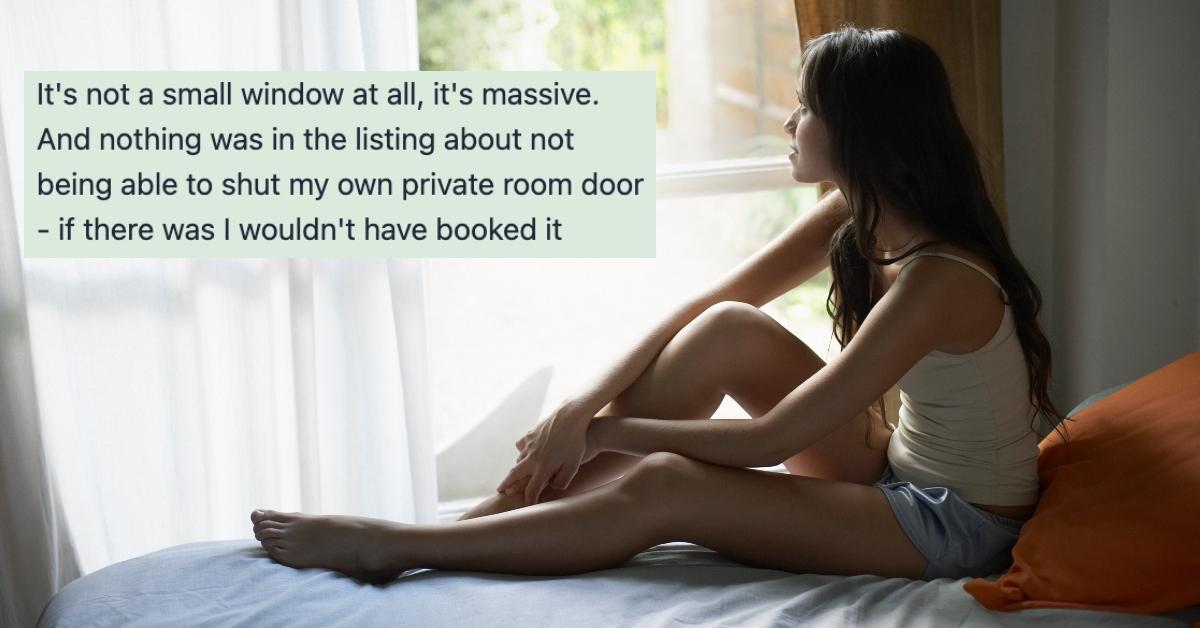 Article continues below advertisement
The host is so particular, in fact, that she requires the window and door to remain open when the woman is out.
And the story just gets weirder from there...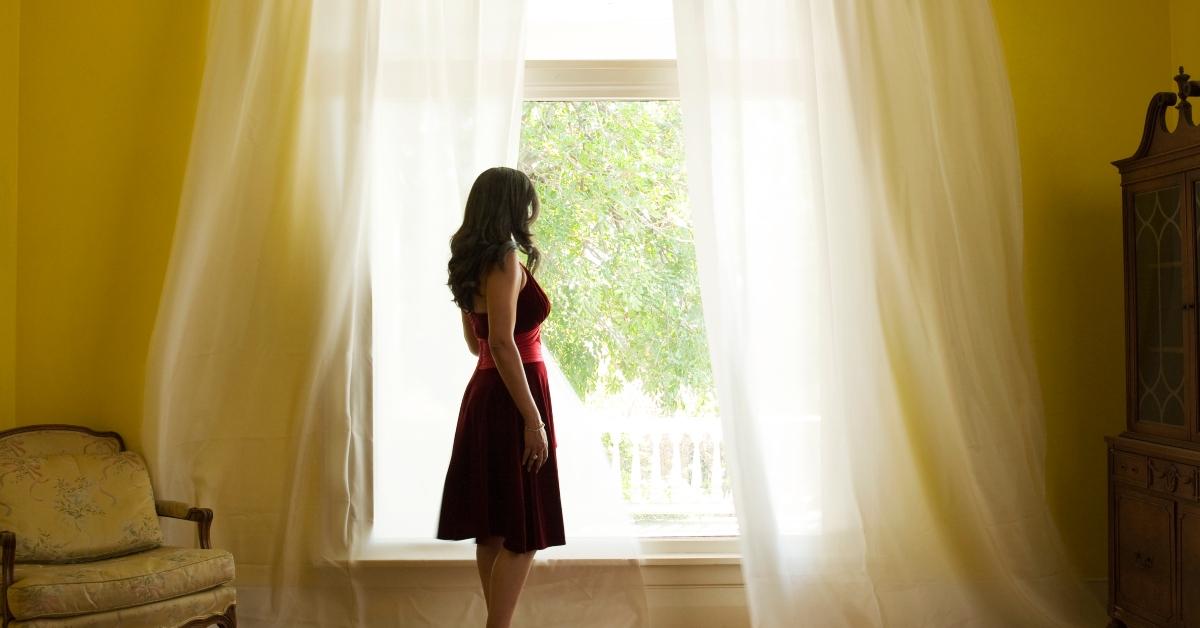 Article continues below advertisement
"I came home today to find my bedroom door wide open."
In a post on the "Am I Being Unreasonable" (AIBU) subforum on Mumsnet, a user named GlitterGlobe30 (we'll call her Gloria) says she's renting out a room in an apartment via Airbnb.
The Airbnb host who owns the apartment is living in the apartment too. So the two women are sharing the space together, though the host's boyfriend comes around from time to time as well.
That seems reasonable enough — until you find out that the host requires Gloria to keep both her window and her bedroom door open whenever she's out of the house.
At first, the host said to just keep the window open. Then she asked Gloria to keep her door open a crack. Suddenly that turned into keeping the door wide open.
Article continues below advertisement
Oh, and by the way, the listing never mentioned any of this.
Let's let Gloria tell the story in her own words...
Article continues below advertisement
"I've just started staying at this Airbnb and the host is very particular about her house rules (didn't know until after I started staying here)," Gloria began her post. "One of her rules is to leave the bedroom window open every time I leave the apartment (preferably just leave it open at all times) to air the room out and let the air circulate through because she doesn't like any smells settling in the room."
"I started to leave the window open every time I left the apartment but then she said that wasn't enough to help the air circulate and I have to leave my bedroom door open too," Gloria continued. "I feel uncomfortable with this as I have all my stuff in the room including valuable things like passport and laptop, etc."
Article continues below advertisement
"It is just sharing the apartment with her but she also has her boyfriend round almost every day. And I don't like the thought of either of them nosying at my stuff when I'm not in the apartment," she noted.
"I came home today to find my bedroom door wide open when I had just left it open a bit when I left the apartment for the day," Gloria wrote. "She actually said it would be fine to just leave it open a crack and then obviously changed her mind. AIBU to think I should be able to keep my bedroom door shut whenever I want and to feel a bit uncomfortable with not having the privacy?"
Article continues below advertisement

Gloria later took to the comments section to mention that "nothing was in the listing about not being able to shut my own private room door — if there was I wouldn't have booked it." She also noted that the window in her bedroom is "massive."
Article continues below advertisement
In another comment, Gloria added that the host had great reviews, but perhaps had a bad experience with a previous tenant's odors. She said the host has other very specific house rules as well, which include "always wiping down the sink after use, always leaving the toilet seat up after use, never cooking after 8 p.m. (again because of the smell)."
"She's just a very particular person, she leaves her bedroom door open too," Gloria said, adding that she can't afford her own Airbnb or a hotel — i.e., she basically has to put up with her situation.
Article continues below advertisement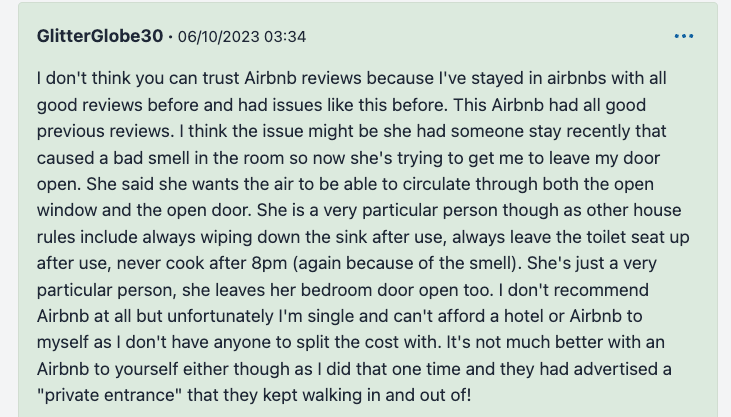 Gloria came back to the comments section later with another odd anecdote.
"She invited me out with her friends this evening but I said no as I'm not a big fan of nights out anyway. I have a feeling she just didn't want me in the apartment by myself which is why she invited me," she began.
Article continues below advertisement
"Got home to find a random pair of earphones on my bedroom floor," she continueud. "When I gave them back to her she said they must've fallen out of her pocket when she got some boxes out from under the bed. Even weirder is that boxes wouldn't even fit in the space underneath the bed anyway unless they were flat packed."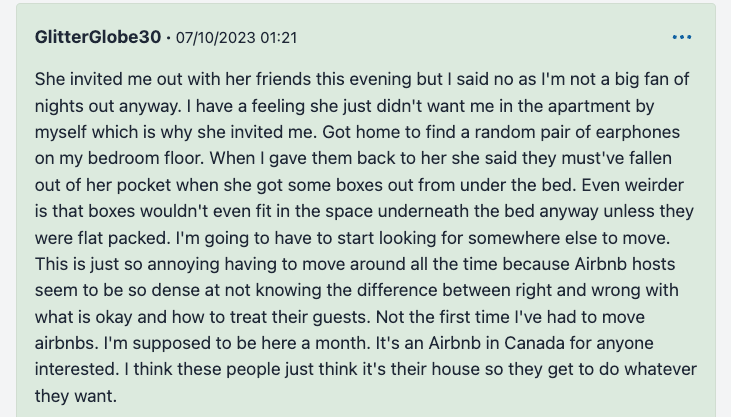 Article continues below advertisement
Most folks in the comments section say the situation is bonkers — but not everybody agrees...
Most people in the comments section agreed that Gloria needs to find a new place to rent. "I'd be very suspicious of this. Why does she need the door to be open to air the room when the window is already open?" wrote one person.
"Please don't stand for this — you are paying them your hard-earned cash to trespass," commented another.
Some, however, didn't think the situation was all that bad.
"Meh. I couldn't get worked up about this," someone wrote. "As long as I could keep the door shut when I was actually in the room it wouldn't bother me. It's not as if leaving it open when you are out makes it less secure. After all once you are gone the host and her BF could nip in and rifle through your stuff whether the door is open a tiny bit, wide open or shut."
Article continues below advertisement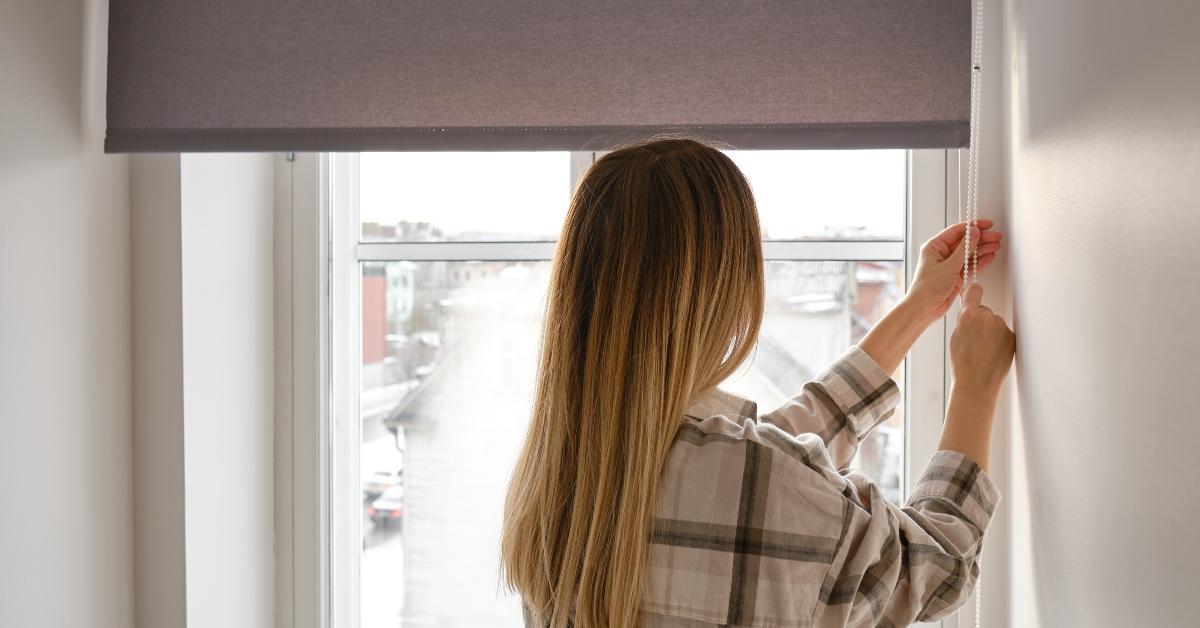 "If you're out and it's not a security risk or cold I don't see the issue really," wrote another. "The host does the same with her own door. Yes it's a bit weird but Airbnbs where you share with the host always are. They are quite often filthy, noisy, there is never a lock on the door, the hosts often want to have extended conversations about their difficult exes or bad work situations. There are often strange rules about kitchen and bathroom use. It's supposedly significantly cheaper than a hotel to make it worth the aggravation."
What do you think? Is this situation ridiculous, or is Gloria unreasonable to be upset with her Airbnb host's rules?