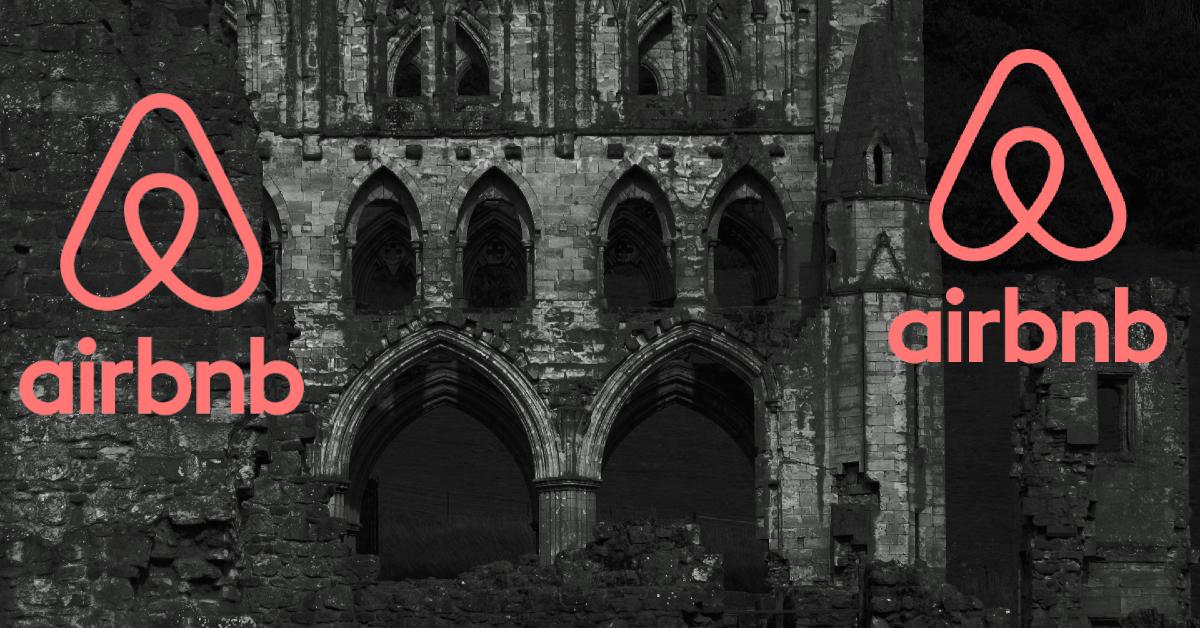 Airbnb Sends Customer "Scary" Message to Flee Their Rental Without Telling the Host
In a turn of events that sounds like something straight out of a horror movie, a TikToker by the name of Casper, who posts under the handle @_spookytooth (appropriate, right?), wrote that they were instructed by Airbnb to immediately leave their rental.
Article continues below advertisement
What's more, they were specifically told to not contact the host, implying there was some shenanigans at play. So, what were those shenanigans? It took Casper a while to divulge what exactly went down in a follow-up video, but during that time, tons of other TikTokers speculated.
Some thought it was just another instance of an Airbnb host renting a property that didn't belong to them. It isn't entirely implausible, as there are several documented instances of this happening on the rental platform.
Others thought there was something more nefarious going on. People suggested all sorts of horror film scenarios: from serial killings to human sacrifices, or even a real life ghost story involving a house with a keeper who's never left.
Article continues below advertisement
In her follow-up post, Casper stated: "Airbnb contacted me and told me to immediately leave my Airbnb without telling the host. On Thursday we checked in an Airbnb at 7PM. We fell asleep shortly thereafter and got a phone call at 7 a.m.. I was asleep, so my boyfriend did not answer this phone call."
Article continues below advertisement

Casper continued, "Around 9 a.m., we checked our Airbnb website messages and we got messages from Airbnb telling us to check out immediately, the host does not know about this situation and they will not know until we leave, and to contact Airbnb as soon as we get out of there."
Article continues below advertisement
It's about as vague and crazy of a message as one would expect, straight out of political thriller. Casper then explained what happened next: "I had no idea what was going on, so we just packed our stuff, got out of there, asked questions later."
Casper went on to say that it seemed like the host was attempting to get ahead of Airbnb's warnings to leave.
Article continues below advertisement

"After we left the Airbnb, I saw a message from our host at 10 p.m. saying if we got any suspicious or weird messages from Airbnb to just discard them. Later, we went and we were grabbing some coffee after we left the Airbnb and the host gave us a call. He didn't even know we left, someone had actually sent him my original video."
So yes, the host discovered they had left via the viral TikTok of Casper and her boyfriend fleeing the property.
Article continues below advertisement

"And he told us on the phone that allegedly a previous Airbnb guest the other day had told Airbnb some very dangerous and inaccurate things about his Airbnb," Casper continued. "So I don't know exactly what happened, because Airbnb will not tell us any specifics. They only told us that our host violated terms of service and guidelines and Airbnb's policy."
Article continues below advertisement

Casper said she's still in the dark about the situation. "I have no idea what happened, we only know what the host told us, but it was scary and now we're at a nice hotel, so it worked out. So, thanks Airbnb, for this super sick hotel room."
Article continues below advertisement

Casper uploaded some proof of the Airbnb scare to her TikTok account as some viewers were skeptical of her story's legitimacy. She posted screenshots of her conversations with Airbnb and the host, with their usernames x-ed out.
Article continues below advertisement
Who do you think is in the right here? Is Airbnb just being overly cautious? Are you, like many of the commenters who responded to Casper's video, of the opinion that the app isn't "worth it anymore?"
Also, what do you think happened with the property? As of this writing, it doesn't seem that Casper has uploaded any additional information about it.