Travel Influencer Roasted for Paying $30/hour to Sit in Airport Box, Sparks Debate
A TikToker sparked a viral debate about how "smart" it is to pay $30/hr. to have a private box all to yourself for an hour in an airport.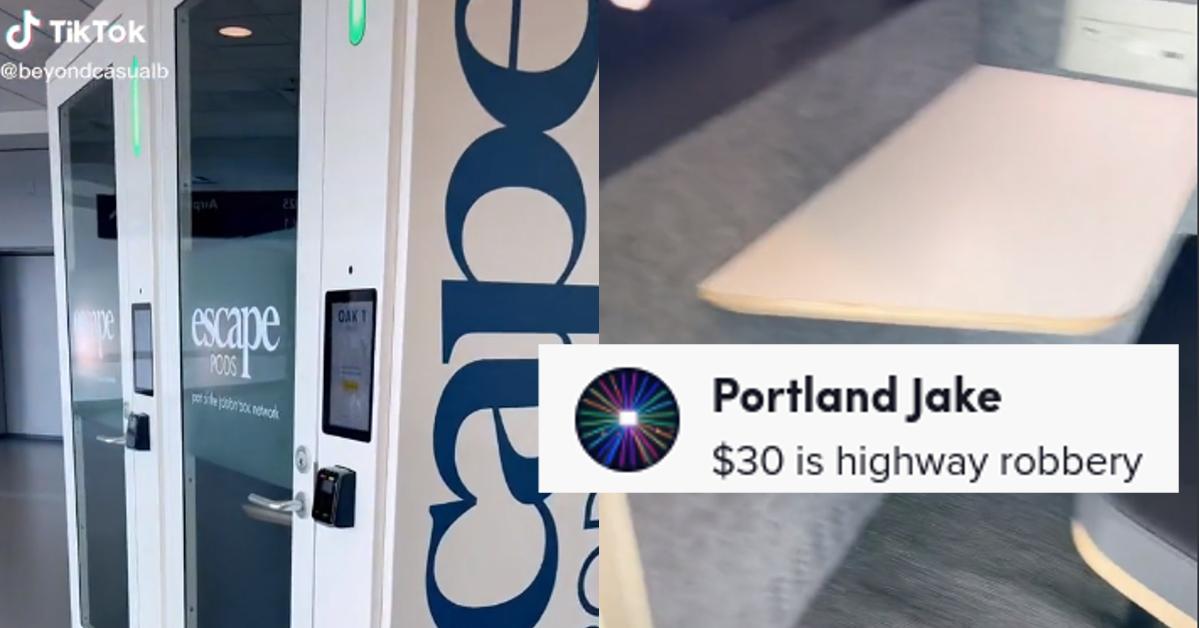 It's no secret that air travel is high up there on the list of things that are just downright awful. From having to deal with delays, fighting with airlines to get refunds/compensation for delayed/canceled flights, scrambling to make connecting flights in crap airports that are almost always leaking or have the lights out in entire sections (here's looking at you Chicago O'Hare.)
Article continues below advertisement
Then there are the overpriced meals, the endless gate changes, airlines that lose your luggage, throngs of employees who look like they'd rather be doing anything else, and tourists who get in your way while buying a ginormous Toblerone.
What really stinks, however, is just trying to find a place to sit down and get some work done and plug in your device when entire gates of an airport are overcrowded.
Outlets become a hot commodity and so does seating, especially in the wake of the COVID-19 pandemic where folks are going to be a little more apprehensive about having a total stranger sit next to them. So now you're not only dealing with a crowded gate with nowhere to sit, but a person silently judging you for trying to kill them because you may or may no be a carrier for the next terrible plague.
Article continues below advertisement
But now, there are companies offering a solution for people who want to isolate themselves from the rest of the airport crowd, but don't necessarily want to pay for private club access through whatever airline they're flying: Escape pods.
Article continues below advertisement

You may be familiar with the concept already: they're basically little box structures that can be found in the lobbies of apartment complexes, as private call booths/rooms in offices, or as backyard miniature office spaces for folks who were all of a sudden working from home and needed an escape from all of the distractions in their house.
Article continues below advertisement

And while "pods" aren't new by any stretch of the imagination, folks got really angry seeing them not only take up real estate at the airport but cost $30 an hour to get all up in them.
TikToker Bianca Cortez, who posts under the handle @beyondcasualb, was shocked to see just how irate some people got over the pods.
Article continues below advertisement

Bianca was at Oakland International Airport when she rented one of the pods and decided to record her experience to upload with the rest of her TikTok followers. She forked over $32 for an hour in the pod and barely fit her purse, a subway sandwich, her carry-on luggage, and herself in the box.
Article continues below advertisement

The interior of the personal room for one was, well, about what you'd expect out of a pod. In the box Bianca ate a subway sandwich in peace, and had access to power outlets and a touch screen with flight information and other airport announcements. There are also ports for folks to charge their phones, and you could also change the lighting inside the pod, use encrypted personal WiFi spots, and enjoy a photo booth feature to snap pictures of yourself.
Article continues below advertisement

The Escape Pods are produced by a company called Jabbrbox which says of their airport usage: "Escape Pods, part of the Jabbrrbox network, offers airport guests an individual technology-equipped workspace that is plush and quiet, with thoughtfully-designed touches for those who need an escape from the hustle and bustle of the busy airport terminal."
Article continues below advertisement

However, people were shocked that Bianca would spend $32 to use one of the pods, and many lambasted the company for charging that much. Some called the pods a "hotbox" but the Jabbrbox website does list ventilation specs for them.
Others pointed out way better deals in other airports, like a commenter who wrote: "In Tokyo airport you can rent an entire room with two twin size beds and private bathroom for 30.00 for a couple hours."
What do you think? Would you ever pay $32 for an hour inside a private box at a hotel that other books can see inside?