"Soul-Sucking" Internship at Finance Company Captured in Viral TikTok
TikTokers were convinced that this video of miserable looking summer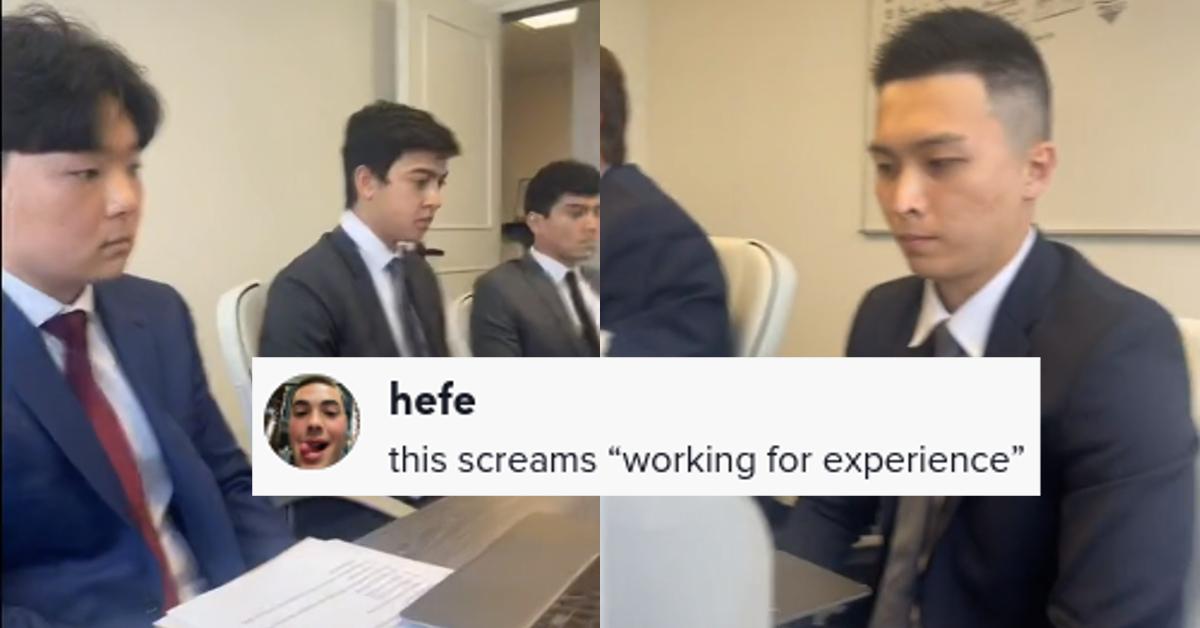 Article continues below advertisement
Article continues below advertisement
The clip shows a bunch of young men on a Zoom call staring down the barrel of their respective camera lenses as they learn about QuantumVest, the company they're interning at.
The company's website reads: "Quantumvest is an industry-leading investor in the world's financial markets. We are fee-only, Fiduciary Advisors who always act in our clients' best interests. Quantumvest is focused on how the financial markets work."
Article continues below advertisement
"By understanding how markets move and translating that understanding into highly effective portfolios, we have built a track record of success. For almost a decade we have sought to deliver superior investment returns to our capital partners including pension funds, endowments, foundations, governments, and private individuals."

Article continues below advertisement
Google reviews for the brand are quite unforgiving, with one user by the name of Kyle Shelton calling Quantumvest, "a complete and utter joke." There are only 5 reviews for the business: 4 of them are 1 star reviews, with one 5 out of 5 star recommendation for the firm.

Article continues below advertisement
The video was uploaded by Taylor Roncancio, whose TikTok profile reads: "Founder / CEO / Senior Portfolio Manager at Quantumvest / TCU Alum / 📍LA." Several of his clips focus on his recreational boxing hobby and clips about his investment workflow.

Article continues below advertisement
The lack of joy in the interns' eyes was apparent to TikTokers who viewed the clip:
"I'm convinced this is a joke"
"Wait this isn't satire LMAO"
"They got turned down by Northwestern Mutual and came here instead"
"bro i thought this was gonna be a skit"

Article continues below advertisement
Many also remarked that they thought the beginning of the video was actually the lead-in to a skit and were shocked to learn that it "wasn't satire." Others stated that the situation "screams working for experience."
"I'd be thinking about nothing except leaping out that window," another user remarked.

Article continues below advertisement
Forbes' list of top financial firms to intern at include some heavy-hitting names that even folks who couldn't care less about money management would recognize:
AT&T Financial and Leadership Development Program
Blackstone Group
Credit Suisse
Deutsche Bank
Goldman Sachs
J.P. Morgan's Investment Bank
Lazard
Morgan Stanley
Northwestern Mutual Financial Network
UBS Investment Bank

Article continues below advertisement
The outlet indicated that nearly all of the internships offered paid positions. Quantumvest's Internship page on its website doesn't specify whether or not its interns are offered any compensation for their time.
The job description for an equity analyst intern is as follows: "The intern will work under close supervision and receive on-the-job training. After participating in this internship, the intern should have a better understanding of what is involved in becoming a Financial or Private Wealth Advisor within the wealth management business. The intern should also become familiar with the many investment choices offered and have a basic understanding of how an investment plan is designed and monitored."
Article continues below advertisement

What do you think? Is the video as disheartening as some people are saying it is? Or is this just a case of a bunch of young peeps trying to look as professional as possible while being thrust into a very "grown up" world all of a sudden?