Alan Kim's Parents Are No Strangers to Show Biz
Who are 8-year-old 'Minari' star, Alan Kim's parents? Keep reading for what you need to know about how he got started in his acting career.
There's no denying that Lee Isaac Chung's Minari is one of the best movies of 2021. With standout performances and the heart-wrenching plot of a Korean-American couple trying to live their American dream with their two children in Arkansas in the '80s, Minari is an outstanding instant classic that we are sure to revisit for decades to come.
Article continues below advertisement
Among the stars we came to discover through this semi-autobiographical film was now 8-year-old (7 at the time of filming) newcomer Alan Kim, whose portrayal of youngest son David — his father (Steven Yeun)'s bilingual buddy and all-around helping hand — moved us in equal parts to laughter and to tears.
Alan has already been making a splash this awards season, so we couldn't wait to learn more about how he got started, who his parents are, and what's next for this Critic's Choice pick for Best Young Actor.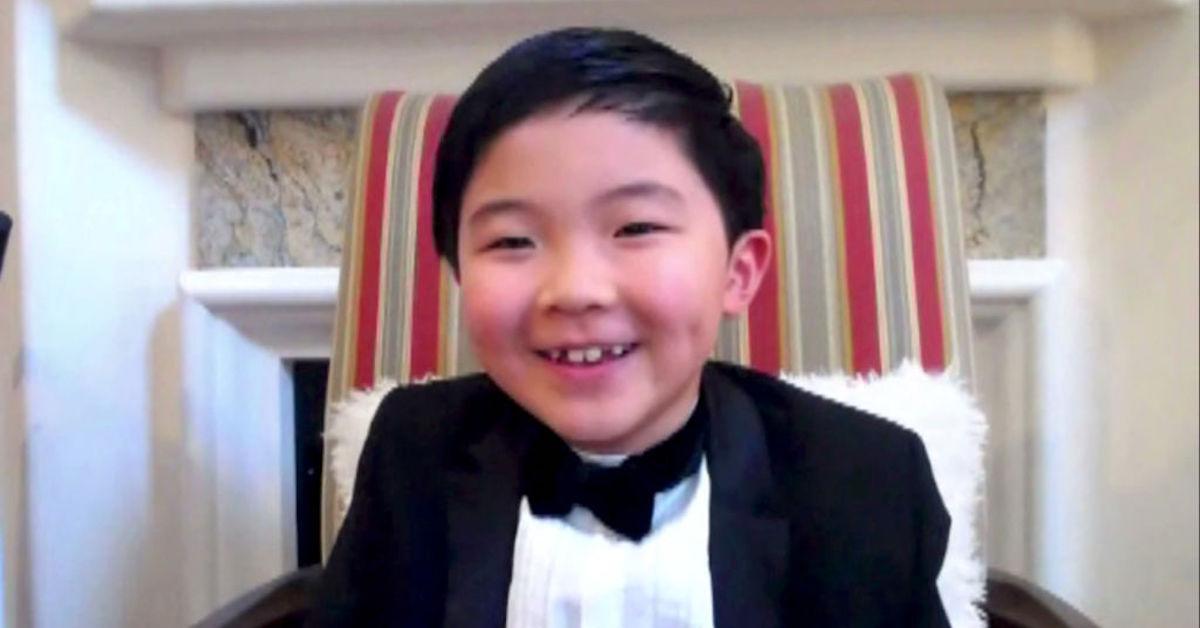 Article continues below advertisement
Alan Kim's parents aren't new to driving their kids to set.
In Minari, Alan plays the couple's young son, David, whose heart murmur keeps him from being able to run around freely in the open stretches of Arkansas, where the family just relocated from California.
What's more, he's informed that he's going to have to share his room with his kooky grandmother, Soonja (the legendary Youn Yuh-jung), and watching their on-screen dynamic unfold is nothing short of a wonder.
And while Alan prodigiously shows off a range of emotions throughout the film, Minari was actually his very first time acting. "This was my first time making a movie and acting," he told Vulture. "But I had auditioned for some things, I think? Yeah. I did something with Pottery Barn Kids."
He credits his mom with helping him to memorize his lines. "She said the Korean lines, and I would repeat it, and if I still didn't get it, she would do the motions," he explained.
Article continues below advertisement
As it turns out, Alan's mom, Vicky, was actually on set with her son for the entire 25-day movie shoot in Oklahoma, "fanning him when temperatures soared above 90 degrees and keeping his juice box collection well stocked," LA Times writes.
But show business is not something she or her husband Ethan are entirely new to. Their oldest daughter, Alan's 12-year-old sister, Alyssa, played young Elsa in the touring stage production of Frozen.
Article continues below advertisement
What's next for young Alan Kim?
Vicky's commitment to helping her young son doesn't stop on set. The mother-of-two also manages his adorable Instagram account, @official.alankim, and curates the cutest pictures and clips of Alan (dancing, cuddling his dog, Cream, and interviewing his on-screen grandma) to share with the world.
"I don't think I'm responsible enough with it," Alan told the LA Times about why it's for the best that his mom holds the keys to his Instagram page.
Article continues below advertisement
But that isn't to say he doesn't get to make some choices when it comes to his social media. "My mom follows who I want to follow, mostly," he revealed to Popsugar. "She asks me if I want to follow [someone] and I either say 'yes' or 'no'."
And as far as where you can expect to see Alan next, this young star will begin filming his second movie, Latchkey Kids, in June.
"In Latchkey Kids, I come home, I am lactose intolerant. So I'm not supposed to drink milk or ice cream. But in a scene I think I eat ice cream? I come home and watch TV and order a pizza and eat the pizza," he says of his upcoming role.
We're very excited to follow this talented young actor and can't wait for everything he does next.