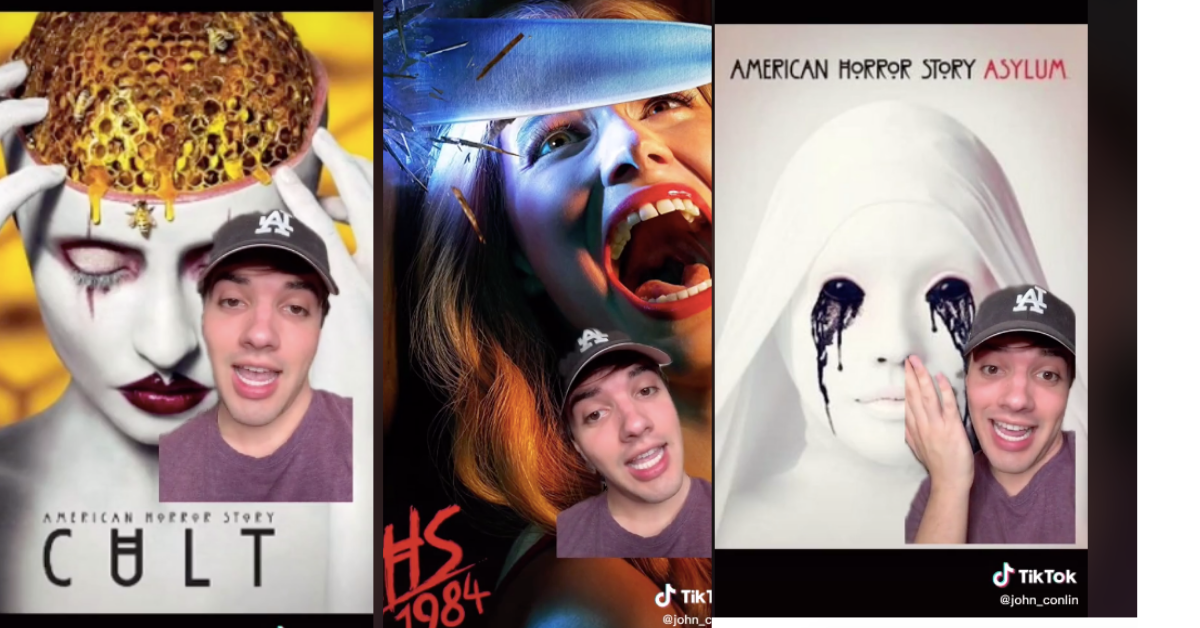 TikTok Exposed 'American Horror Story' for Having the Worst Endings
By Katie Garrity

Oct. 5 2020, Updated 10:52 p.m. ET
Spoiler alert: Massive spoilers for every season of American Horror Story ahead!
There is something tragic about investing so much time and energy into a television series just to be totally let down by the ending. *cough* Game of Thrones *cough* 
Article continues below advertisement
TikTok exposed another series for having such potential only to falter (over and over) with a less-than-exceptional ending. American Horror Story creator Ryan Murphy teased the theme of Season 10 of American Horror Story on his Instagram in March 2020. However since the tease, things have been kept pretty hush-hush. Before any details of Season 10 emerge, fans have been reminiscing about past seasons of the show and the not-so great endings some have provided.  
One TikTok user, Jon Conlin, joked about how Ryan Murphy's horror shows, including the new Netflix series Ratched, never have good endings. So, which seasons of American Horror Story were not up to par according to TikTok? Read on below to find out! 
'Murder House'
Season 1 of American Horror Story centered around the Harmon family and their next door neighbor, Constance Langdon (Jessica Lange) and her children. The Harmons move into a large house aka the Murder House at the start of the season in an attempt to repair their family after Ben, the patriarch of the family, is caught cheating on his wife. The series follows the characters as they navigate present-day while also being visited by multiple ghosts who are stuck inside the house.
Article continues below advertisement
In the series finale, pretty much the entire Harmon family is dead. Vivien (Connie Britton), the mother, died giving birth to two babies. Ben (Dylan McDermott) was murdered by his former lover Hayden (Kate Mara). And in the biggest twist, Violet (Taissa Farmiga), the daughter, had actually died of an overdose earlier in the season and was a ghost for the majority of the season. 
Article continues below advertisement
'Asylum'
American Horror Story: Asylum featured aliens, Nazis, serial killers, insane doctors, and a nun possessed by Satan. The season begins in 1964 at the fictional mental institution, Briarcliff Manor, following the stories of the staff and inmates who occupy it, and intercuts with events in the past and present. 
Article continues below advertisement
Asylum ended with Lana Winters, played by Sarah Paulson, killing her son, who she knew would grow up to be a serial killer, and Kit Walker, played by Evan Peters, being abducted by aliens. Ryan Murphy admitted to Entertainment Weekly that the ending viewers saw wasn't always the plan. "We thought the last episode would be Sarah Paulson going into the sanitarium and shutting it down. That indeed was part of it, but we moved it around a little bit," he explained.
Article continues below advertisement
'Coven'
One season of American Horror Story that was not included in the viral TikTok was Season 3 of American Horror Story entitled Coven. Set in 2013, the season followed a group of witches who survived the Salem Witch Trials and their struggle to hide their identity in the modern world as they try to recruit more witches. 
Article continues below advertisement
Several main characters in Coven don't make it out alive, or are the subjects of resurrections, but at the end of the season, a couple of "good" witches survive with Cordelia, played by Sarah Paulson, as their Supreme. The three go public with their witchcraft and send out a call for any potential, rising witches to head to Miss. Robichaux's Academy for teaching. The last scene shows a long line of girls outside, ready to become witches.
Article continues below advertisement
'Freak Show'
American Horror Story: Freak Show seems to be one of the more forgotten seasons. While the concept of killer clowns is enough to make anyone squirm, surprisingly, the ending of Freak Show could be considered "happy." Dandy (Finn Wittrock), an entitled rich boy obsessed with the performers in the freak show, is murdered by the very freaks he abused all season. 
Article continues below advertisement
The rest of the performers in the freak show go on to lead pretty happy lives including Jimmy (Evan Peters) and Dot (Sarah Paulson), who get married and have a child. Elsa (Jessica Lange) dies and is finally able to be reincarnated where she is reunited with the other freaks who have died. She is able to be the star she always wanted to be.
Article continues below advertisement
'Hotel'
Season 5 of American Horror Story is set in 2015 and follows the weird happenings at the Hotel Cortez located in downtown L.A. Viewers soon learn that the hotel was initially built as a secret torture chamber to fulfill the violent desires of founder James Patrick March (Evan Peters), a serial killer. The series follows the ins and outs of the hotel as well as past and present hotel guests. 
Article continues below advertisement
AHS: Hotel is another season that ends on a more uplifting note. Liz Taylor (Denis O'Hare), a lively bartender and long-time employee of the hotel, has a semi-happy ending. She has cancer, but she chooses her content death amongst friends and gets to live forever in the hotel with her lost love. While that ending is sweet, The Countess, played by Lady Gaga, is still able to kill within the hotel. 
Article continues below advertisement
'Roanoke'
American Horror Story: Roanoke started out as a reality TV-style depiction of the real-life adventures of Matt, played by Andre Holland, and Shelby Miller, played by Lily Rabe, as they moved into the house in Roanoke.
Article continues below advertisement
Halfway through the season, the show turns on its head and becomes a show-within-a-show with the fake reality show, My Roanoke Nightmare, turning into an event of its own with its creator-producer coming up with an even bigger idea: sending everyone involved in both the real-life story and its dramatization back into the house for a second season. Many AHS fans disliked Roanoke's ending the most due to its confusing premise and basically the entire cast dying by the finale.
Article continues below advertisement
'Cult'
American Horror Story: Cult is set in America in 2017, right after the election of Donald Trump as president. A married couple lives in Brookfield Heights, Mich., one being Ally Mayfair-Richards (Sarah Paulson), who is reeling from the election, along with her wife Ivy (Alison Pill). Across town, misogynistic alt-righter Kai Anderson, played by Evan Peters, is thrilled with the election results. Ally is also being attacked by a group of clowns that only seem to come out when she is alone. 
Article continues below advertisement
The final episode of AHS:Cult saw a crescendo to the conflict between Kai Anderson and Ally. Ally turns Kai in to the FBI and decides to make a Senate bid by leveraging her celebrity for surviving the cult. However, Kai escapes prison and threatens Ally at her debate. Ally triumphs over Kai eventually, but she is the leader of her own cult now.
Article continues below advertisement
'Apocalypse'
While some hail AHS: Apocalypse to be one of their favorite seasons due to its throwbacks to former seasons like Murder House and Coven, others were not happy with the ending. Apocalypse takes place in the near future when the Antichrist, Michael Langdon (Cody Fern), brings about the apocalypse by instigating nuclear warfare. The coven attempts to save humanity and defeat the Antichrist by going back in time and creating a new timeline. But, in the end, the Antichrist is born anyway. 
Article continues below advertisement
'1984'
AHS: 1984 is set in the year 1984 and follows Brooke Thompson (Emma Roberts) as she travels to work at a new summer camp as a counselor. From there, the camp is infiltrated by murderers, alive and dead.
Article continues below advertisement
In the finale, a lot of characters don't make it, but the characters that do survive end up living prosperous and good lives. Brooke survived the deadly camp and went on to live out her days in Oregon. She also sends Bobby (Filip Alexander), the son of Mr. Jingles (John Carroll Lynch), money every month. Bobby tries to reunite with his father at Camp Redwood and ends up meeting all the ghosts there. And as far as we know, the true villain of the season, Margaret Booth (Leslie Grossman), doesn't kill again.