Alison Roman Is Under Attack Again for This Halloween Photo
A photo resurfacing of Alison Roman dressed as Amy Winehouse for Halloween has brought up a discussion on race and racism in different forms.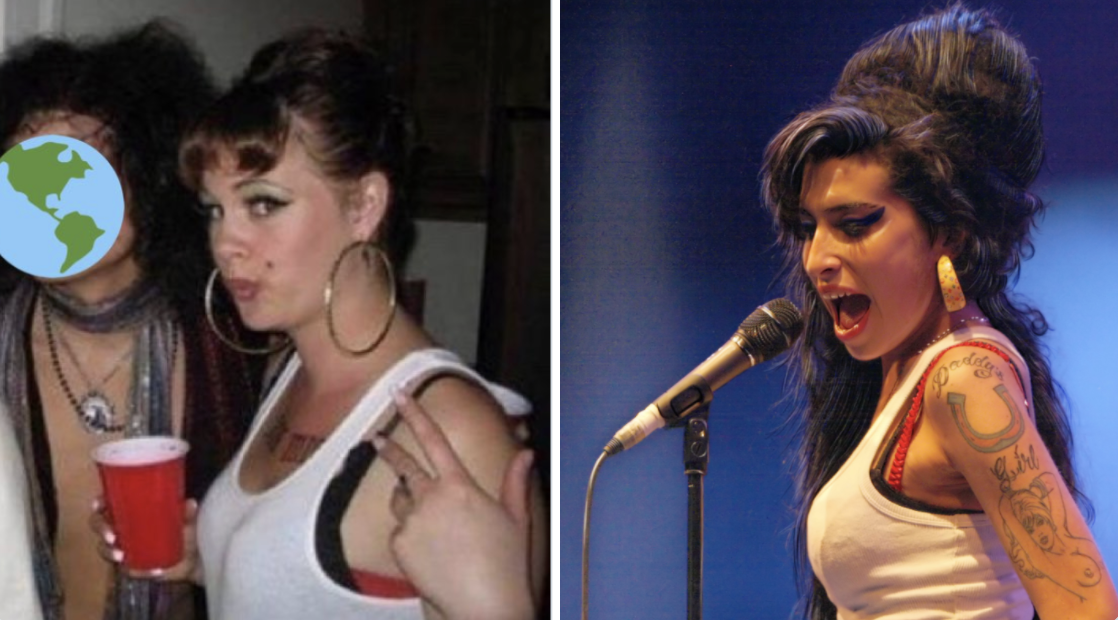 One of the most important results of this past week's uprising against police brutality and institutionalized racism is that people are being held accountable for their past actions in a more serious way than they ever have before. Big brands, which have been called out for their problematic leadership and behavior, have apologized for their actions — some company execs have even stepped down from their roles. On a smaller (but just as important scale) cookbook author and viral recipe writer Alison Roman recently apologized for a photo that was taken of her a few years back.
Article continues below advertisement
The photo (which was originally tweeted by word class journalist Yashar Ali, who says he found the photo on Alison's Myspace) shows Alison wearing large hoop earrings, heavy makeup, a white tank top, and fake tattoos drawn on her chest. Yashar deleted his initial tweet and retweeted it again, this time tweeting his original tweet and Alison's response (which we'll get to in a second) and starting a new thread.
Article continues below advertisement
"1. A lot of debate on this tweet of mine to the left. I have deleted it while keeping it here so that it can sit next to @alisoneroman's tweet. This is photo was sitting on Alison's MySpace page...you can google it. She has a recent history of being called out for appropriation," he wrote.
He added, "2. That's why I was willing to tweet it. Most of the time I don't believe such photos are newsworthy. Recent issues she's had combined w/ this made it different
Re Amy Winehouse: Amy didn't have a tattoo in old English on her chest like that. She also didn't wear hoops like that."
Article continues below advertisement
Lastly, "3. Finally, I knew Alison had apologized to a friend for this photo. We can agree to disagree but I always appreciate the honest feedback and accountability."
Article continues below advertisement
Alison Roman, who was recently (and fairly) called out for calling out Chrissy Teigen and Marie Kondo for "selling out," responded to the photo by tweeting, "This incredibly embarrassing picture was taken in 2008, I was 23 & living in SF, this was my "SF inspired Amy Winehouse" costume for Halloween- it reads as culturally insensitive, and I was an idiot child who knew nothing about the world/how this would be perceived and I'm sorry."
Article continues below advertisement
So far, Twitter is divided. Some say that Alison was clearly just dressing up as Amy Winehouse for Halloween and doesn't deserve the backlash.
Article continues below advertisement
Whereas others are pointing out Alison was purposely appropriating a culture that's not hers.
Article continues below advertisement
Article continues below advertisement
Where it gets even more complicated is this: If Alison seemed to have dressed up as Amy Winehouse (and the Halloween photo of her does seem to show she mimicked Amy's style), is it problematic of the people who are calling her out for dressing up as a Latina-identifying woman simply because she's wearing hoop earrings, drew on a beauty mark and tattoos, and has bangs? @Cernovich tweeted, "people who saw 'brownface' are the real racists!"
So...what is Amy Winehouse's race exactly?
Amy Winehouse is Russian-Jewish-Polish and was born in London. If you had to describe Amy Winehouse's style, it would probably be "modern-day pin-up girl" as she incorporated a lot of '50s elements (the beehive hair and Marilyn Monroe's beauty mark) with a punk twist. Anyone looking up an "Amy Winehouse" costume guide probably read articles like this or this. Amy Winehouse was not Latina, if we have to make that clear.
Article continues below advertisement
Alison admitted how much thought process went into the costume. She tweeted, "TBH I'd be surprised if I even looked up a picture of Amy to put this together. I am historically lazy and bad at costumes. I'm sure it went something like 'someone give me fake tattoos and some eyeliner, this seems fine! now plz hand me the Bacardi 151!' It was/I was VERY DUMB."
Probably the most important takeaway here is that Alison Roman did quickly apologize for her costume. She seemed to have done so because she realized that, even though her intent was to dress up as Amy Winehouse, some may not have seen it that way, and it's vital right now for people with white privilege to take ownership of any pain they've caused people of color (even if they didn't mean to).