Burger King Employee Makes Customer Feel Guilty for Not Wanting Pickles in Viral TikTok
A TikTok user recorded her interaction with a Burger King employee who was taking her order in the drive-thru and it's now going viral.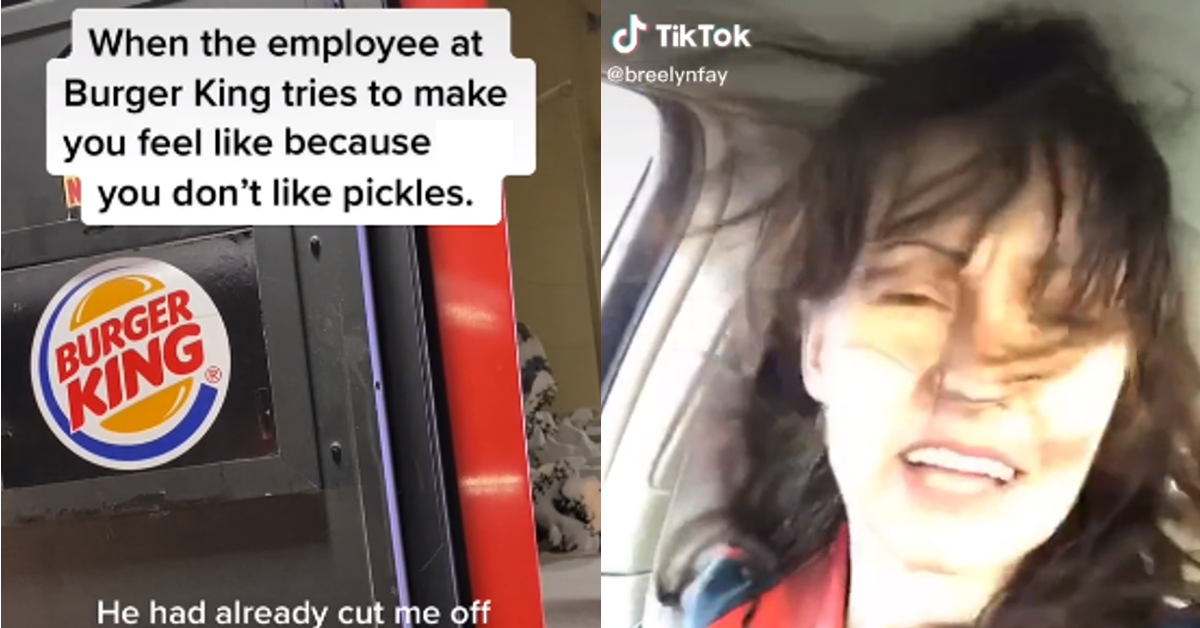 Article continues below advertisement
That's not to say that there aren't some success stories from those who started from the ground up. Sue Martin began her career at McDonald's as a fry cook and ended up becoming a multiple-franchise owner.
Even though it isn't the most glamorous job, however, there's something to be said about folks who choose to try and make the best out of the situation they're working in rather than taking it out on the customers.
But one TikToker said that an employee at Burger King did just that in a now-viral clip. User @breelynfay uploaded a drive-thru interaction she had with a worker at one of the franchise's locations, and many TikTok users believe that the employee behaved poorly.
Article continues below advertisement
In the video's text overlay, Breelyn writes, "When the employee at Burger King tries to make you feel like sh*t because you don't like pickles."
The TikToker's more than likely referring to the audible sigh that the worker makes when she asks for pickles to be left off of her burger.
Article continues below advertisement

She continued on the clip: "He had already cut me off while ordering, and we sat there for two minutes before I started recording...I was seriously trying to be extra polite! I didn't want him spitting in my food!!!"
Article continues below advertisement

The comments section was filled with users who cautioned Breelyn against eating the food, while others couldn't believe how exasperated the Burger King worker sounded on the intercom.
Article continues below advertisement

Others remarked that if the worker's attitude was going to be that bad, then he probably shouldn't be working in customer service, while others suggested just pulling out of the drive-thru if the employees sound upset, fed, up, or angry, so as to avoid any issues with receiving their food.
Article continues below advertisement

There were also many TikTokers who commended Breelyn for being so polite with her order request while expressing that she sounded afraid of upsetting whoever was working behind the intercom.
Article continues below advertisement

Fast food employee satisfaction surveys are a mixed bag, with some companies receiving higher marks than others. In 2019 it was reported that Panera is losing nearly 100% of all its workers every single year as it clocked in high turnover rates.
Glassdoor review aggregates place Burger King employee satisfaction at a 2.9 stars out of 5 and judging from this woman's TikTok, it would appear that this worker would be one such person driving that score down.
Article continues below advertisement

What do you think of the employee's reaction to Breelyn? Did something else occur before she started recording and there's more to the story? Or have you had similar run-ins with employees who seemingly took their bad day out on you?