McDonald's Worker Completes 6,400 Item Order and It Cost the Customer This Much
A McDonald's worker showed off the insane 6,400 item order they had to complete in only 4 hours.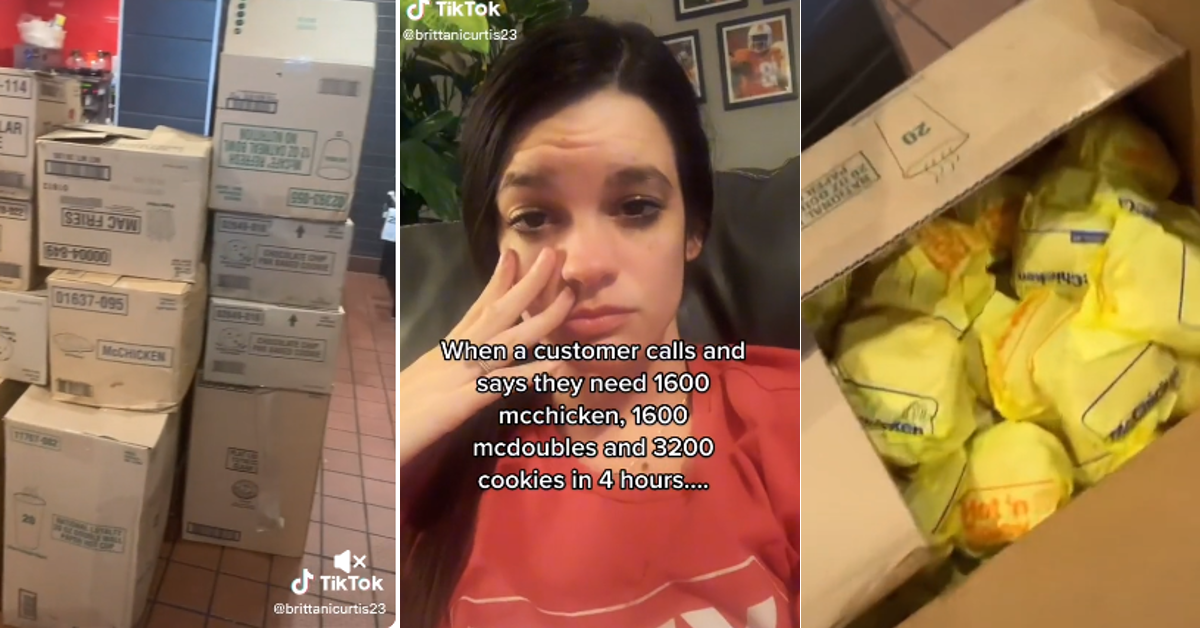 The reason why fast food restaurants can afford to sell so many of their items at such relatively inexpensive prices is generally due to the high sales volume that they complete in a single day. That and pairing up sides/add-ons that have generally high profit margins.
It might not seem like that much, on your end to take on some french fries for $1.17 or a drink for $1.25, but that's where places like McDonald's really make their money.
Article continues below advertisement
But the high volume nature of the business is going to be there and the Golden Arches, for instance, serves a whopping 68 million customers a day across 120 countries.
However, there are some orders that are a lot more hefty than others. Imagine getting a last minute call to prepare 25 happy meals for a kids' birthday party, or an impromptu game night, or a shamed individual on Thanksgiving who ruined the Turkey (you should've brined it!)
However this McDonald's worker posted images of an order that seems almost impossible to fulfill: @brittanicurtis23 posted clips to her TikTok of a massive 6,400 item order that she was forced to complete in four hours time for a customer who often orders from their location with humongous requests.
Article continues below advertisement
The customer in question asked for 1,600 McChicken Sandwiches, 1,600 McDouble Cheeseburgers, and 3,200 cookies. Naturally folks in the comments section were flabbergasted by the size of the order, while other Mickey D's employees shared their own stressful large order experiences.
Article continues below advertisement
@liver_alone wrote, "And I thought 1,200 kids meal for a kids party was bad. Most stressful day of my life back then."
Others couldn't understand why such a large amount of food was ordered from McDonald's in the first place, as they're probably not going to taste that good by the time folks get to actually chow down on what was ordered.

Article continues below advertisement
TikTok user @danielle8260 wrote: "Those are gonna be cold and nasty by the time they pick them up." Even worse is when folks "end up not coming" after placing such a large order, like @officialabehm2002 penned.
A bunch of people also asked OP how much an order of that magnitude would cost, and she wrote, "$7,400," and that the buyer in question was "very credible."
For orders of that size, too, payment is always rendered up front. "We do business with them a lot. It's usually never such short notice though."
Article continues below advertisement

So who was the massive McDonald's order for?
The TikTok-er in question intimated that the purchase was for a local prison, which suddenly makes the story a heck of a lot more heartwarming. Whatever your thoughts on fast food are, it's hard to deny that there's a level of comfort of getting a slice of homogenized outside world life while trapped behind bars.
Article continues below advertisement

So for a prisoner to be able to chow down on a McChicken and a double cheeseburger, then topping that off with a cookie and hopefully some bubbly fountain soda for a special treat while on the inside is pretty significant.
Article continues below advertisement

Have you ever worked in fast food and had to fulfill a huge order in a relatively short amount of time? Imagine the stress!