Anti-Vaxx Mom's "Least Scary Costume" Offends Everyone by Downplaying Measles
A woman tried making fun of the severity of measles with this Halloween costume and immediately regretted her decision.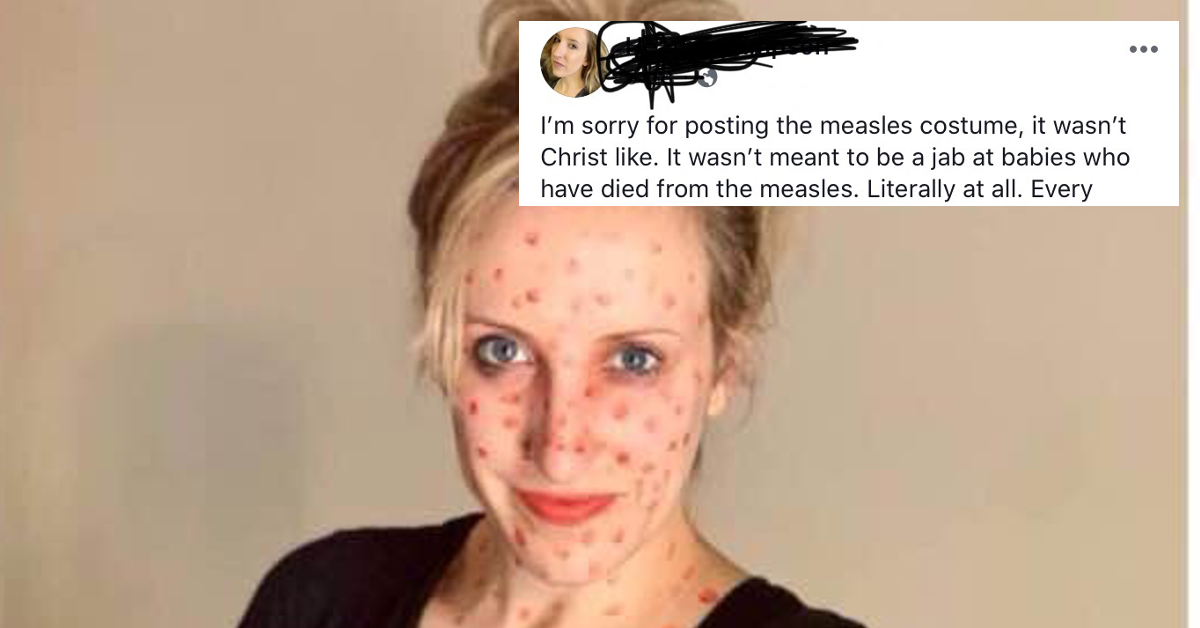 Anti-Vaxxing propaganda and social media has a long and storied relationship. But if you thought that memes lampooning people's decisions to vaccinate themselves and their children is about as old as the introduction of Facebook, then you'd be strong mistaken: political cartoons roasting anti-vaxxers and vaxxers alike have existed since before electricity became standard in people's homes. Heck, there's probably cave paintings somewhere containing strong opinions herd immunity.
Article continues below advertisement
Now this might come as a surprise to you, but some people tend to take the expression of their personal opinions a little too far, especially when it comes to their online posts. Sometimes they even upload things they wish they didn't - could you imagine that?
The web's full of posts people wish they would've thought twice about before putting online, and it seems like this anti-vaxxer's Halloween costume may be one of them.
A woman, whose name was blurred out, uploaded a snapshot on Facebook of a Halloween get-up that featured her covered in dots. She was supposed to be a "Measles patient", which, you know, is a pretty weird idea for a costume to begin with. But the caption she put over the costume is what got people offended: "Was trying to think of the least scary thing I could be for Halloween...so I became the measles."
She then added a "peace sign" emoji.
Article continues below advertisement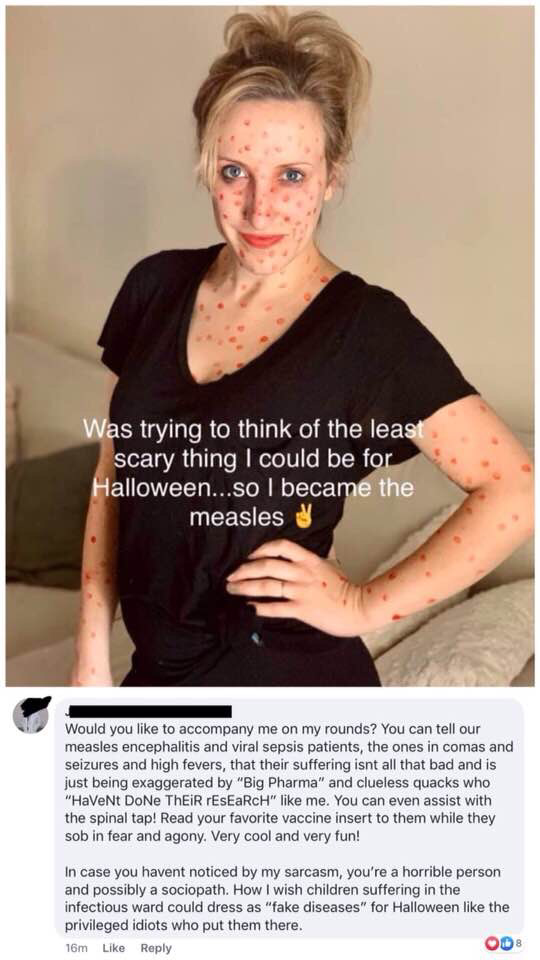 Apparently, what prompted her to post her Halloween costume was this popular Facebook meme that roasted Anti-Vaxxers for their stance against immunizations. But unlike the costume below, people didn't find the Anti-Vaxxers' measles costume not even morbidly funny.
Article continues below advertisement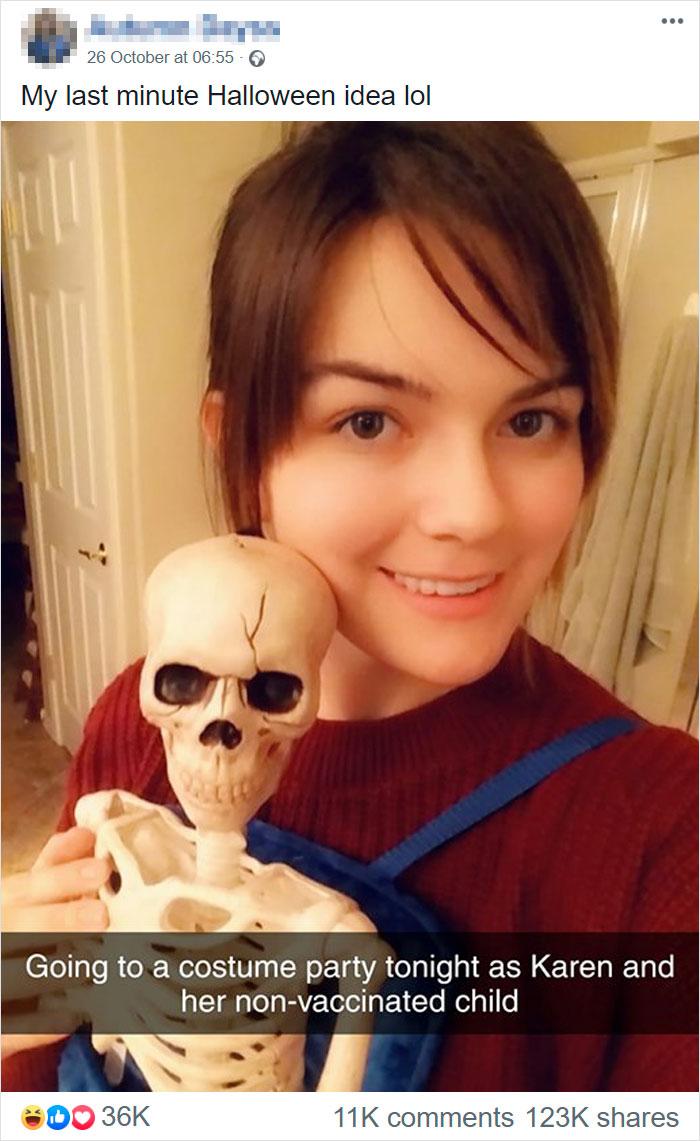 It didn't take long for someone who worked in the medical profession to let the woman know just how they felt about their costume and how measles isn't a disease to be taken lightly:
"Would you like to accompany me on my rounds?" The commenter continued, "...you're a horrible person and possibly a sociopath. How I wish children suffering in the infectious ward could dress as 'fake diseases' for Halloween like the privileged idiots who put them there."
Article continues below advertisement
The commenter wrote a heck of a lot more, making some stern points about anti-vaxxing parents who elected to let their immunity's "figure it out".
And it's not as if their outrage is unfounded: research indicates that anywhere from 50,000 to 90,000 vaccine-related deaths occur in the United States every single year; deaths that could've otherwise been prevented had the individuals received their immunizations.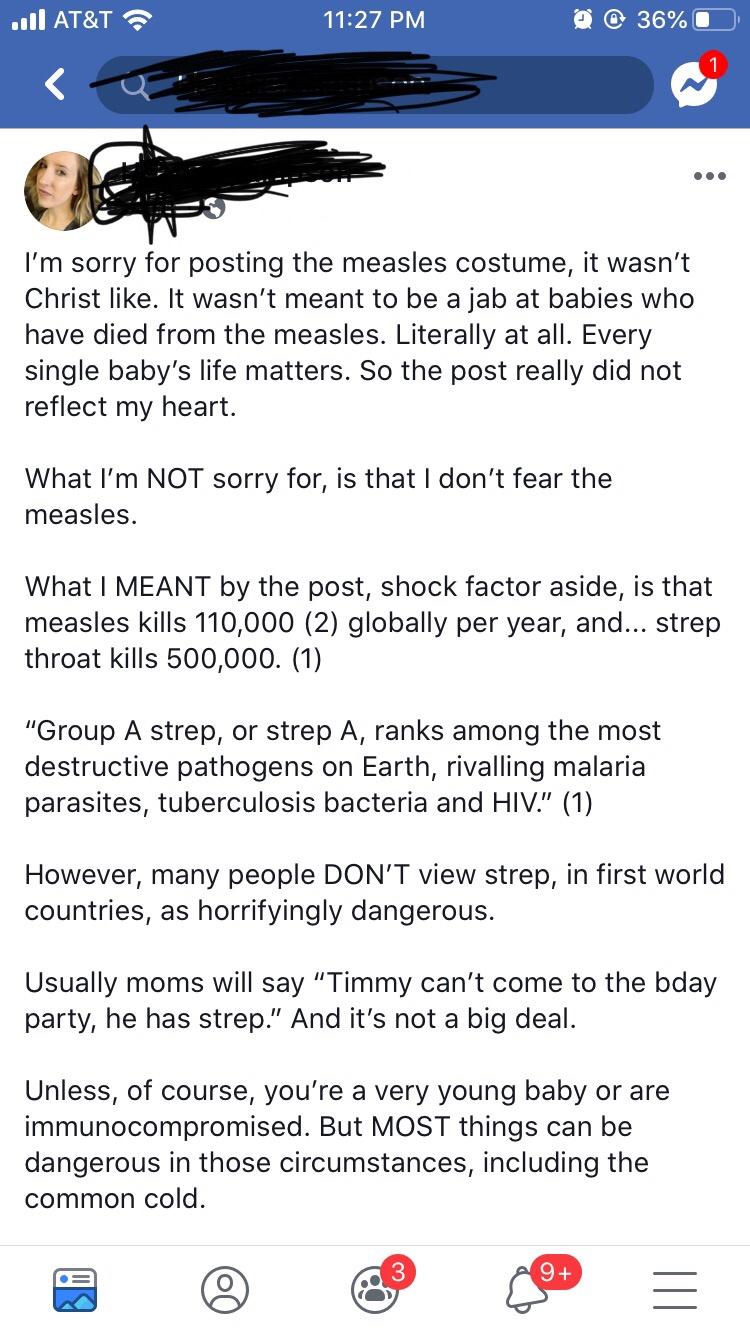 Article continues below advertisement
The woman who posted the "least scary Halloween costume" ended up taking down the photo and provided an explanation for her post, stating that she didn't mean to disrespect "babies who have died from the measles."
She went on to say that she's "NOT sorry for [not] fear[ing] the measles."
"What I meant by the post, shock factor aside, is that measles kills 110,000 (2) globally per year, and... strep throat kills 500,000. (1)"
She then went on to discuss how strep throat is a greater threat than measles globally and that's why she posted the photo of her costume.
But what she failed to address is the glaring reason why measles kill less people than strep every single year: and that's because there isn't a vaccine for strep. But there is for measles.
Article continues below advertisement

Of course, she didn't realize the cringe-inducing mental gymnastics she was implementing to justify her post. But there were plenty of people who were quick to criticize her line of thinking.
Article continues below advertisement


Article continues below advertisement
It also didn't help that in her defensive post she posted links to websites that have put some fairly dubious claims and have clear anti-vaxxing agendas either.

Article continues below advertisement

In follow up Facebook posts she mentioned that she's a proud Anti-Vaxxing beliefs that are as on-point as her makeup and outfit.
Article continues below advertisement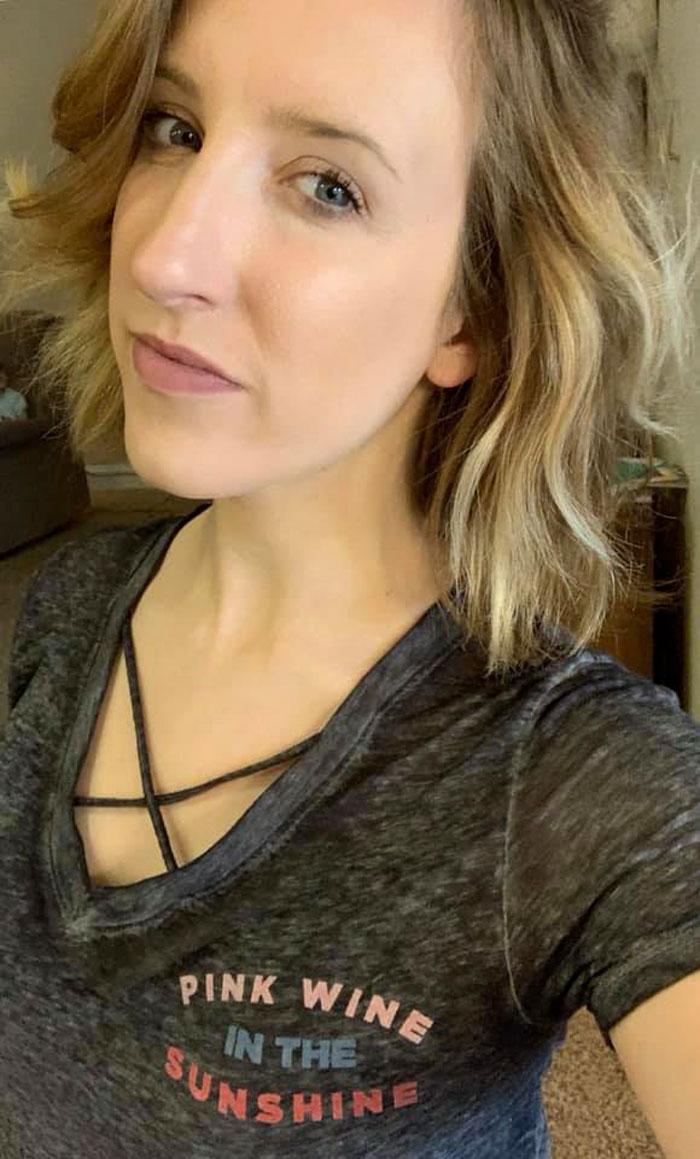 Maybe she could come up with a cosmetics and apparel line geared towards parents who don't want to vaccinate their kids called AVX?