Clueless Anti-Vaxxer Literally Invents Vaccines While Explaining Why They're Against Them
An anti-vaxxer claimed that pumping kids full of chemicals is bad but injecting them with tiny amounts of a disease to immunize them against it would work. That's literally what vaccines are.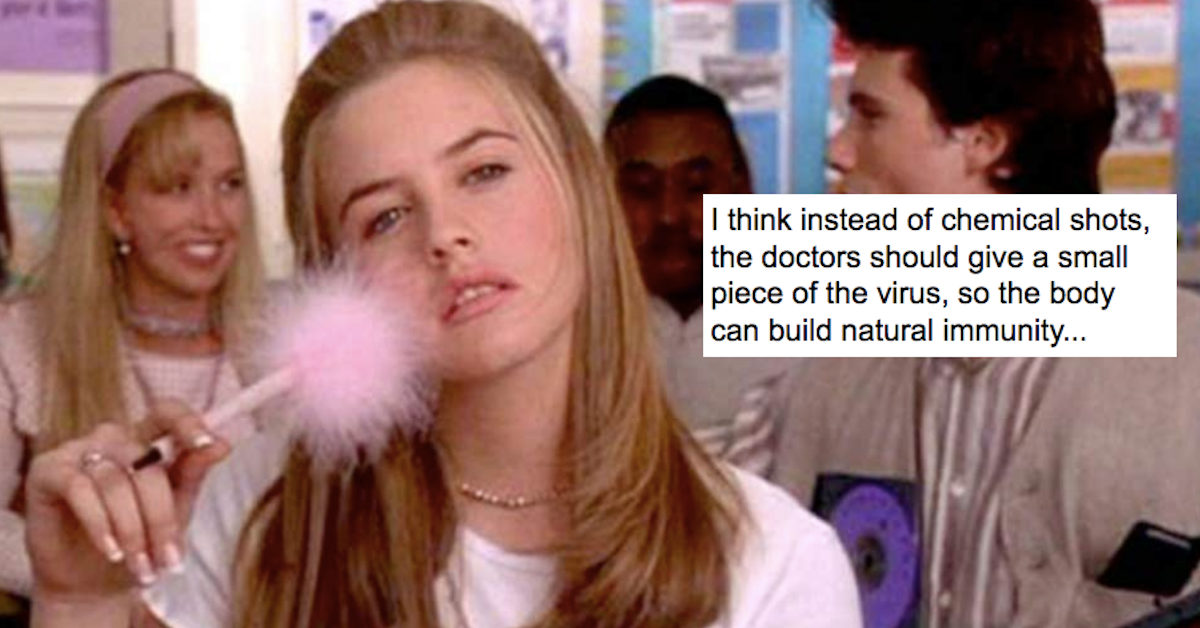 Anti-vaxxers have really done it. They've really gone so crazy that they've now come full circle and are inadvertently making sense again. Well, at least one of them is, anyway. A recent Facebook post from an anti-vaxxer (who claims not to be one) went viral because in it, the anti-vaxxer literally invents vaccines.
Article continues below advertisement
I'm not kidding. The person wrote about how they are totally against kids being pumped full of "chemicals," but the alternative they suggested, "a small piece of the virus," is literally what vaccines are. The cluelessness is astounding.
Article continues below advertisement
It's kind of wild, isn't it? The post went totally viral on Twitter, where reactions varied from, "Don't blame this person. They're just uneducated," to, "This is how we should re-brand vaccines to anti-vaxxers." Not going to lie, it's not a bad idea. Whatever works, right?
I happen to think there's a good chance this person is trolling, but I've been wrong before. (It's a rare, devastating occurrence.) But that being said, I wouldn't be totally surprised if this was a genuine post. There are plenty of sincere posts from anti-vaxxers that are monumentally off-base. Like this next one, for example...
Article continues below advertisement
This person believes the flu shot made this 14-year-old girl pregnant. Newsflash: That's not it, babe. The look on the face of the mom in this photo is the look on my face when I read all these anti-vaxxer posts.
Article continues below advertisement
There is no getting through to them because they rely on "sources" that are unreliable, and infographics (like this next one) that may look semi-professionally made but are actually full of complete nonsense.
Article continues below advertisement
This is not how "natural immunity" works! "Child contracts measles when immune system is mature and strong" is way off-base. Diseases like measles, polio, and others we have vaccines for have the potential to cause lifelong consequences for children. Kids' immune systems are the opposite of "mature and strong." They're brand new and developing.
Likewise, in the "vaccination" section, let's talk about this one: "Newborns and infants are left unprotected against infection." Among other things that are completely wrong in this flow chart, infants should be vaccinated for certain diseases almost immediately after they are born. Healthy infants get vaccines every few months from the day after they are born (in the case of the hepatitis B vaccine) all the way through their childhoods.
Article continues below advertisement
Yes, you have to wait for certain vaccines, and that's why babies are more vulnerable than adults, but if you stick to the vaccination schedule, babies are hardly left "unprotected against infection." And then there's the kicker, the faulty logic anti-vaxxers always use that they think proves their point but really just proves how backward their thinking is.
Article continues below advertisement
Unvaccinated children are not a threat to the vast, vast majority of healthy, vaccinated children. But there are populations of sick kids who couldn't be immunized, tiny babies who don't have all their shots yet, and older people with compromised immune systems. There are medical reasons some kids can't be immunized, and they deserve to be protected by the herd immunity acquired when every child who is healthy enough to be vaccinated has all their shots.
Yelling at anti-vaxxers on the internet can feel like screaming into space. Maybe the first post demonstrates how we need to approach this. Maybe we really should re-brand vaccines to trick anti-vaxxers into keeping their kids healthy. None of the other tactics seem to be working.