WWE Fans Seem to Think That Asuka and IO Shirai Are Related, but Are They?
Asuka and Io Shirai are not related by any sort of familial connection, however, they do have a shared past involving Io's actual sister.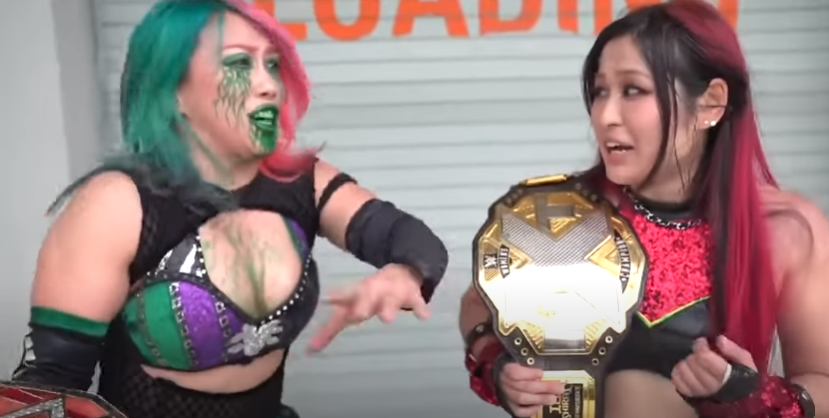 Two of the most decorated and exciting superstars in the WWE's women's division both hail from Japan: Asuka and Io Shirai. Fans have noticed during meet and greets and in their interactions on WWE programming that the two seem very familiar with one another, which has led a lot of people to ask whether or not they are related.
Article continues below advertisement
Are Asuka and Io Shirai related?
In short, no. They're not sisters or cousins or have any type of familial lineage bonding them together. However, the two are linked together not just through their work in the WWE or the Japanese independent pro-wrestling circuit. Asuka was actually a part of a female wrasslin' trio in Japan with Io and her sister Mio Shirai.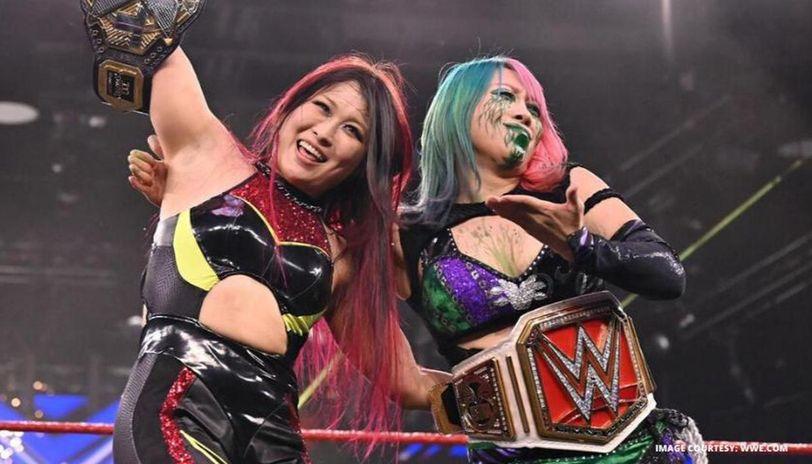 Article continues below advertisement
In those days, Asuka was known as Kana, and she joined forces with the Shirai sisters on the independent circuit forming the Triple Tails. While Asuka was able to make her transition to the WWE before Io, pro-wrestling fans have been eagerly awaiting Io's arrival in Vince McMahon's organization for her trademark, high-flying style of pro-wrestling. Some are even calling her the most talented female wrestler in the world, and her gravity-defying stunts earned her a NXT championship.
Asuka helped Io Shirai win her championship in NXT.
During the epic match between Io and Sasha during "The Great American Bash" on NXT, Bayley was working the exterior of the ring, distracting the referee from what was going on between the two pugilists. The back-and-forth action was an amazing spectacle of sports entertainment, but in typically dramatic pro-wrestling fashion, there was a surprise waiting for one of them.
Article continues below advertisement
You know that whenever the ref is being distracted, someone in the ring is going to get screwed, and in this instance, it was Sasha Banks. Well, technically she was getting her just desserts, as she reached for one of the women's tag team titles to smash Io in the face with, but saw that there was someone on the other end grabbing it. And that someone was Asuka, who had a mouth full of green "mist."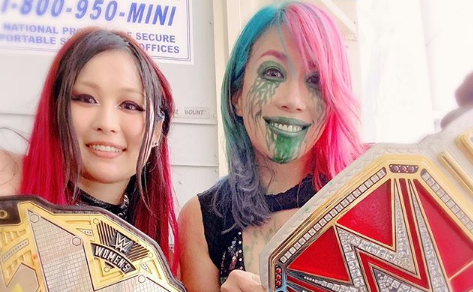 Article continues below advertisement
She sprayed the face of Sasha, who then proceeded to get beat down by Io. Asuka made her departure as quickly as she entered and Io had one of the greatest wrestling matches of 2020 thus far.
Could this potentially set up a migration from NXT to RAW for Io? She has stated previously that she hopes to reunite with Asuka as a tag team, instead this time they'd be called the "Twin Tails" as Mio isn't signed to the WWE.
Io's older sister, Mio was a top prospect as well, but unfortunately retired from the sport in 2015 after signing a 4-promotion contract with Ice Ribbon, Pro Wrestling Wave, Oz Academy, and Union Pro Wrestling. Neck injuries forced her out of wrestling in the squared circle at only 27 years old, however, she still works as a referee for Ribbon but is also in charge of helping develop new talent along with implementing training protocols for up and coming stars.
Article continues below advertisement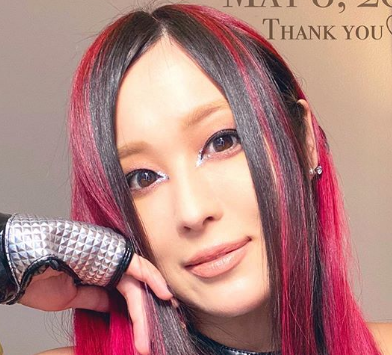 Io holds a considerable advantage over other Japanese stars in the WWE as her mother was an English teacher. A number of Japanese professional wrestlers have found it difficult to transition to the states and become breakout stars because English differs so much from Japanese when it comes to the pronunciations of specific words. There are particular sounds in English that just don't exist in Japanese.
Article continues below advertisement
However, Io was fairly fluent in English when she first entered the WWE performance center and her speaking skills have improved tremendously ever since coming to America. Interestingly enough, the WWE even featured a promo between Asuka and Io speaking entirely in Japanese with subtitles.
The WWE seems to be all-in when it comes to Io Shirai, and Asuka is an exciting Women's RAW champion. Do you think the two will cross paths more often?