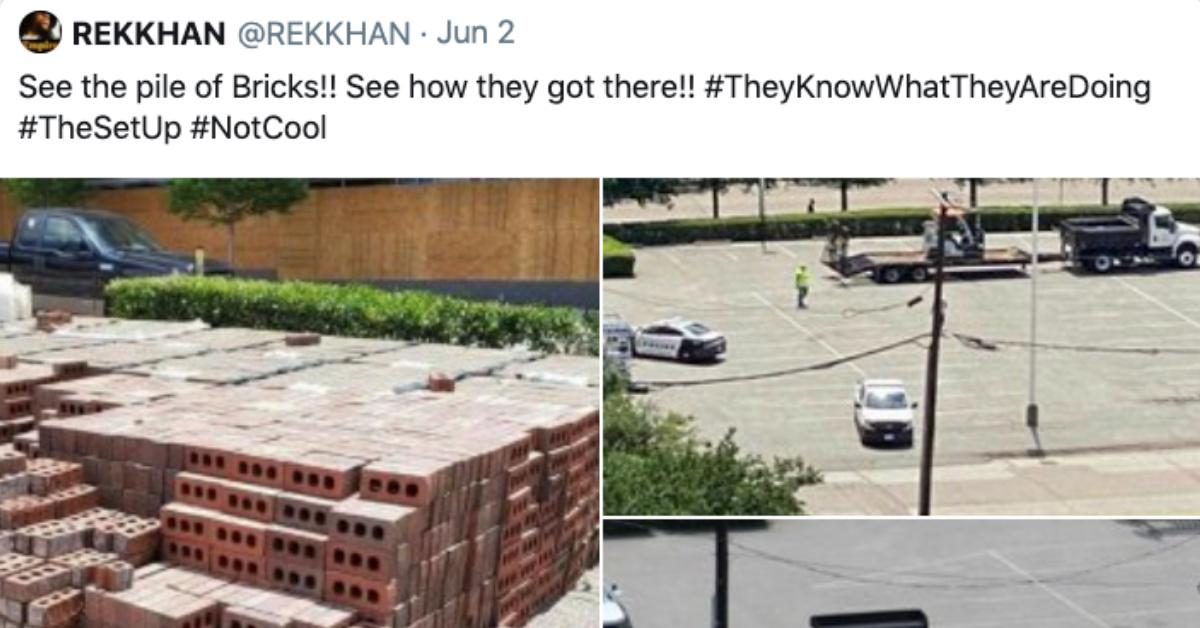 Are Police Dropping Pallets of "Bait Bricks" at Protest Sites?
In light of the recent protests, people are sharing images and videos of supposed "bait bricks" mysteriously appearing along protest routes.
As people continue protesting police brutality and the murders of (most recently) George Floyd, Breonna Taylor, and Ahmaud Arbery, many stories of what's actually happening during the protests are making the internet rounds. It can be hard to distinguish truth from fiction even when you're not feeling stuck in the middle of a flurry of information, but for some people, it's especially difficult right now.
Article continues below advertisement
One of the latest rumors surrounding the protests is the idea of "bait bricks" — pallets of bricks that have been dropped along protest routes in order to encourage protestors to use them to commit property destruction. Are bait bricks real? The answer is complicated.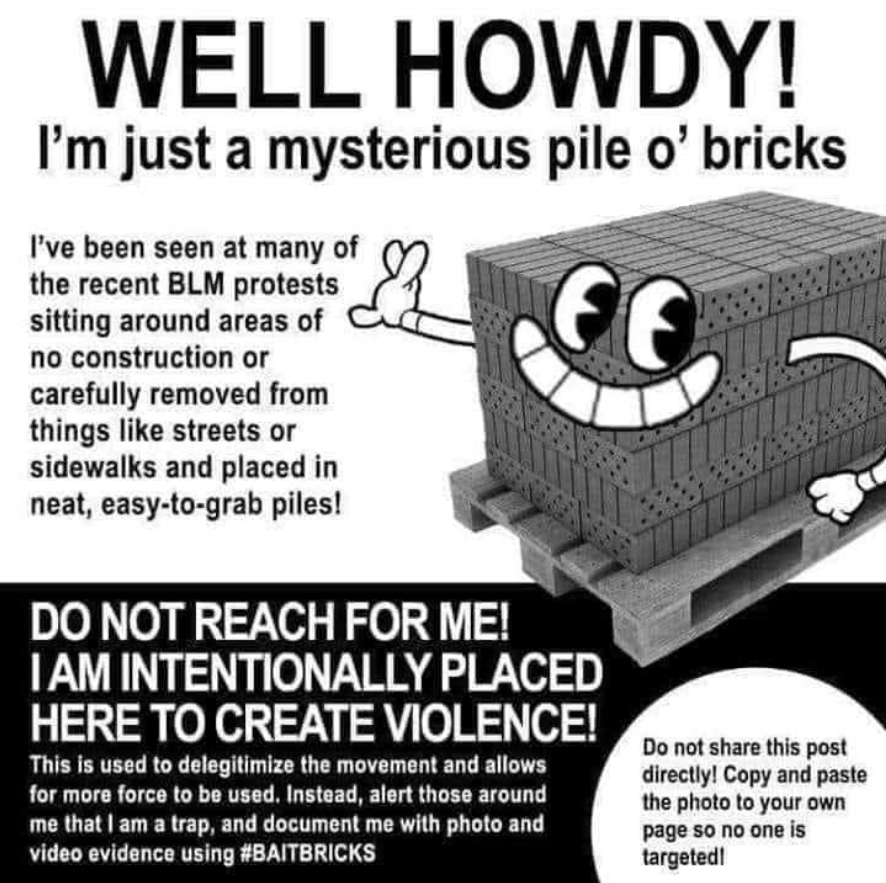 Article continues below advertisement
Are "bait bricks" real?
There have been several stories uploaded to the internet of suspicious piles of bricks that suddenly appeared in major U.S. states where protests have been taking place. As more people continued sharing these videos, the above image warning protestors about "bait bricks" started going viral.
Some people claimed that the bricks appeared as part of a coordinated effort on the parts of government officials and/or police to bait people into grabbing the bricks and inciting violence and chaos. Others claimed that people planning to protest set them up for easy access later. Still others have pointed fingers at "outside agitators" who are simply trying to sow agitation and incite violence. One video, in particular, appears to show police officers unloading bricks from the back of a truck:
Article continues below advertisement
Northeastern University Police Department addressed this video (which was filmed in Boston) in a series of tweets. They claim that the officers were patrolling the university campus when they came across some loose bricks and decided to pick them up and bring them back to the station.
Article continues below advertisement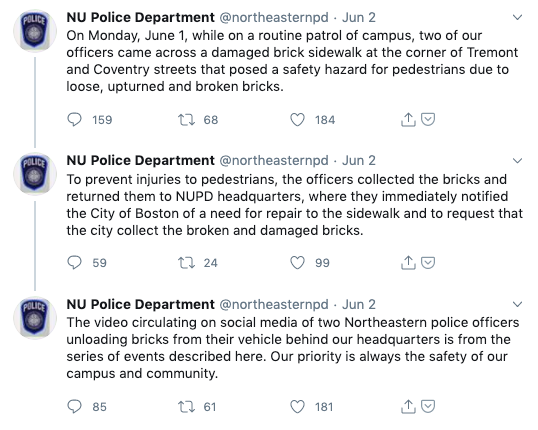 Almost every time a story of supposed bait bricks starts making the rounds, there is an official reason given as to why those bricks are there. To add even more confusion to the topic, several outlets are reporting that the bricks people have been posting about aren't "bait bricks" — they're just construction materials that happen to be available for public access.
Article continues below advertisement
Article continues below advertisement
In researching bait bricks, you'll come across all kinds of theories, but the important thing is to keep the narrative surrounding what's going on in the nation right now centered on what's actually going on in the nation right now. Black people and their allies are protesting systematic police brutality against Black Americans. While it's easy to get lost in conspiracy theories and it's good to think critically about new information, it's more important not to derail the larger conversation.
Let's go ahead and state the obvious: If you are protesting and you see a pile of bricks, you should leave them alone. It doesn't (immediately) matter who put the bricks there (if someone actually did) or whether they're part of a grander conspiracy. Picking up a brick can be seen as showing intent to harm a person or damage property, and that is enough for an officer of the law to step in. Stay safe, folks.
If you are looking for ways to donate your time or money to Black Lives Matter and other antiracist organizations, we have created a list of resources to get you started.