Bear Brown and Raiven Adams Appear to Be Going Strong Before Welcoming Baby No. 2
'Alaskan Bush People' stars Bear and Raiven have quite an on-and-off history -- find out where the expectant couple stands today.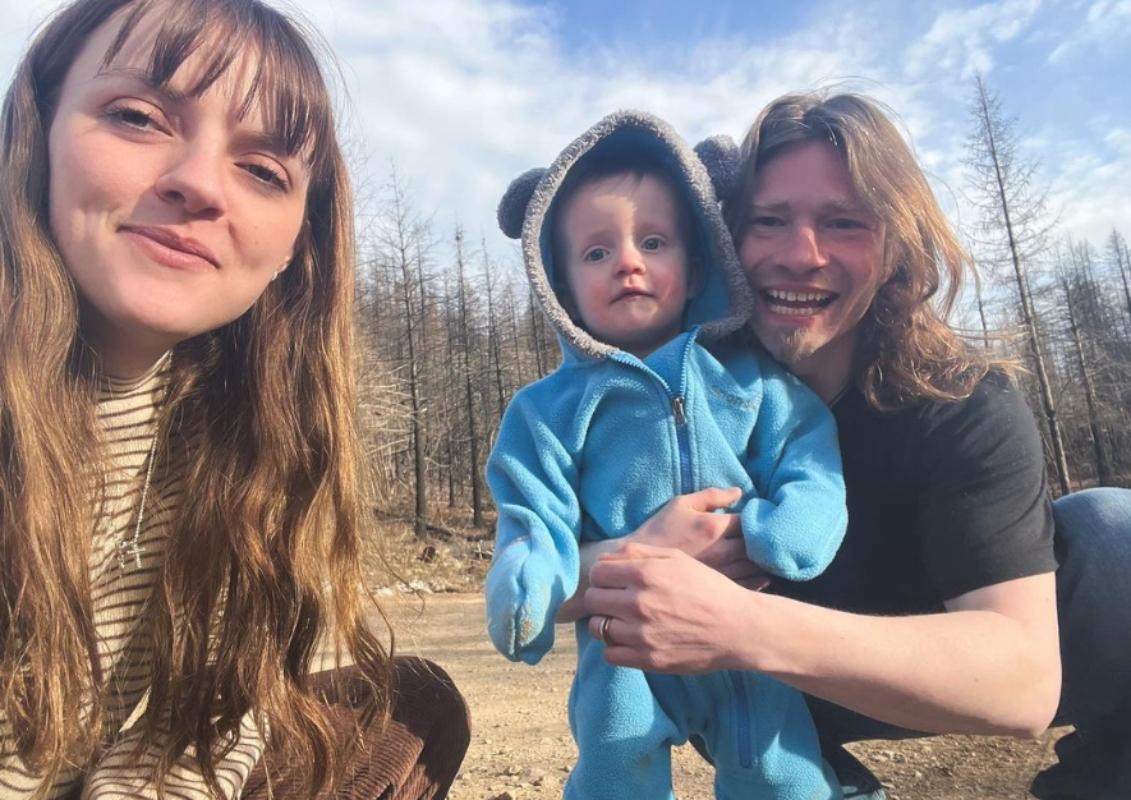 It's been quite the love story for Alaskan Bush People stars Bear Brown and Raiven Adams, who are now expecting their second son together. Just two days ago, the father-of-one took to Instagram to share debut Raiven's baby bump – sealed with a kiss from their two-year-old son, River – and now fans of the Discovery series can't help but wonder, "are Bear and Raiven still together?" While all seems to be well now, that was not always the case.
Article continues below advertisement
Let's take a look at the couple's eventful relationship timeline.
'Alaskan Bush People' stars Bear and Raiven first met in August 2018.
Raiven was assisting her photographer mother at Bear's brother Noah Brown and Rhain Alisha's Idaho-based wedding – when she met her other half for the first time.
Article continues below advertisement
They announced their first engagement about one year later, though unfortunately, this was short-lived.
The pair got engaged in August 2019 but by September, Bear told People they "made the difficult decision to part ways as a couple," however an unexpected surprise caused the on-again, off-again lovers to give their romance another shot – which would also turn out to be short-lived.
Article continues below advertisement
The following day, they announced Raiven was pregnant with the former couple's first child.
In March 2020, the couple welcomed their eldest son, River. As Bear and Raiven were not together at this time, Bear didn't first meet his son until September of that year.
"I have some awesome news I'd like to share with everyone," he announced on Instagram that month. "After meeting River in person and seeing Raiven again we found out that we both still have feelings for each other, so we've decided that instead of being co-parents we are going to be just parents!"
Article continues below advertisement
Wedding bells finally rang for the pair earlier this year.
In January 2022, Bear and Raiven tied the knot in an intimate gathering. They both gushed to People at the time about how over-the-moon they were to be married.
"It feels really good to be a married man, I've loved Raiven a long time and it's a honor and a privilege to finally call her my wife," Bear gushed. "She is the most beautiful woman I've ever seen and still takes my breath away! I only wish Da [his deceased father, Billy Brown] had been there, but I know he was watching from the best seat! I look forward to building a life, a family and a home with Raiven, she's the love of my life and my heart belongs to her and her alone."
Article continues below advertisement
The bride agreed, adding, "Was so very happy to have our friends and family that were able to make it. Bear looked very handsome and I'm very grateful for the family we've made."
Article continues below advertisement
Bear was arrested two months later for domestic violence assault in the fourth degree.
On March 11, 2022, Bear was arrested and brought to a Washington-based jail for the weekend and then released without bond. Raiven was named as the victim was in this arrest, and it was documented by TMZ that one of her family members made the call. When police arrived on the scene they noticed a visible scratch on Raiven.
Bear took a plea deal back in May – which including surrendering his firearms, $270 in fines, avoid arrest and be sure to alert the courts in any change of address, according to the outlet.
Article continues below advertisement
Raiven spoke out about the incident at the time via Instagram stories, stating, "I appreciate people being supportive and reaching out. That being said, I do not have anything to share publicly. I want the best for my family and I hope that this ends in my family's best interest. Anytime social media has been involved in our private matters it's ended worse."
They are now expecting their second child together.
Bear and Raiven first announced their pregnancy back in June with another Instagram photo of River sporting a "Mama's Boy" shirt holding a sign that says, "It's a boy!" Bear wrote at the time alongside the adorable image, "It's a boy!!!! So awesome gonna have another boy!!! We couldn't be more excited! Such amazing news!!!"