'The Challenge' Veteran Nany Gonzalez Says 'The Time Is Right' to Start a Family With Kaycee Clark
On Season 37 of 'The Challenge,' fans saw a beautiful relationship blossom between competitors Nany Gonzalez and Kaycee Clark. Are they still together today?
On Season 37 of The Challenge, audiences watched veterans Nany Gonzalez and Kaycee Clark's relationship blossom from a flirty friendship into something more. Ahead of The Challenge: Lies, Spies, and Allies, the two of them chatted with E! News about their current status. "We've always been allies in the game and have maintained a very good friendship since," Nany shared. "But there was always an undeniable connection between the two of us. I think this upcoming season of The Challenge is where we really explore what that connection is and what it means."
Article continues below advertisement
Kaycee then chimed in. "She's a badass. She's such a beautiful soul that I am so grateful to have met through this crazy game. She amazes me every day."
In Episode 6, fans watched as Kaycee prepared a surprise date for her longtime crush. She even had a bouquet of flowers to celebrate her and Nany's first official date. "I'm gonna try not to cry right now," Nany said when the Big Brother alum arrived at her door with sunflowers.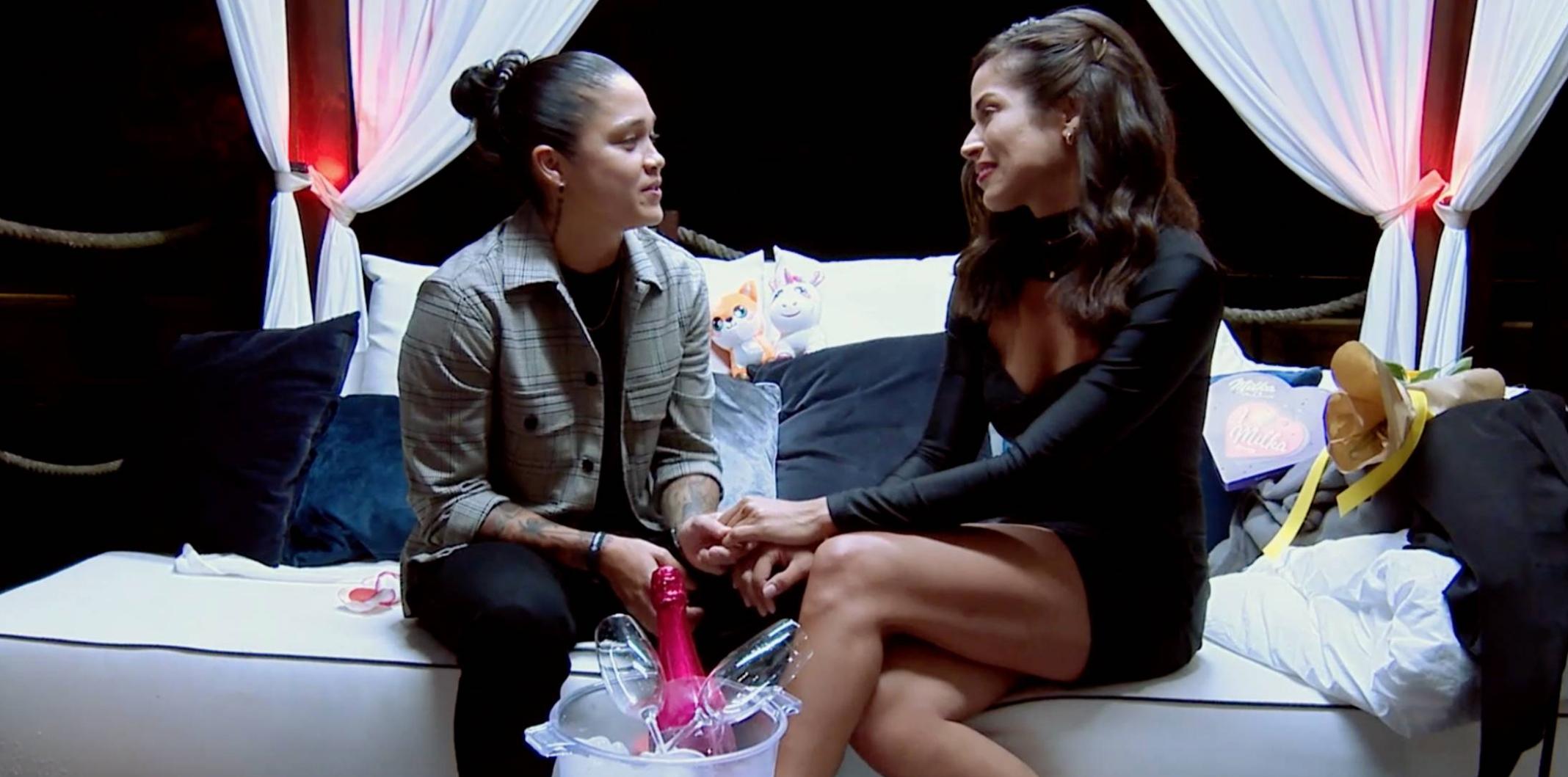 Article continues below advertisement
On their date, it was apparent they were in a committed romance. The lovebirds made it to the finals, but in a twist of events, Kaycee and Nany had to face off in an elimination. Nany was deactivated before the last leg of the finale and had to say goodbye to her girlfriend.
Now that Season 37 has wrapped, are these two MTV personalities still together?
Are 'The Challenge' stars Nany Gonzalez and Kaycee Clark still together?
We're happy to report that Nany and Kaycee are still in a relationship and are doing wonderfully. Since the end of Lies, Spies, & Allies, the pair have moved in together, traveled, and remain focused on strengthening their connection even further. Kaycee ended up winning first place along with her partner, CT Tamburello. In an interview with US Magazine, The Challenge champ talked about the couple's time on the show.
Article continues below advertisement
"When you can actually have someone in the game that you fully trust and someone that you can lean on, someone that you can talk to about life and just kind of get your mind away from the game and how just stressful it is, it makes a huge difference," Kaycee said. She noted that there were "tough times," but that she and Nany stayed positive, reminding one another that it was only a "temporary" situation.
After winning in the Season 37 finale that aired on Dec. 15, Kaycee took to her Instagram page.
Article continues below advertisement
Alongside a photo of the pair dressed to the nines, Kaycee wrote, "Making it to the end of the season with you was everything. Thank you for being my rider. Going against you in elimination was the hardest thing to go through this season. You are one badass competitor. I hope we never have to experience that sh** again. Thank you @challengemtv for bringing this gem into my life."
The two even appear to be planning for a family. In an Instagram Story posted on Nov. 14, per Reddit, Nany shared a photo of her and Kaycee on the beach. In the caption, she wrote, "I feel free and open and truly believe the time is right. No woman should ever be ashamed to ask another woman for guidance, help, or advice." She then included a box asking for recommendations, personal experiences, and information regarding IVF.
We wish these two nothing but the best on their pregnancy journey!