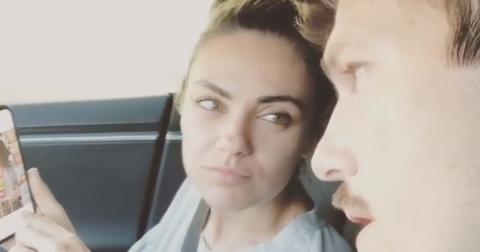 Mila Kunis And Ashton Kutcher Take to Instagram to Put an End to Break-Up Rumors
By Mark Pygas

Updated
In a recent cover story, InTouch reported that Mila Kunis and Ashton Kutcher had broken up. Kutcher began dating his former That '70s Show co-star Mila Kunis during the first half of 2012, and since getting engaged in 2014, have had a daughter and son together. 
Unsurprisingly, fans were pretty shocked at the news, as the two appeared pretty happy in their relationship. And as it turns out, the report was inaccurate. 
The two personally responded to InTouch's cover story in an Instagram video, in which they fake shock at the news. Kutcher tagged InTouch in the post, writing: "I guess it's over @intouchweekly have fun selling magazines this week. Maybe next week my wife will be having twins. For the third time. But who's counting." 
In the video, the two act shocked that they've broke up, going back and forth between each other. 
"Babe, what's happening? What's going on?" Kutcher asked.
"It's over between us," Kunis stated. 
"It's over between us?" Kutcher sarcastically asks. 
"Oh my god, what are we going to do?" Kutcher asked.
"I felt suffocated," Kunis said. 
"You felt suffocated by me? Oh, I was just so overbearing, wasn't I?" Kutcher questions. "Also…"
"What else is going on?" Kutcher interrupts. 
"I took the kids," Kunis calims. 
"Oh, you took the kids. I don't get the kids anymore?" Kutcher replies. 
"Well, you had a very dark secret exposed," Kunis said.
"Oh my gosh, what was the dark secret?"
"I don't know. I only have this photo," Kunis said, holding up the screenshot of the cover on her phone.
"Must have been really dark," Kutcher finished.
Are Mila Kunis and Ashton Kutcher married?
Mila Kunis and Ashton Kutcher married in July 2015, following their engagement and the birth of their daughter the previous year. 
Judging by their beautifully sarcastic response,  Mila Kunis and Ashton Kutcher aren't planning to split up any time soon.  
Unsurprisingly, the couple's fans and friends were quick to reply to the video. 
Demi Lovato was among those who wrote: "This is amazing. Miss y'all."
One fan added: "You guys are so funny. So glad its not over as the magazine said. So glad you can laugh at these ridiculous things."