Audible Is Canceling Its Escape Subscription and Romance Fans Are Furious
Audible Escape provides subscribers with access to more than 10,000 romance titles. Unfortunately, it will no longer exist after Nov. 1.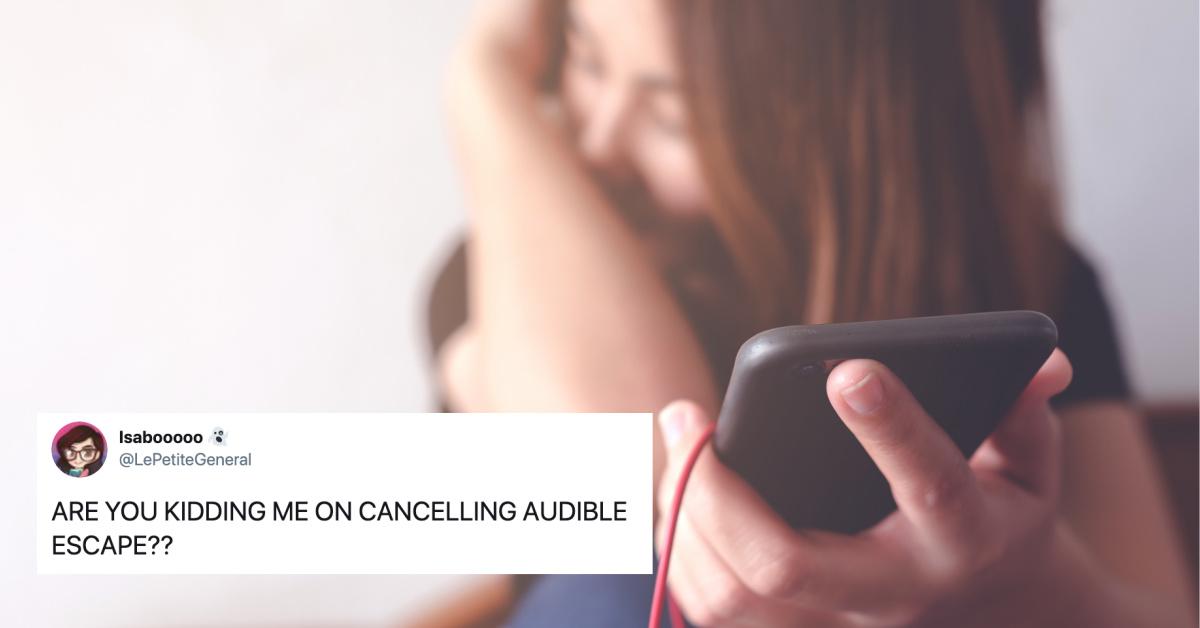 There's nothing quite like an audiobook to take your mind off of whatever stressors are bothering you. Podcasts are great, obviously, but audiobooks can offer hours and hours of continuous entertainment without you having to wait for the newest episode (or download a bunch of episodes to your phone).
Article continues below advertisement
For years, Amazon's Audible service has been the premiere source for audiobooks. And for fans of the romance genre, there's been Audible Escape. It's an add-on subscription to the regular Audible account that offers unlimited streaming specifically of romance and other feel-good titles. Or, it was, anyway. Now, Audible Escape is ending.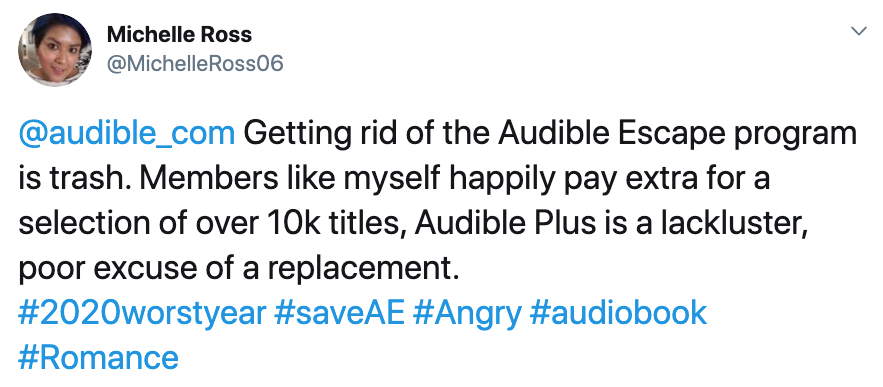 Article continues below advertisement
It's true: Audible Escape is ending.
On Sep. 15, 2020, Audible officially ended all new signups for its Audible Escape subscription, much to the horror of people who just can't get enough of the romance genre. While it was up and running, Audible Escape offered users the ability to check out thousands of romance books (up to 10 books at a time) and listen to them directly via the app (no internet connection required).
However, in Aug. 2020, Audible introduced a new service called Audible Plus, which functions as an all-you-can-listen plan for general interests rather than only romance books. As such, Audible has decided to do away with the Escape subscription entirely in hopes of getting Escape subscribers to make the move over to Audible Plus.
Article continues below advertisement
Before you panic too much, you should know that the shift isn't going to be immediate. If you're an Audible Escape subscriber, you'll still have access to the full Escape catalog until Nov. 1. After that, any Escape books you haven't finished and returned will be removed from your library.
Article continues below advertisement
After Audible Escape officially closes down on Nov. 1, you can choose to purchase previous Escape titles with cash or with Audible credits. Some Escape titles (though not nearly all of them!) will also be available to listen to with an Audible Plus subscription. It looks as though only approximately 900 titles (of the ~10,000 titles on Escape!) will move over to Audible Plus. That's still plenty to listen to, but obviously quite a drastic decrease.
If you choose to make the shift over to Audible Plus, it will cost $7.95 per month and provide access to thousands of books and podcasts. There's one sizable caveat at the moment, which is that you can't currently browse the entire Audible Plus catalog to see everything that's on offer. You can, however, filter out your searches to only show you titles included in your Plus subscription. There's also a page dedicated specifically to romance books on Audible Plus.
As you might expect, many people are quite unhappy that Audible is eliminating the Escape package. There's even a Change.org petition to get Audible to reconsider the move. That being said, it's probably pretty unlikely that Audible will change their mind at this point — as, clearly, there's some kind of financial reason for the shift. Alas, romance fans who want a huge selection may soon have to look elsewhere for another service that meets their streaming needs.