That 'Avengers: Endgame' Election Video Is Dividing the Internet
By now, you may have seen that famous (infamous?) 'Avengers: Endgame' election video, and you (and everyone else) probably have a few thoughts.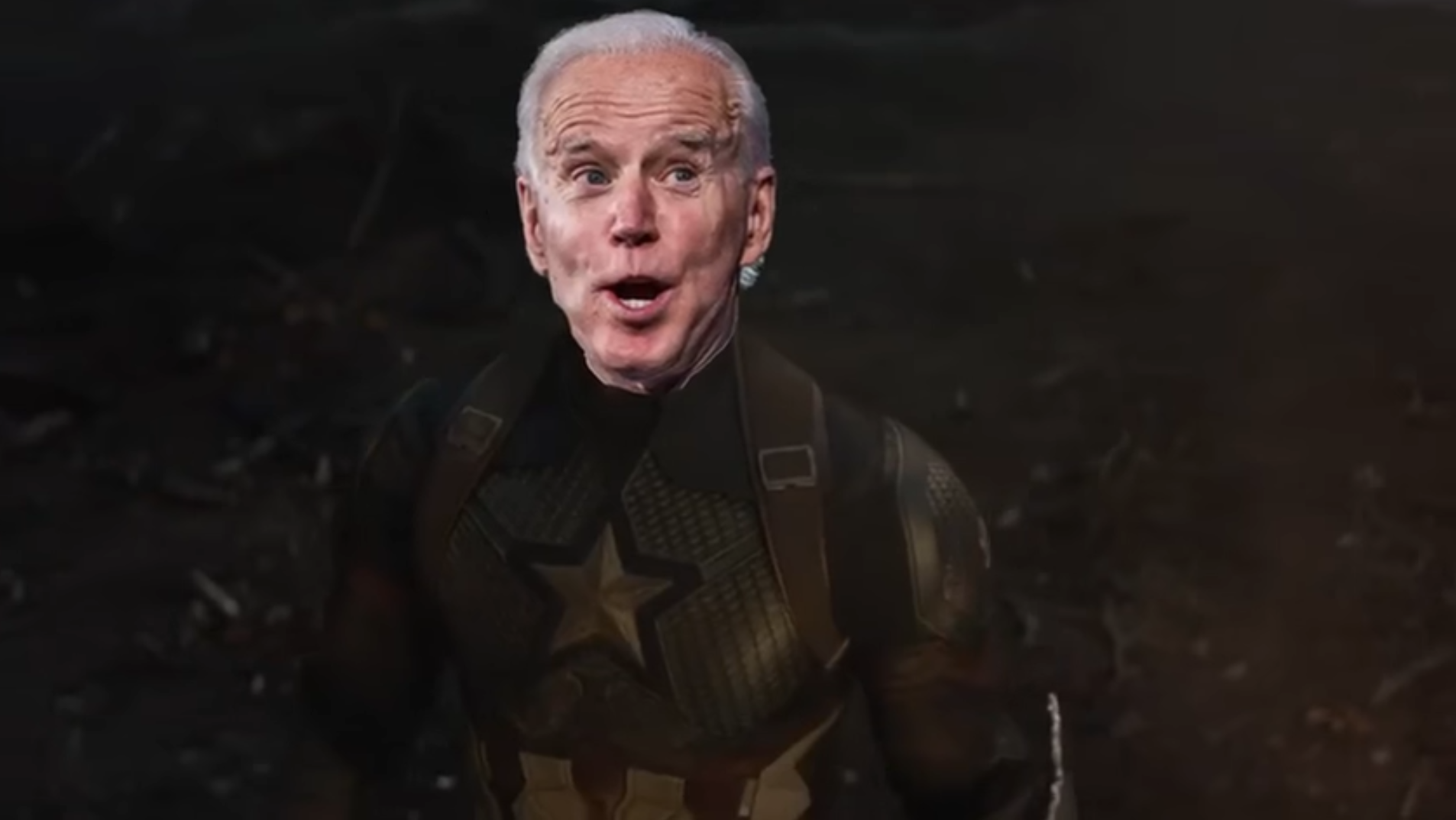 By now, you may have seen that famous (infamous?) Avengers: Endgame election video and truly it's brought this country together in terms of the fact that we don't really know what to make of it. It seems that some are claiming it's clearly satire, while other are saying it's a beautiful way to celebrate democracy. Let's break down what the heck you just watched.
Article continues below advertisement
Here's all the strange and wonderful cameos in that 'Avengers: Endgame' election video.
Let's start by saying this: If you want to know if it's satire, we honestly don't know. The video, made by filmmaker and editor John Handem Piette, who has previously worked with The Dodo and TMZ, seemed very sincere so we're going to say it was not parody.
Article continues below advertisement
Anyway, the first shot shows Democratic presidential nominee Joe Biden as Captain America squaring off with President Donald Trump's Thanos, before being joined by "Georgia" but also more specifically Stacey Abrams and Atlanta mayor Keisha Lance Bottoms, as well as former President Barack Obama. Afterwards, Sen. Kamala Harris flies in.
Article continues below advertisement
She's followed by Senators Bernie Sanders, Elizabeth Warren, and Cory Booker, alongside Beto O'Rourke and Pete Buttigieg. Then, The Squad members, Ayanna Pressley, Alexandria Ocasio-Cortez, Rashida Tlaib, and Ilhan Omar, touch down, with Hillary Clinton behind them. House Speaker Nancy Pelosi and former First Lady Michelle Obama then pop up.
After that, Andrew Yang, Michigan's Governor Gretchen Whitmer, and, in a wild turn of events, Hunter Biden smoking a cigarette show up, along with Elon Musk (huh?) and Swedish activist Greta Thunberg.
Article continues below advertisement
After that, civil rights leader Rep. John Lewis breaks in, carrying Sen. John McCain, with Supreme Court Justice Ruth Bader Ginsburg carrying Sean Connery (again, huh?). The "Avengers" then battle Supreme Court Justices Neil Gorsuch, Amy Coney Barrett, and Brett Kavanaugh, and personal attorney to President Trump, Rudy Giuliani.
Article continues below advertisement
Quick note: John Lewis and John McCain were not fans of each other. So, it's a little weird to see Lewis literally holding McCain.
During McCain's bid for the presidency, Lewis wrote, "What I am seeing reminds me too much of another destructive period in American history. Sen. McCain and Gov. Palin are sowing the seeds of hatred and division, and there is no need for this hostility in our political discourse."
Article continues below advertisement
"During another period, in the not too distant past, there was a governor of the state of Alabama named George Wallace who also became a presidential candidate. George Wallace never threw a bomb. He never fired a gun, but he created the climate and the conditions that encouraged vicious attacks against innocent Americans who were simply trying to exercise their constitutional rights. Because of this atmosphere of hate, four little girls were killed on Sunday morning when a church was bombed in Birmingham, Alabama," he continued.
McCain appeared to take that to mean that his campaign was being compared to a church bombing.
He told the New Republic, after being asked about his running mate Sarah Palin saying that Barack Obama was hanging out with terrorists, "With all due respect, you never heard about when John Lewis said my campaign was worse than the Birmingham church bombing? Maybe Sarah Palin said 'palling around with terrorists,' but the things that were said about me and her were far worse. I'll never forgive John Lewis."
Article continues below advertisement
Also, it's a little weird to see Elon Musk thrown in there, as many noted that he supported Kanye West's run for the presidency. However, although Elon did tweet that Kanye had his "full support," he actually officially endorsed Andrew Yang for president earlier on.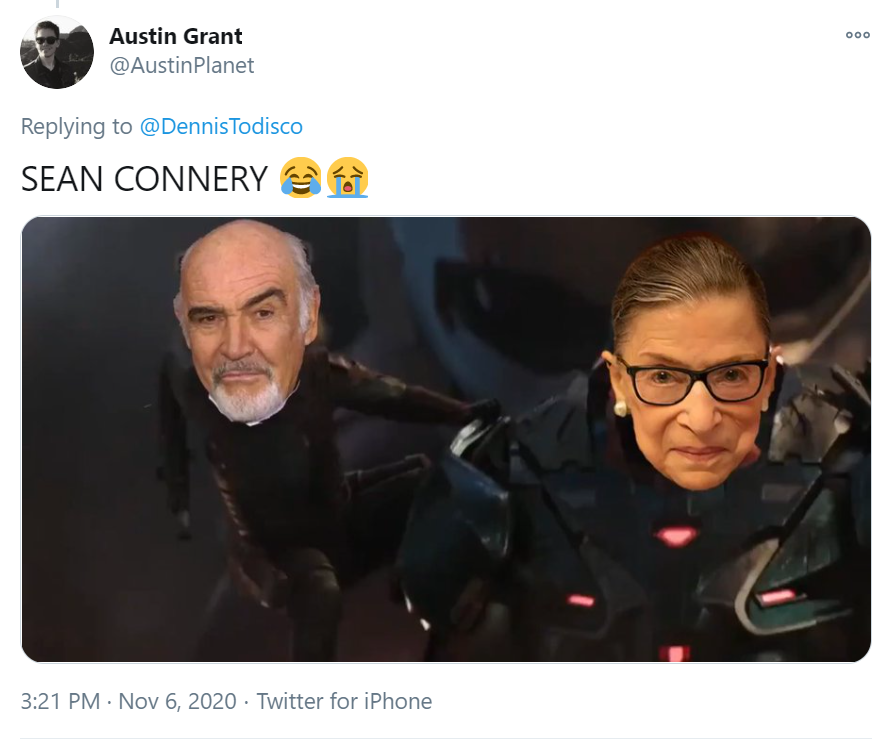 Article continues below advertisement
As far as Sean Connery goes, we're struggling to figure out why he's in the Avengers mix, save for the fact that Trump was caught in a lie about him following his death. The president tweeted, "He was quite a guy, and a tough character. I was having a very hard time getting approvals for a big development in Scotland when Sean stepped in and shouted, 'Let him build the damn thing.'"
Martin Ford, who was the chair of the planning committee that had at first refused Trump's application to build a resort, told The Guardian, "Mr. Connery was not involved in the due process that led to the granting of planning permission for a golf resort at Menie. He did not submit a letter of representation to the council, appear at the planning hearing, or at the public local inquiry."
Article continues below advertisement
Also, no, there's no evidence that the popular meme of Connery saying, "A guy walks into a bar with a monkey ... I can't remember the rest, but Donald Trump is a lying sack of s--t," has any basis in reality.
If you've found yourself confused by this video, know you're not alone, but, hey, whether you're feeling hope from it or just the joy of laughter, at least it had a positive effect.