"Is It Even the Same Dog?" — This Awful Yorkie Grooming Transformation Had Us Digging for More
This proud Yorkie owner shared the awful transformation their pet got at the groomers and it had us going down a rabbit hole for more.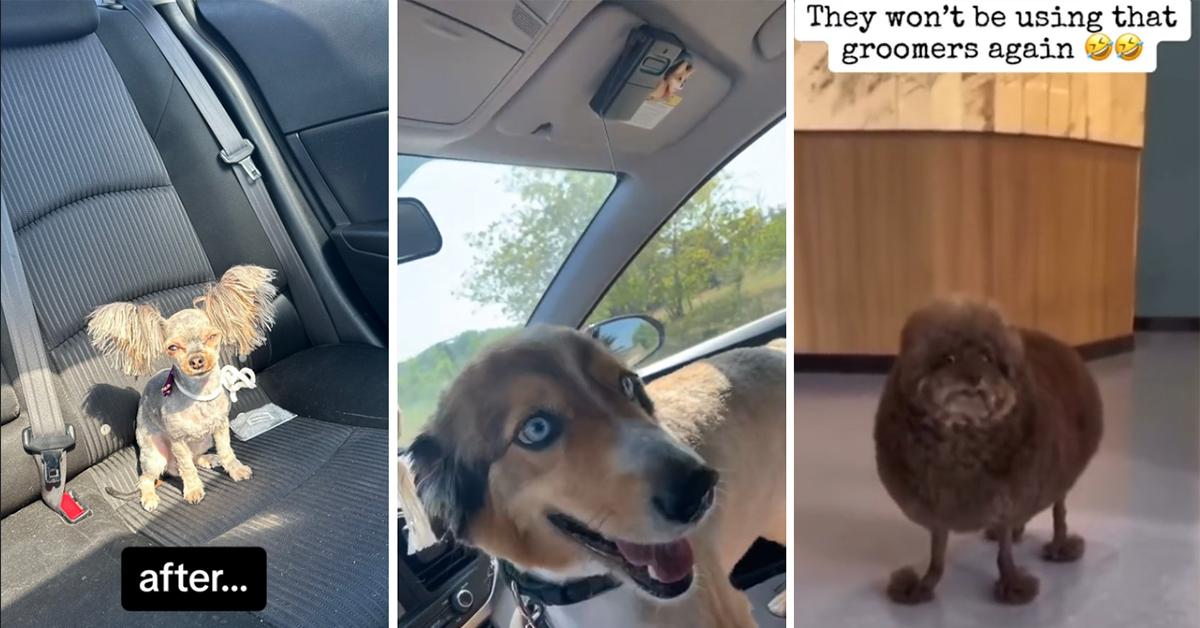 Have you ever had a bad appointment at the hair salon? You do everything you can to make sure that the stylist knows the look you're trying to go for and you drop that "treat yo' self" money to make your dream look come to life only for it to fall well below your expectations. Worst case scenario, you may just end up with the worst bad hair day of your life.
Now imagine that scenario, but it happened with your dog instead.
Article continues below advertisement
All sorts of things can go wrong when you try to get your dog groomed, whether they're afraid of being handled by strangers or just generally unruly considering they have no idea what's going on. Of course, that can lead to some truly awful dog grooming transformations. In fact, one TikToker's dog grooming for their Yorkie was so bad that it sent us down a rabbit hole to find more. Here's the best of what we dug up for grooming gone doggone wrong.
This awful Yorkie grooming transformation compelled us to find even more.
We begin with the dog grooming that started it all. In late September 2023, Aria on TikTok (@thetrinijawn) shared a slideshow of their dog, Pebbles after having gotten a professional grooming session. No offense to the stylists, but we use the term "professional" very loosely here.
Pebbles started off as a normal-looking Yorkie. When they came back from their appointment, however, Pebbles was practically unrecognizable.
Pebbles's hair had been almost completely sheared. Not only that, but the fur on their ears became frayed out to resemble old-fashioned cheerleader pigtails. People immediately drew comparisons to an eyelash bug in the comments section, and we can't help but feel awful for Pebbles's new look.
But of course, Pebbles's look was so tragically hypnotic that we just had to hunt down some more. Here are the wildest dog grooming mishaps we found on TikTok.
"Is it even the same dog?"
When this owner wanted a puffy soft look for their furry friend, what they got was something more akin to Weird Barbie from the Barbie movie.
They just wanted a trim...
Have you ever asked a hairstylist to just "take a little off the top" and they ended up shearing your entire head of hair down to practically nothing? That's exactly what happened to Sierra's dog here.
Article continues below advertisement
"They won't be using that groomers again"
We're not entirely sure what the owners asked for here, but we can bet they didn't ask for a four-year-old's pre-school drawing of a dog.
Article continues below advertisement
No more fluff
Owners of fluffy dogs probably have to deal with plenty of shedding and their dogs despising hot summer days. Getting a haircut for them during warmer seasons is a good call, but be prepared for your dog to look completely different afterward.
Article continues below advertisement
Stop shaving dogs down to nothing, seriously!
At this point, were confident that dog groomers had a meeting in which they all unanimously ruled that any requests for dog styling equate to "shave them down to an unrecognizable state".
Article continues below advertisement
Another Yorkie incident.
That meeting we theorized? Yeah, that's probably exactly what happened.
Article continues below advertisement
Dog owners of the world, what's the worst your dog has ever looked?