"I Am Screaming" — Hotel Guest Accidentally Books Conference Room for Her Stay
After a hotel guest accidentally books a conference room for her stay, folks are wondering how she made that mistake and if it was resolved.
Booking a hotel room is typically an easy process. Some people book directly with their desired chain via social media apps or by phone. On the flip side, others prefer to use third-party websites, especially when booking a bundle for vacation. That said, most hotels provide images of rooms so potential guests can feel comfortable making their choices. However, it appears that miscommunication can still occur.
Article continues below advertisement
One woman has left social media users in awe. In a TikTok video, a hotel guest shared that she accidentally booked a hotel conference room for her accommodations. And of course, folks online have questions about how the situation happened. Here's the full scoop.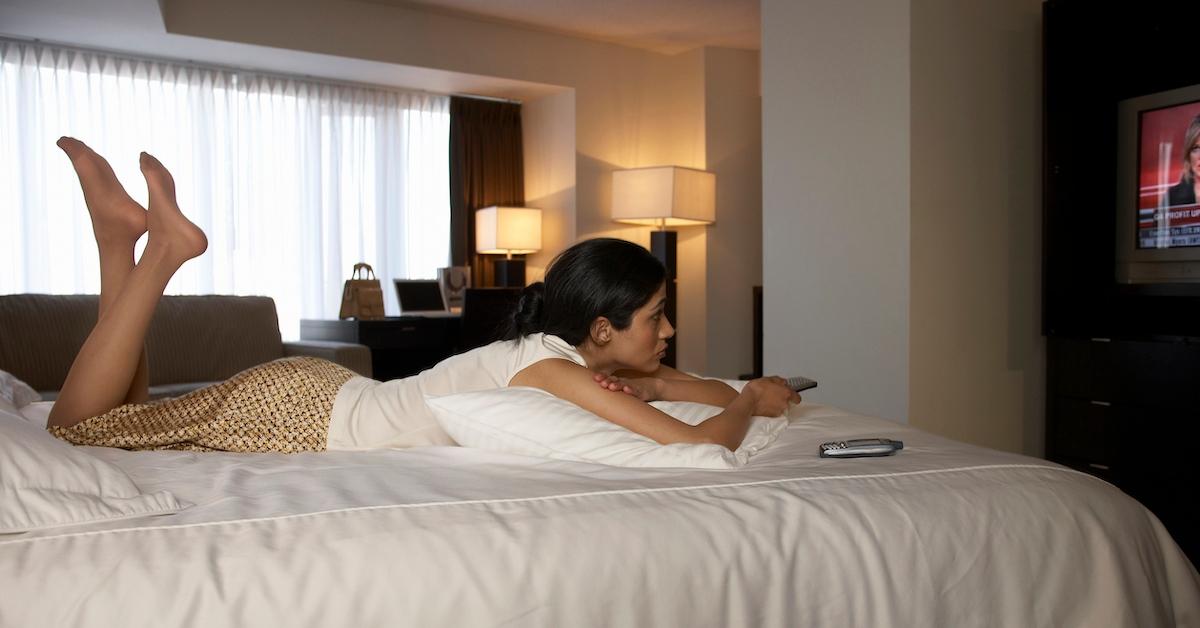 Article continues below advertisement
A hotel guest accidentally booked a conference room at a hotel on TikTok.
Some things can truly leave you speechless. In an Oct. 1, 2023, TikTok video, creator the Princess (@_itspiedy) shared a video of her entering a hotel room and the reveal wasn't what she expected.
"This has to be a joke … a conference room? @hilton this is not what I booked," the video caption reads.
As the video starts, the woman is in front of the room door that reads "Sycamore Suite" and shows a tab that reads, "Not in use."
As the creator opened the door, she was met with a mini boardroom with chairs and a long table.
Article continues below advertisement
"I'm screaming," she said as she looked around and her friend laughed in the background.
As the video continued, the woman panned the camera through the entire room which showed a bed in a make-shift room.
Article continues below advertisement
In a follow-up video, the creator responded to someone asking where they were supposed to sleep. The creator jokingly put a sheet on top of the long table and a pillow to demonstrate how she would sleep.
Article continues below advertisement
Interestingly, the creator followed up with another video that seemingly showed Hilton Hotels making things right.
In a video with text overlay that reads, "The power of social media," the creator showed off a new room with all the amenities needed for someone in need of a short-term stay.
"After going viral - @hilton did finally put me in the room that I booked 😂 . I am headed home now though 😂✌ 🏽 . All in all the first room made me chuckle 😂," the video caption reads.
Article continues below advertisement
TikTok users immediately shared tons of jokes about the conference room mistake.
Of course, social media users typically waste no time making a joke about things. So, when the creator showed the video of her conference room, folks online filled the comment section with jokes.
"Alexa, Play Meeting in My Bedroom by Silk," one person jokes.
Article continues below advertisement
"Me and my non-existent man are going to have a blast roleplaying. Yes Mr. CEO 😭😂🥂," another user teased.
"Well, we got some table space for a get-together now??? 😭😭😭 I'm screaming," another person said.
Interestingly, one person in the comment section who works for a hotel shared that these types of rooms are the last to be booked. However, they usually let guests know what to expect. So, it sounds like someone from the Hilton team may have kept certain details to themself.