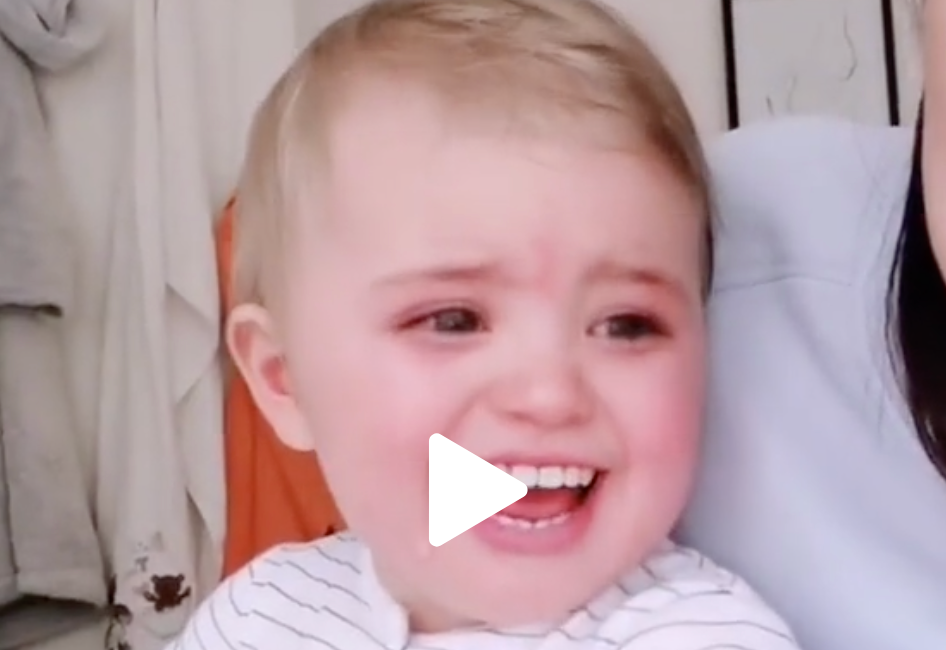 Here's How to Use That Grinning Baby Filter Everyone's Talking About on TikTok
The "grinning baby" filter on TikTok has been making us simultaneously crack up and also feel very, very terrified. While it's not a "baby" feature per se (the filter doesn't transform your face into a baby's), parents have been using the filter on their IRL babies, giving them horrifying adult smiles. And this is also what's been going viral on TikTok lately.
Article continues below advertisement
The filter is officially called "GrinningFilter" and according to EveningStandard, GrinningFilter videos have been viewed over 760,000 times (probably way more by this point, since the article was first published July 10). TikTok users are using the GrinningFilter in all kinds of creative ways, not just on their babies. For instance, this TikToker implanted big 'ole grins on Harry Potter characters.
Article continues below advertisement
Some people kind of wish the filter was real. That would be way cheaper than braces, right?
Article continues below advertisement
Yup, okay, here's a baby GrinningFilter TikTok, but don't tell us it isn't 100 percent accurate.
Article continues below advertisement
If you feel like the GrinningFilter is the weirdest and best thing to have ever happened to TikTok, you're not alone.
Article continues below advertisement
Here's how to use the GrinningFilter yourself.
1. First, make sure your phone and TikTok app are updated.
Since this is a new feature, you might not be able to see it if you don't have everything updated and ready to go on your phone.
Article continues below advertisement
2. Open the app and type "Tiktok grinning filter" into the search bar.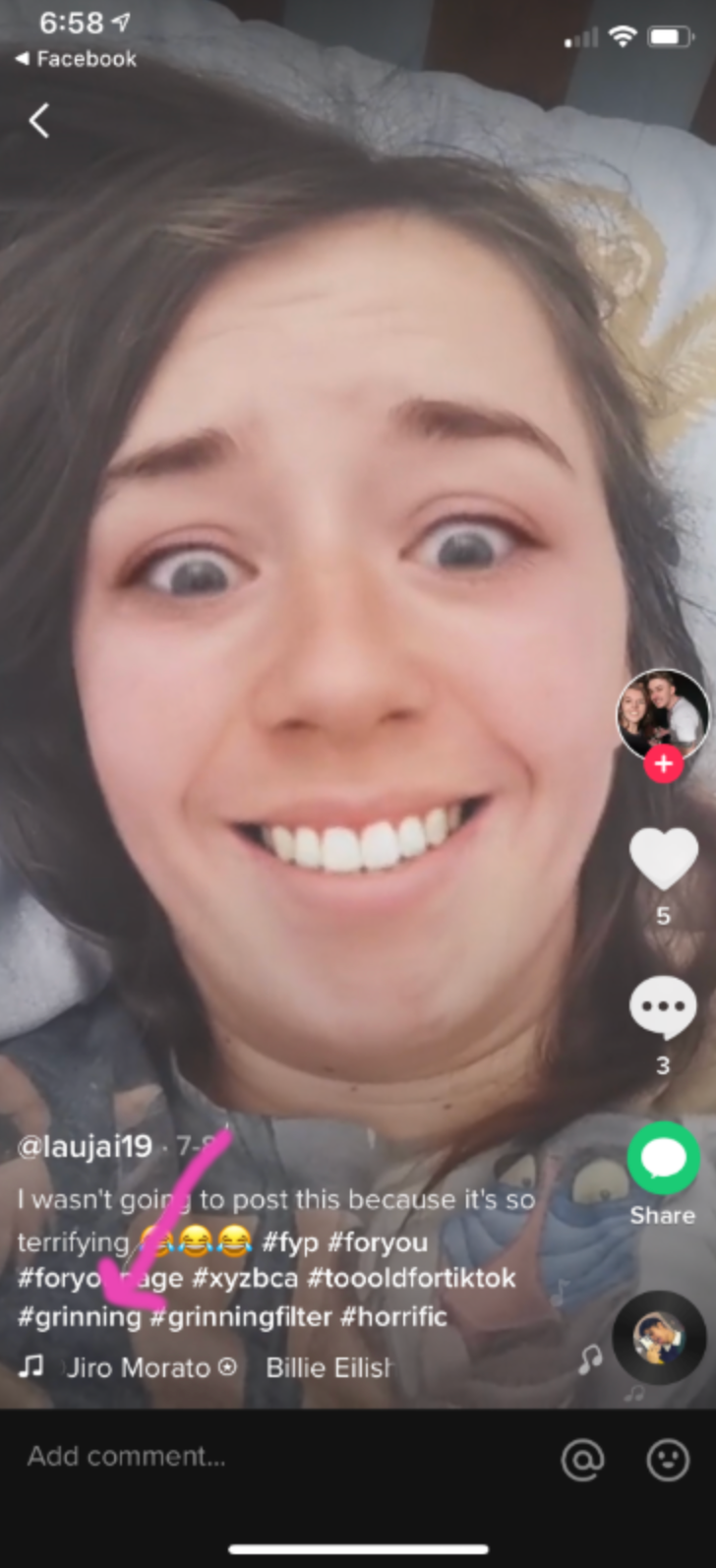 You'll see a bunch of videos that are using the hashtag #grinning. Click on one of those and then click on the hashtag "#grinning."
3. This will take you to the grinning filter page.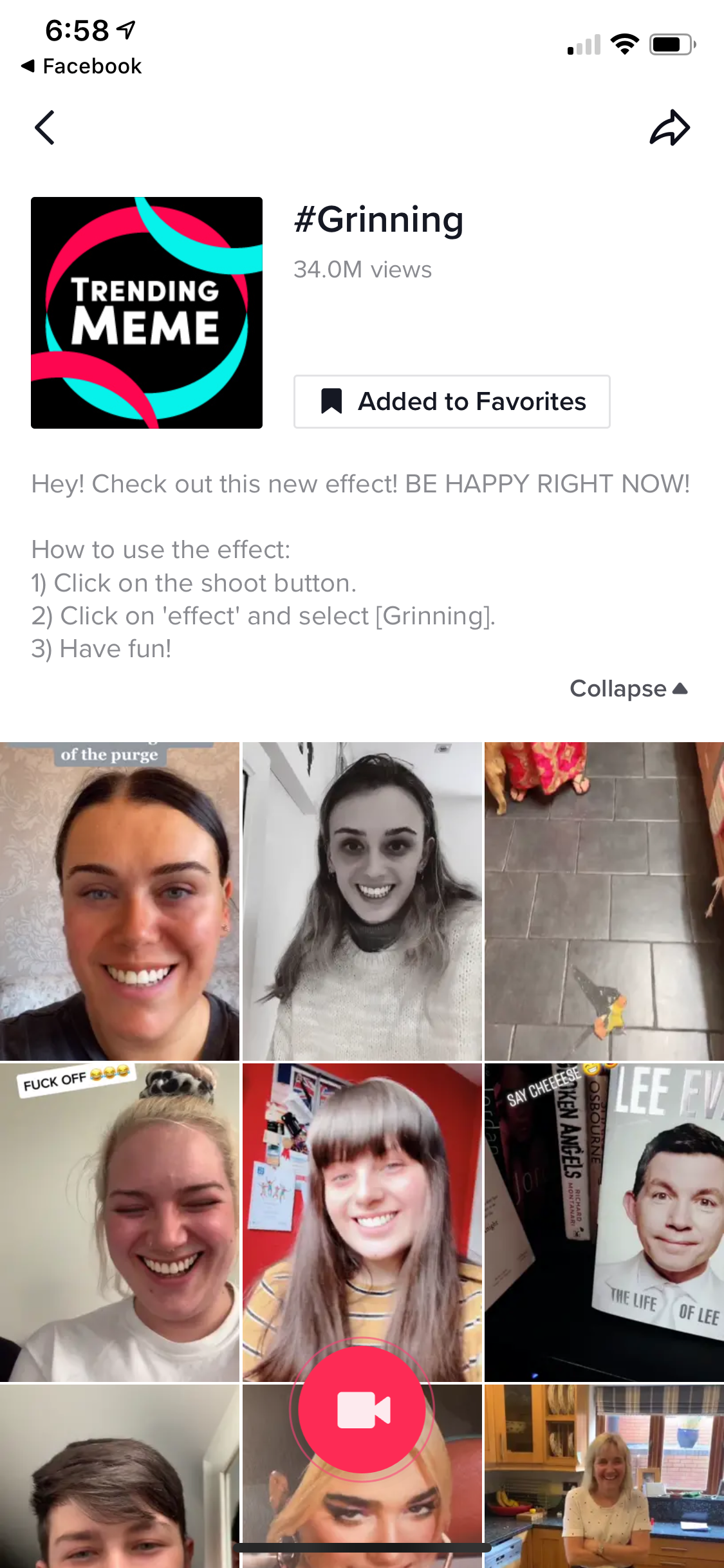 Then, add it to your favorites.
Article continues below advertisement
4. Make a TikTok, click on "effects" and choose the Grinning feature to edit your video.
Ta-da! Creepy grin has been included.
This isn't the first TikTok trend we've come across, of course. Remember when everyone was obsessed with the #thisismyvoice trend? It wasn't exactly a feature like GrinningFilter, but it was still hilarious. People trying out #thisismyvoice would say something like, "This is my voice X days after doing X thing," and by the third week or year, or whatever, they'd edit in a totally different voice.
Article continues below advertisement
You can also take part in challenges, like #WipeItDown, which you can do with some easy-to-learn editing. But basically you film yourself wiping down a mirror and "surprising" yourself when you see a totally different version of yourself in the mirror after you've wiped away the Windex. This challenge is old, but goes to show how powerful and viral TikTok challenges can be.
Article continues below advertisement
Plus, other facial features exist too, like filters that make your face look like it's melting, Snapchat-like filters that make you look like a cute animal, and filters that'll give you instant makeup or bright blue eyes. TikTok's user-friendliness makes any filter or feature easy enough to learn. So keep calm, and grin on!