Angry Mom Goes Off on Her Underpaid Babysitter Who Left for a Better Paying Job
She was paying her full-time babysitter $100 a week and was mad when she left for a job at Walmart, where she'd make an actual living wage.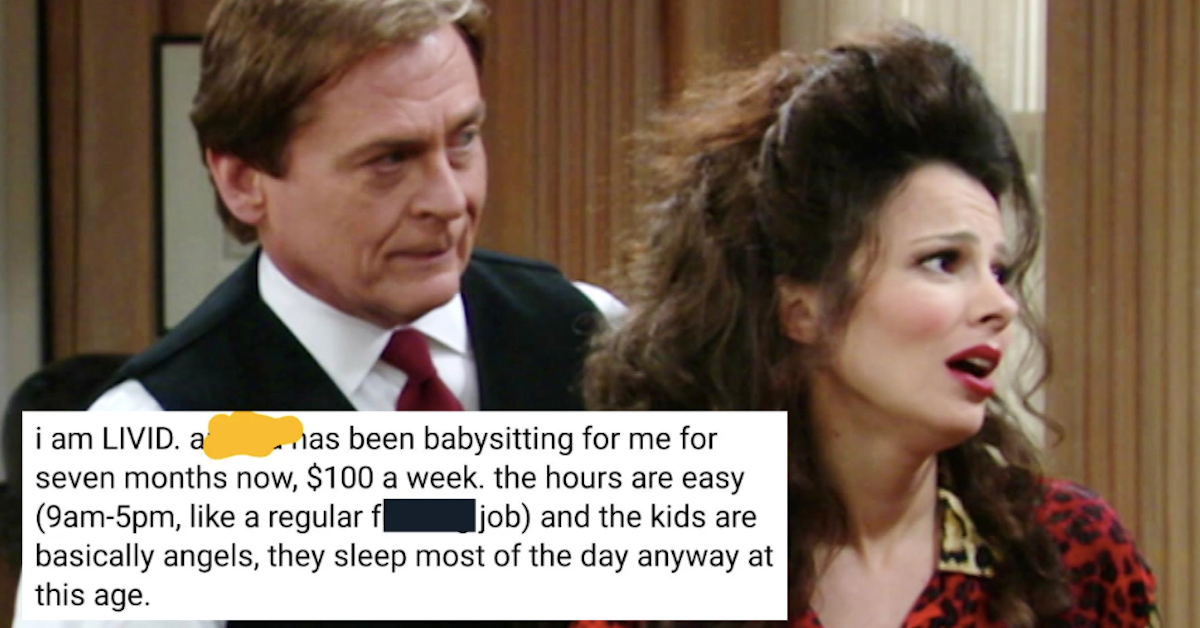 We've seen numerous times how babysitters get exploited and underpaid because childcare isn't valued the way it should be. People try to criminally underpay the people who care for their kids and then get mad when their providers find this unacceptable. This story is no exception. Posted in the Choosing Beggars subreddit, it's a Facebook conversation between a mom and the babysitter she used to take advantage of.
Article continues below advertisement
But that babysitter quit to go work at Walmart, where she'd make much more money. She was being wildly underpaid to babysit 40 hours a week, but the mom who employed her seemed to believe her leaving to make more money was a "betrayal." Get a load of her.
Article continues below advertisement
Let's break this down. This mom is "LIVID" and "feeling betrayed" because the babysitter she paid $100 a week found another job. This was $100 a week for a full-time, 9-5 job. That's 40 hours a week. That's $2.50 an hour! $2.50 an hour! To babysit multiple children! That is not a living wage. That is an insanely low rate, one that I can't even believe that babysitter agreed to in the first place.
She doesn't understand that, in 2020, you simply cannot live on $2.50 an hour. That's what her former babysitter means when she says she can't afford to keep working for so little. It's not sustainable. I'm actually surprised she even lasted seven months. Not to mention, there's no way the babysitter would be making "LESS PAY" at Walmart. It would be illegal for them to pay her less than $2.50 an hour.
Article continues below advertisement
I don't know what state they're in but, at the moment, the federal minimum wage is $7.25 an hour, meaning she would make at least that. $7.25 an hour, while still meager, is a 190 percent increase in wages from $2.50. Empirically a better situation. And people tried to explain that to the mom on Facebook.
Article continues below advertisement
OK, she clearly has no idea how taxes work. She'd still end up with way more money working for Walmart, even with taxes taken out. This mom is claiming that her "friend," whom she exploited for months, should "be ashamed" for trying to make enough money to pay rent and eat. Meanwhile, the "friend" who paid her babysitter $2.50 for an hour of work feels she has the moral high ground. Methinks there is something way off here.
Things got even crazier in the comment section when the babysitter was tagged in the conversation and started contributing to it herself. Not only does this mom not pay her babysitters enough. She also doesn't know how to block people from posts on Facebook.
Article continues below advertisement
You better believe these two women got into it over social media. In a long comment rant, the babysitter tried to explain why she'd make more money at Walmart and also outed the mom for even worse behavior beyond the underpayment. I don't think this is how the mom thought this Facebook conversation would go.
Article continues below advertisement
Not that this babysitter owed the mom an explanation, but she's totally right that she'll earn way more at Walmart, even after taxes. The real gasp came with the Lexus reveal. It's more obvious now than ever that this mom was trying to exploit her friend for cheap labor because she knew she could get away with it, at least for a little while.
Article continues below advertisement
The fact that she has actually been working for nine months and two of those months were unpaid sent me over the roof. If you have a friend with kids, it's not a big deal to sometimes do them a favor and watch their little ones for free. Once in a while, that's OK. But this was a full-time job. It's just another story of a mom who didn't want to pay childcare workers what they're worth and then got mad when she could no longer get away with exploiting her employee.
Article continues below advertisement
It's bonkers that parents, who ostensibly take care of their kids when babysitters aren't there, think there's nothing to minding children beyond hanging out and watching TV while they sleep. She knows it's more than that. She just doesn't want to admit childcare is a real, skilled job that constitutes fair payment.
When looking for a new babysitter, this mom will realize very quickly that no one in their right mind will work for the little money she's offering. Not even high school babysitters will work for as little as $2.50. So glad that women got out of that terrible situation, will finally be making at least a little more money, and will never have to talk to her awful, so-called "friend" ever again.