Woman Wants Full-Time Babysitter to Provide Vegan and Organic Food for Measly $100 a Week
This is a full-time babysitting job. It's absolutely impossible to live on $100 a week, especially when you're expected to provide all the food.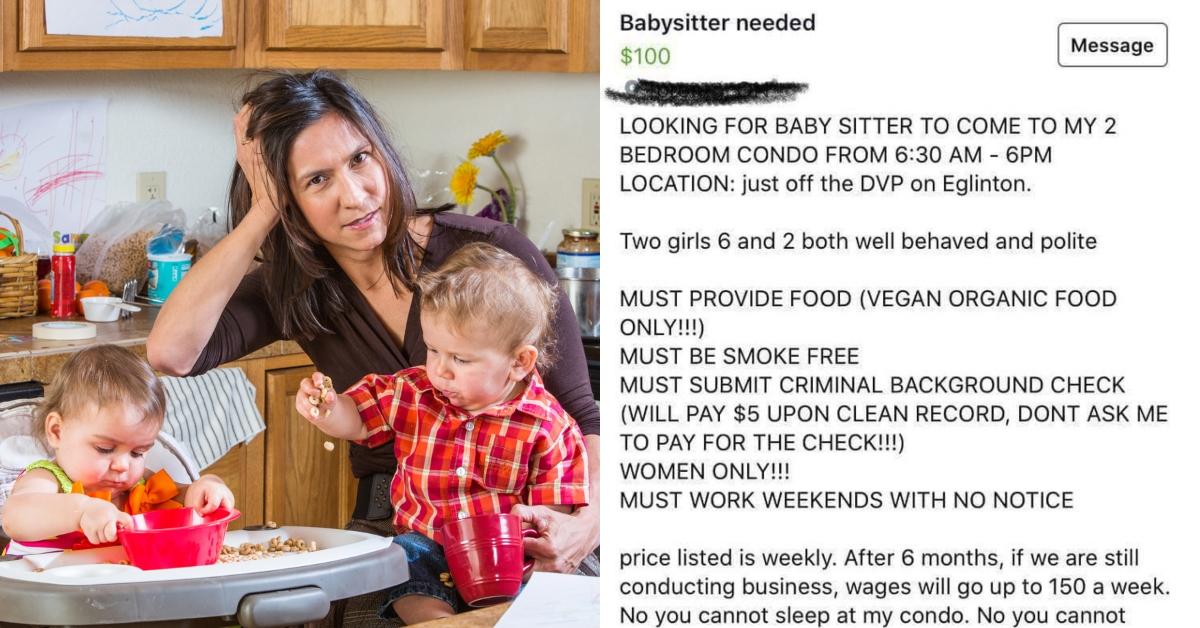 If you go to the Choosy Beggar subreddit and search for "babysitter" posts, the sheer number of them will astound you. It's super common for people to request babysitting services without wanting to pay fairly for them. Childcare is often woefully undervalued in our society, and these posts prove it.
Article continues below advertisement
In fact, one of the newest posts in the Choose Beggar subreddit goes above and beyond in the exploitative department. This person is looking for a full-time babysitter to not only take care of their children but also provide all the (expensive! vegan! organic!) food they will eat... all for $100 a week. I know.
Article continues below advertisement
The hours are 6:30 a.m. to 6 p.m. — that's a 12-hour day for anyone counting — presumably five days a week. This person is also requiring that the babysitter be able to be called up on weekends with no notice (basically, they're not allowed to have a life), and on top of that they have to provide all the food for the two young kids, which is definitely not standard in the babysitting world.
If anything, the employer should be feeding the babysitter any meals they need during working hours. Making your babysitter provide food for your children is not babysitting! That's a personal chef!
Article continues below advertisement
Not to mention, this person wants to pay the babysitter $100 a week. A WEEK! That amount of money probably wouldn't even cover a week's worth of the food they're expected to provide. It's patently absurd. The fact that a $50 raise per week goes into effect after six months shows that this person clearly doesn't understand what kind of money it takes to be able to survive in today's society.
It's appalling. It makes your jaw drop to the floor. But it's far from the only post about the need for a babysitter that lives completely out of the realm of reality.
Article continues below advertisement
What is with these people who think it's OK to pay babysitters $20 a day or $100 a week? It's so much less than minimum wage! There's no full-time job where that amount of pay is acceptable.
Article continues below advertisement
Not to mention, these two children are babies! You'd think parents would want to spend good money to make sure the person taking care of their children does a good job, right? Wrong.
Article continues below advertisement
This person wants a babysitter to provide their own home to take care of three children, one of whom is a teeny tiny baby. And they want the babysitter to pick up and drop off the children, presumably using their own car.
I'm glad a commenter called them out on the ridiculous rate they're proposing to pay. It's true that anyone who accepts that job probably isn't qualified to care for three young kids.
Article continues below advertisement
It makes sense to me that parents would spend a lot of money on childcare for their kids. Babysitters are doing hard work; they deserve a living wage. And parents should want to find the best, most qualified person they can to be in charge of their kids when they're not around.
So parents everywhere! If you want your babysitters to actually put in effort in caring for your kids and if you want to attract professional child caregivers in the first place, for goodness' sake, pay your babysitters a living wage. That doesn't mean $100 a day. Far from it.