Woman CEO'S Viral Nanny Job Post Reveals That Having a "Wife" Is the Only Way to Have It All
She's a single mom and a CEO with a giant household to run, and she needs, well, basically a wife to help her stay on top of everything.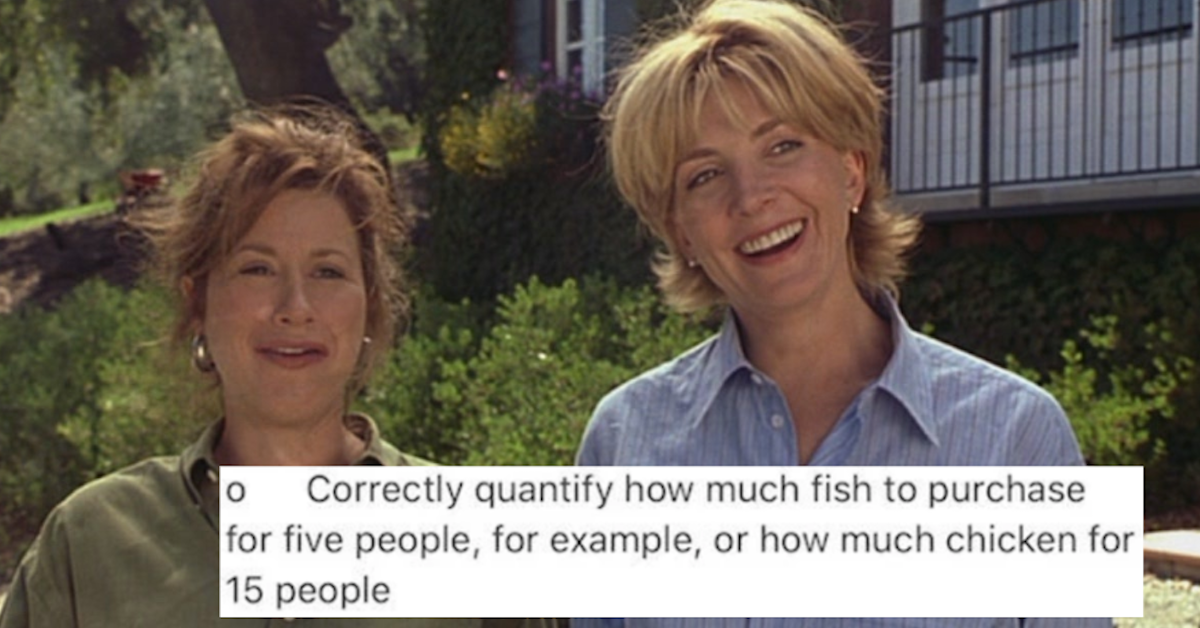 One busy mom and CEO recently went viral for her frankly very specific 1,000-word job post seeking a "household manager/cook/nanny." Though the ad was somewhat mocked for being detailed beyond belief ("can ski at least at an intermediate level," "likes river swimming," "conduct research into vegan recipes and make modifications to regular recipes"), it illuminates just how much support a working mom needs these days.
Article continues below advertisement
In 2020, a household with working parents need, essentially, an extra "wife" in order to "have it all." The writer responsible for sharing the job post and making it go viral may have deleted her account, but the screenshots remain. And they're quite the read.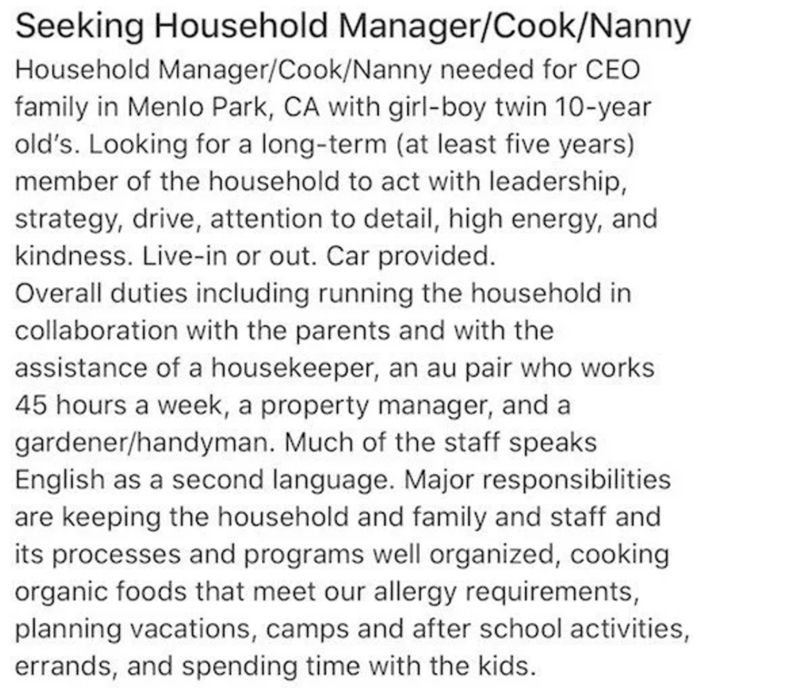 Article continues below advertisement
Now, clearly, this is a powerful, wealthy, Silicon Valley family with a large household and a lot to keep track of. And while several publications snickered at the apparent "one-percenter" problems this family has, the reality is that this is this family's life. Slate actually interviewed the woman who wrote the ad on the condition that she remain anonymous.
And what she had to say might make you realize that this isn't necessarily the persnickety demands of a crazy mother, but a frank, detailed list of the support a working single parent needs to maintain the responsibilities of her job and parenting without going absolutely insane.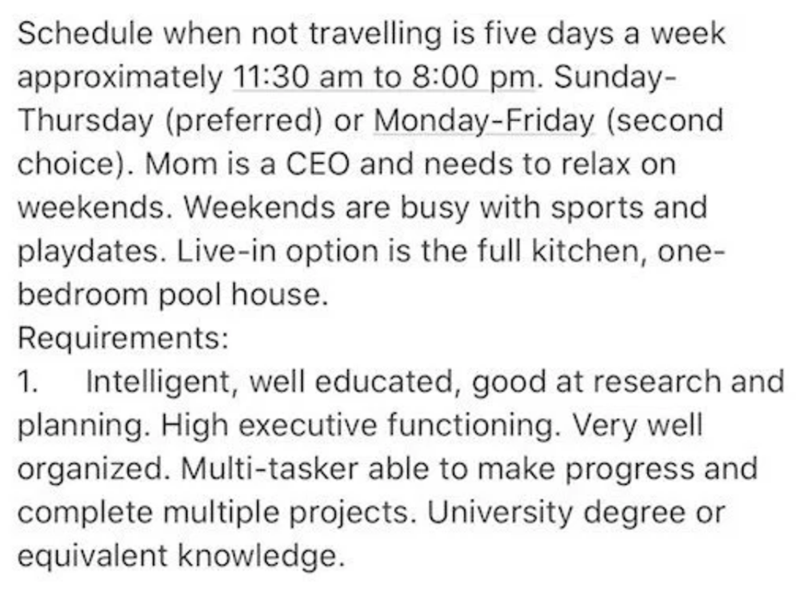 First of all, this mom and CEO explains that she wrote the ad because she has been working with a couple au pairs to keep up with her twins' sports and school activities, but that she's been spending way too much time researching and organizing their home lives. "The reason why I want to outsource it is because for me, all I really want to do is run my business well and be the best mom ever."
Article continues below advertisement
Can you blame her? If you were the CEO of a company and the mom to twins, would you rather spend your time at home researching vegan recipes or actually hanging out with your kids? If you have the means to hire someone to outsource the other tasks, more power to you.
That "Mom is a CEO and needs to relax on weekends" line really caused a ruckus on the internet. But it's true! Men are never asked why they need household support. It's assumed that they have lives that don't include their kids. The same allowance is not made for mothers. CEO Mom (as I've now decided to call her) says that if she were a man, and she'd posted this ad, "nobody would think twice." And I happen to think she's right.
Article continues below advertisement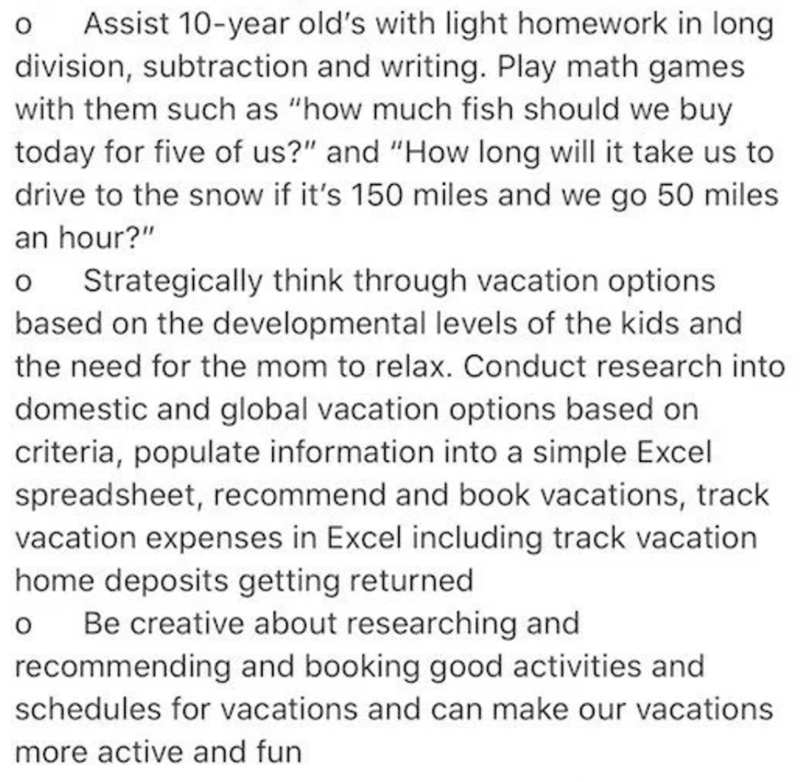 Sure, the ad is extremely detailed, but CEO Mom is intent on hiring the right person. Also, she told Slate that she didn't intend this super-detailed version to end up all over the internet in the first place. She wrote this very specific list of skills to help the agency she was working with find better candidates.
She did post the list to one "confidential" job board, and it seems it got reposted and went viral from there. She explains to Slate that the job pays $35-$40 an hour, plus time-and-a-half for any overtime. They'd get a car and could live rent-free in the pool house on her property, plus they'd get PTO, holidays, health benefits, and the opportunity to travel all over the world with the family. For the right person, this isn't a bad gig.
Article continues below advertisement
That said, it obviously has to be exactly the right person. And that's why CEO Mom wrote ad the way she did. She's been accused of looking for an "imaginary superwoman" for this position, but she doesn't see it that way. (Plus, assuming she's only looking at women to fill this position says a lot about what kind of work we perceive to be "feminine," eh? Kinda gets at the sexism point CEO Mom pointed out before, eh?)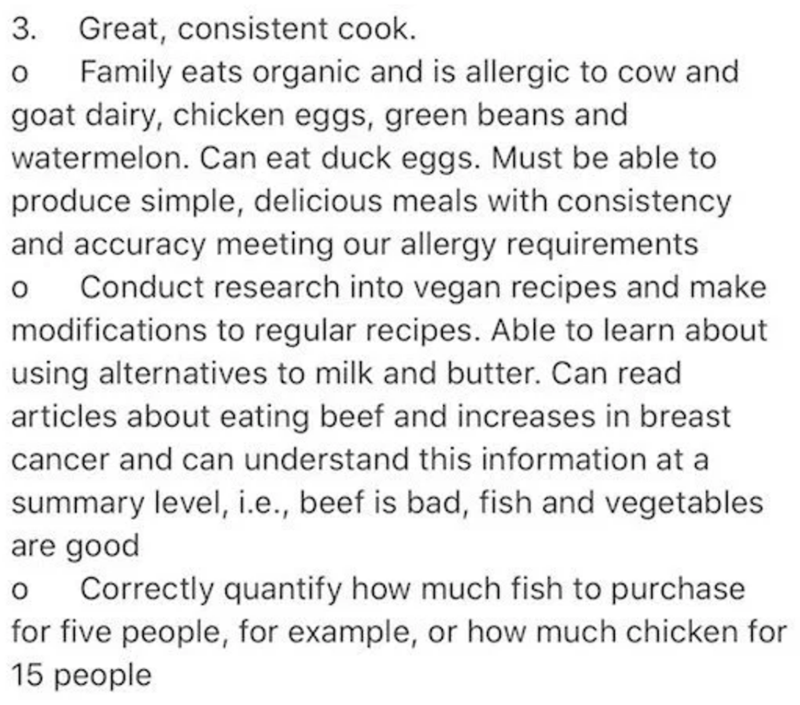 "I don't think it's a superwoman," she told Slate. "There are a lot of women who are good at sports, right? Then you're looking at somebody who will have a few hours of uninterrupted time to do projects, planning, shopping, and stuff like that, and then they'll spend a few hours cooking and a few hours with the kids."
Article continues below advertisement
She's been criticized for expecting too much from a nanny, but there are spouses (mostly wives) everywhere who do all of the things on her list and more, in addition to having a job. If there were a second parent in her household, maybe they would be able to pick up some of the slack, but she is a CEO. She needs a "wife" because, historically, wives are the ones responsible for taking care of all these things on top of their other responsibilities.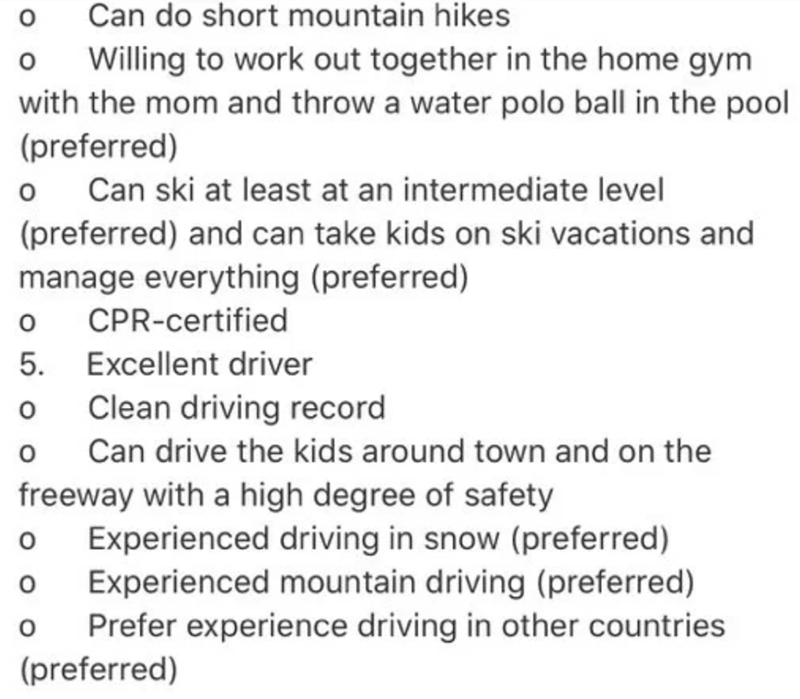 Article continues below advertisement
She's not just looking for someone to distract her kids while she's at work. She needs help running an entire household, and she shouldn't be shamed for looking for that help. Essentially, she's looking for another family member. And that became clear in one of the last sections of her ad...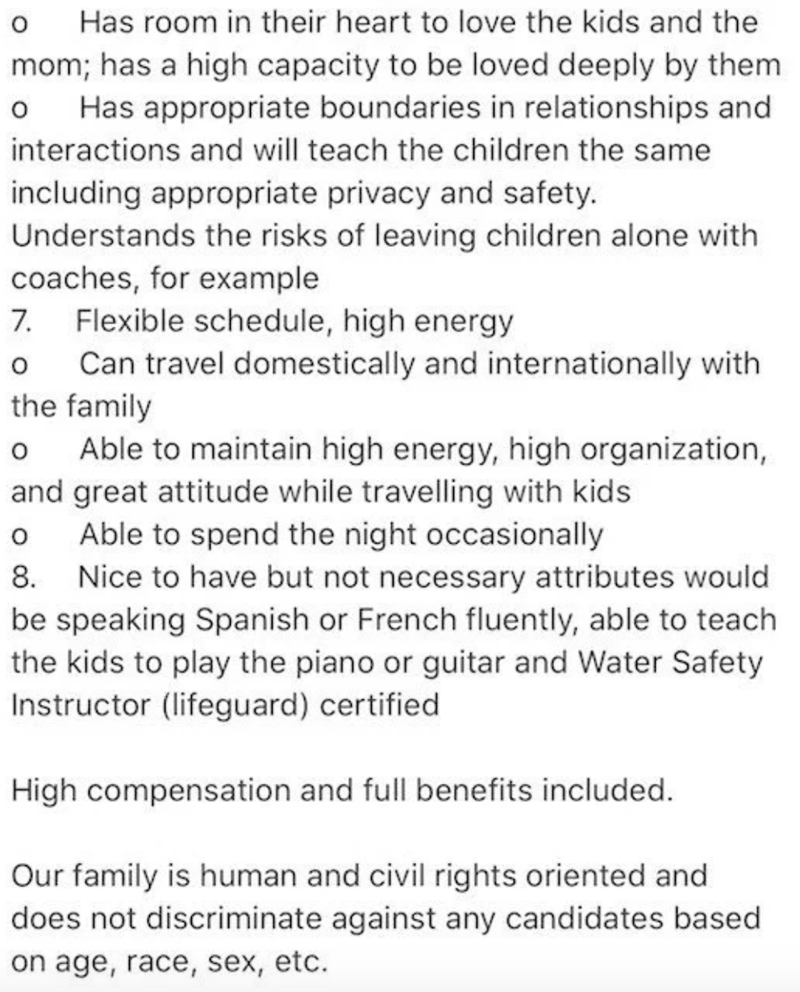 Article continues below advertisement
"I think that's an under-utilized word and an under-utilized idea: love and respect and patience and tolerance," CEO Mom told Slate. "Those things are important to me. I don't want somebody who's just going to show up and do their job.
"I want somebody who over time I can develop a close, warm relationship with... We're not talking about working at Oracle, or at Salesforce. We're talking about working in my home, in my family. I always include our nanny our au pair in the family portrait."
I don't know, y'all! This woman might have a little bit of a bonkers life, but she seems to understand what she needs, is willing to wait for the right person to come along, and she seems like she will value her employee and treat them right. I think this ad went viral for its level of specificity and length, but it also brought up an important conversation about what we expect from women who work.
Only a real superwoman would be able to do everything in CEO Mom's post plus a whole career as a CEO plus talking to her kids and having fun plus having any time whatsoever for herself and only herself. I'm glad she's asking for what she needs in order to keep her life from becoming a nonstop nightmare!