Bartender Accidentally Informs a Woman That Her Husband Is Cheating
TikTok user @imacayk shared how she accidentally let it slip to a woman that her husband was cheating on her with someone else.
If your partner is cheating on you, you would hope that you would hear it from them first. But sometimes, someone else will beat them to it. And sometimes, that person is your bartender. One TikTok user who works as a bartender recently took to the platform to share a hilarious story about the time that she accidentally exposed a man's affair during work.
Article continues below advertisement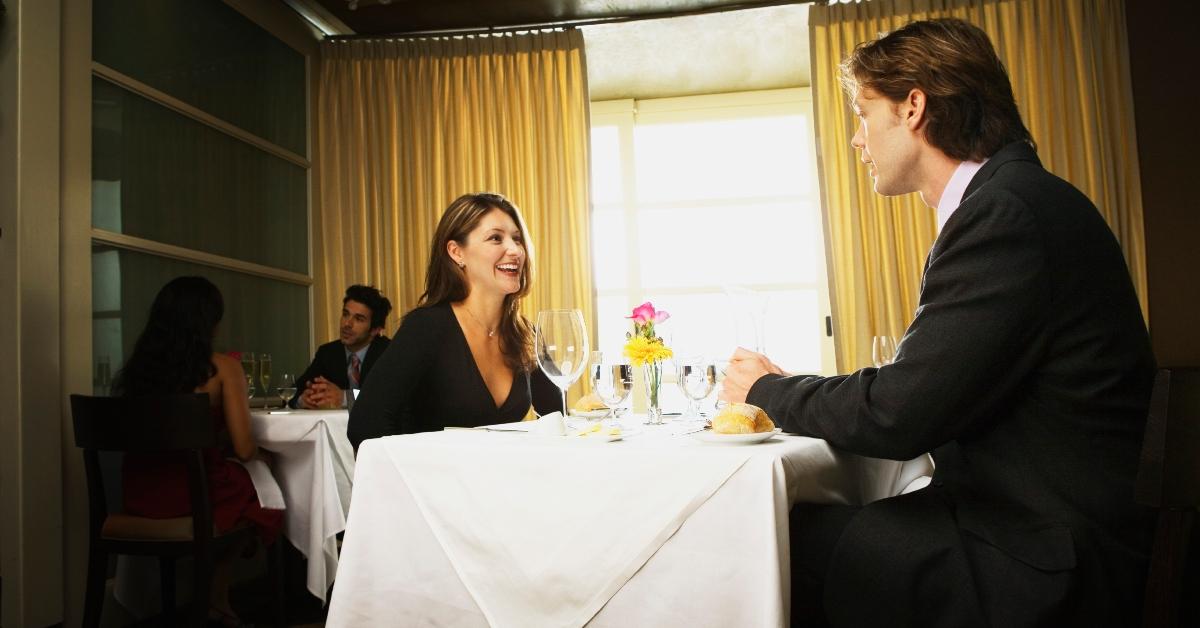 Man and woman meet for drinks every Wednesday at 4:45 p.m. for months.
In two videos, TikTok user @imacayk shares one of her favorite anecdotes from work. She explains that she works as a bartender and server at a restaurant. And every Wednesday she would see a man come in at 4:45 p.m. Ten minutes later, a woman would walk in and sit with him. He would always order a margarita and she would always order a glass of Cabernet.
Article continues below advertisement
"It became very apparent to me that these people were having an affair after quite some time, @imacayk explained. "They both wore wedding rings and they both exclusively told me that they were each other's friend," she said, taking the hint that they were meeting up secretly.
@imacayk explained that they would come in every Wednesday at the same for months. But one time during their hush-hush hangout, the man left early while the woman stayed behind. Noticing this, @imacayk went over to their table and asked the woman if she wanted another drink.
Article continues below advertisement
She ordered another one and then started spilling the tea about her and this man to @imacayk. The woman explained that she was divorcing her husband and she wanted to get together with the man she always comes to the bar with. She told @imacayk that she loved him and that they'd known each other since they were children. However, the woman wasn't sure the feeling was mutual.
Article continues below advertisement
She also explained that the man left that date early because she and him had gotten into a little quarrel when he casually mentioned @imacayk was attractive.
Article continues below advertisement
Anyway, @imacayk said the man and the woman didn't return to the bar for some quite some time after that incident.
But one Friday night, @imacayk was working and spotted the man and the woman (or so she thought!) that he used to meet on Wednesdays. But as @imacayk further explained, she was having issues with her contact lenses that day and wore her glasses. However, she found her glasses cumbersome and took them off, which ultimately compromised her vision.
She nodded to the man as a way of saying hello, but he acted like he didn't know her. Then @imacayk waited on their table and asked if the pair would be ordering their usual. And that's when everything started to unravel. The woman, who was fuming, got up from the table and sat alone at another table.
Article continues below advertisement
An extremely confused @imacayk later learned from a coworker that the woman he was with was not the woman he usually came to the bar with. It was his wife. But as @imacayk explained, these women looked very similar. She ended her video by saying, "All I have to say is that man surely does have a type."

Article continues below advertisement
In the comment section, TikTok users reassured her that this was entirely the man's fault, not her fault.

Article continues below advertisement
Others commented on how her story would make for a great scene in a movie.

Article continues below advertisement
And one woman personally related to @imacayk's problem seeing. "Bad vision is a serious thing, she wrote."

So, I guess we'll never find out if the man and the woman ever got together as @imacayk hasn't shared any updates. But we did learn one valuable lesson from all of this: Don't get too chummy with the bartender if you're having an affair because said bartender may have vision problems and accidentally blow your big secret.
The end.