How Many Times Did Tristan Thompson Cheat on Khloe Kardashian? Here's a Breakdown of the Scandals
Tristan Thompson and Khloe Kardashian might be broken up for now, but he cheated on her while they were dating. Here's a timeline of the scandals.
In Tristan Thompson's comment section on Instagram, fans are joking that he somehow always makes it into the news for everything other than his basketball career.
Article continues below advertisement
His relationship with Khloe Kardashian is supposedly over at this time, but the timeline of his cheating scandals took place while they were still indeed a couple. Here's a breakdown of every Tristan cheating rumor.
Tristan Thompson was seen kissing other women at a hookah lounge before True's birth in 2017.
In 2017, just days before Tristan and Khloe's daughter True was born, he was caught on security cameras kissing and motorboating two or three young women at a hookah lounge. Some fans strongly believe the hysteria of the situation caused Khloe to go into labor earlier than she was supposed to. TMZ released the damning footage, and in the clip, Tristan is seen getting very close and personal with the girls.
Article continues below advertisement
Tristan Thompson entered a hotel room with Lani Blair in 2018.
In 2018, Tristan was allegedly caught spending a weekend in a New York City hotel with Lani Blair. Lani is an Instagram model and exotic dancer based out of the Big Apple, and it's important to note that her Instagram following includes major celebrities such as Blac Chyna, Snoop Dogg, and Erica Mena. The pic caught by the paparazzi of Tristan entering a hotel shows him walking inside with her, but no one knows what else might've happened behind closed doors.
Article continues below advertisement
Jordyn Woods and Tristan Thompson kissed at a party in 2019.
In 2019, news broke about Tristan kissing Kylie Jenner's former best friend Jordyn Woods at a party. To this day, Jordyn still isn't on the best of terms with the Kardashian-Jenner clan based on how messy this scandal was. Jordyn appeared on an episode of Red Table Talk with Jada Pinkett Smith to discuss what exactly happened that night.
Article continues below advertisement
She revealed that she and Tristan only kissed each other, but it was enough to destroy Jordyn's friendship with the mega-famous family and contribute to a bigger divide between Tristan and Khloe.
Article continues below advertisement
Tristan Thompson was spotted out with a mystery blonde in 2020.
In 2020, Tristan was spotted on a dinner date with a "mystery blonde" according to TMZ. At the time, Khloe was in California while Tristan was in Boston. Sources told the gossip news outlet that the date was completely platonic, but nevertheless, the rumor mill began spinning in high gear anyway. Khloe spent the majority of 2020 painting the narrative that Tristan was completely reformed and ready to be forgiven on her social media platforms and in episodes of Keeping Up With the Kardashians.
Article continues below advertisement
Sydney Chase exposed her alleged affair with Tristan Thompson in 2021.
In 2021, an Instagram model named Sydney Chase came forward with alleged details about her rumored affair with Tristan. According to Page Six, she claims Tristan tried to get in touch with her after she spoke out about their secret relationship on Instagram and TikTok. She says she has text message receipts to prove she isn't lying. Some fans believe she's nothing more than a clout chaser, but other fans think she might be telling the truth based on Tristan's track record.
Article continues below advertisement
Tristan Thompson confirmed he's the father of Maralee Nichols' baby in 2022.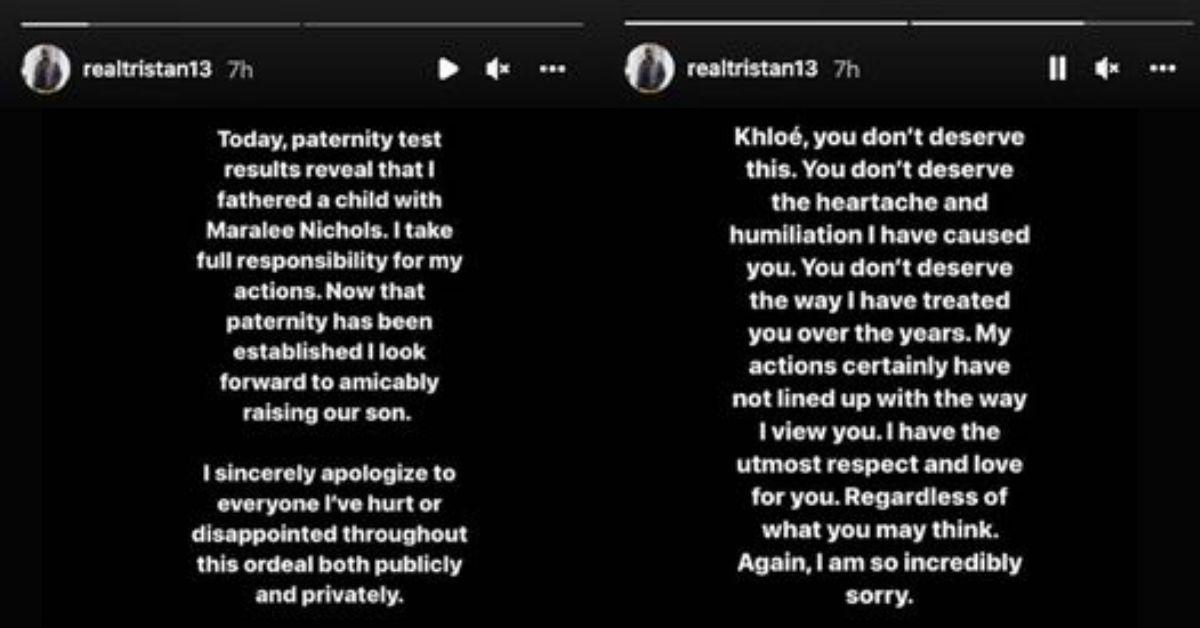 Within the first few days of 2022, Tristan has confirmed the fact that he is indeed the father of Maralee Nichols' child. The fitness instructor was impregnated by Tristan while he was still very much in a relationship with Khloe. He's since issued a public apology to Khloe for "heartbreak and humiliation" via IG. It's up to Khloe to decide whether or not she wants to accept this apology or permanently move on from him forever.