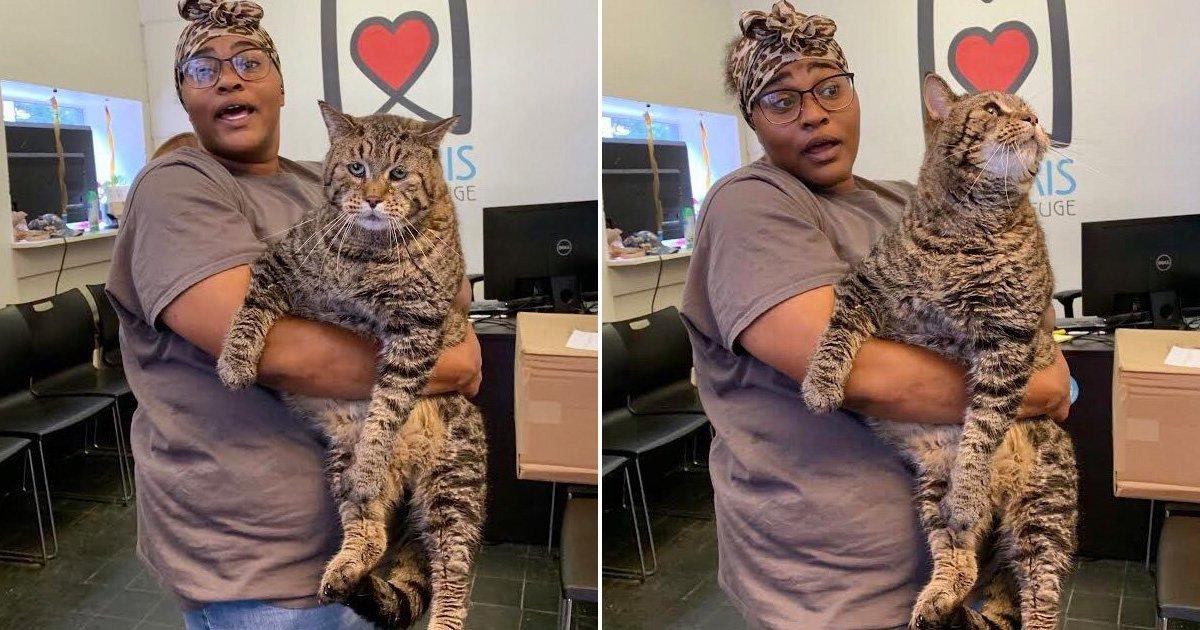 This 26-Pound "Chonky" Cat Is Looking for a Home and People Are Obsessed
Are you looking for 26 pounds of fluff and love in your life? Well, you're in luck. A massive brown tabby and white domestic shorthair is the Internet's newest and biggest obsession, and he's looking for a home.
Article continues below advertisement
Morris Animal Refuge, based in Philadelphia, took to Twitter to try and find Beejay a forever home, writing: "OMG, big boi Mr. B is a CHONK. He's a chonk of a chonk. He redefines the term. Can you guess how much he weighs? More importantly, can you give him a home?"
Article continues below advertisement
Obviously everyone is obsessed with this massive cat. So much so that they manages to crash the adoption centre's website. Morris Animal Refuge wrote: "Mr. B. apologizes for crashing our website. We have our team working to get it back up as we speak. Unfortunately, they're all cats, so it may take a little while."
Article continues below advertisement
The centre's original tweet has so far picked up over 10,000 retweets and 35,000 likes. And it's fair to say that people are obsessed with this absolute chonk. "Please require his adopter to periodically post pics of this big sweetie on Twitter," one user wrote.
Article continues below advertisement
Another joked: "Nothing but respect for my president!!"
Article continues below advertisement
"He's gorgeous," another user added. "And by the looks of his face, probably part Maine Coon. If I was near Philadelphia I'd snap him up."
And there's good news. Morris Animal Refuge wrote on Facebook that they had been overwhelmed by enquiries to adopt Beejay.
"We are overwhelmed by the number of wonderful people ready to give Mr. B his fur-ever home," they wrote. "We are excited to find him a home soon, but he's not quite ready to go home yet. He still needs a more thorough check up by our vet. We will announce as soon as he's ready to go! Just can't wait to add a furry friend to your life? Adopt one of our other wonderful kitties that are patiently waiting for you to come scoop them up!"